Guide to Cairns and Tropical North Queensland
Blessed with lush rainforest, coral-encrusted reefs and eternal summer, Tropical North Queensland is Australia's true tropical paradise.



Cruising through the mangroves, Cairns, Tropical North Queensland
Tropical North Queensland is one of the best places to experience Australia's tropical beauty. Sitting between two of the planet's most diverse ecosystems – rainforest and reef – this spectacular slice of the Sunshine State protects three World Heritage Sites, including the Great Barrier Reef and the Wet Tropics of Queensland, as well as more than 70 wildlife-rich national parks.

Cairns is the main gateway to Tropical North Queensland, and makes a great base for sun-soaked adventures. Hike through the primeval Daintree Rainforest, dive the planet's largest coral reef system, relax in Port Douglas, explore the rainforest village of Kuranda or learn about Indigenous culture on the Torres Strait Islands. Craving the ultimate 4WD road trip? Pack your camping gear, and head to Cape York.

With so much to explore, planning a trip can seem overwhelming – but don't stress! YHA has the scoop on the top places to visit in Cairns and Tropical North Queensland.
Mission Beach



Mission Beach, Cassowary Coast, Tropical North Queensland



Regarded as the approximate beginning of Queensland's Far North region, Mission Beach, on the Cassowary Coast, makes an ideal relaxing getaway. Here, almost 14 glorious kilometres of palm-lined beach await your pleasure. Explore this stretch of coast on the Kennedy Walking Track, or take a cruise to the Family Island Group for a camping trip.

Friendly locals usually outnumber the tourists and can point you to hidden swimming holes, waterfalls and rock pools. You can also look for cassowaries in Djiru National Park.

The Mission Beach Markets, held on the first and third Sunday of every month, sell luscious local fruits and handmade crafts, while if adrenaline-fuelled activities are more your style, sign up for a skydiving adventure over the reef and rainforest, or try white-water rafting along the Tully river.

Cairns



Aerial view of Cairns City, Tropical North Queensland



Cairns is one of Tropical North Queensland's most popular destinations. It's also a convenient base for travellers looking to explore the surrounding sights. Top of the list are the Great Barrier Reef and Wet Tropics of Queensland UNESCO World Heritage sites.

Snorkeling and diving cruises provide effortless accessibility to the region's underwater treasures. Take a day trip to Green Island or Fitzroy Island, and snorkel or kayak over brightly-colored coral. From Cairns, you can also book a rainforest tour, or soar over the Wet Tropics to the quaint rainforest village of Kuranda.

Cairns is also a destination in itself. Stroll along the Esplanade boardwalk, take a cool dip in Cairns Lagoon, or explore the Cairns Botanic Gardens. Buzzing with backpackers and other international sun seekers, Cairns also offers a vibrant nightlife, with unpretentious pubs and trendy craft breweries.

Wondering where to stay? Cairns Central YHA sits right in the center of town.

Kuranda



Kuranda Rainforest Markets, Kuranda, Tropical North Queensland



A popular day trip from Cairns, Kuranda is a quirky rainforest retreat and charming artists' community. Perched at a higher altitude of 330 meters, Kuranda has a cooler climate and more dramatic landscape than other nearby destinations, making it an ideal getaway from the humidity of the coast.

Take advantage of the cooler weather and hike to jaw-dropping views of Barron Falls, or explore Barron Gorge National Park from above on the Kuranda Scenic Railway or Skyrail Rainforest Cableway. Kuranda Markets sell handmade arts and crafts, and nearby galleries showcase colorful Indigenous art.
Palm Cove



Palm Cove, Tropical North Queensland
Just 30 minutes North of Cairns, Palm Cove is a classy beachside village with great eats. Australian, Asian-fusion, and Italian cuisine are among the many mouthwatering offerings.

Lounge on the gorgeous golden sands of the beach, or enjoy some pampering at one of Palm Cove's many luxurious spas. Oceanfront cycling trails skirt the shore, and the glassy ocean is perfect for kayaking.

If you're travelling with a furry friend, you'll be happy to know that Palm Cove is one of the most dog-friendly destinations in Tropical North Queensland; you can even walk them on the beach.
Port Douglas



Four Mile Beach, Port Douglas, Tropical North Queensland



Less than an hour's drive from Cairns, Port Douglas delivers small-town charm with an upscale vibe. It's one of the closest ports to the Great Barrier Reef and a popular launching point for snorkeling and diving trips.

Looking to unwind? Four Mile Beach in Port Douglas is an inviting and mostly undeveloped stretch of coast, with warm waters and golden sands. Ecotourism experiences are also popular, from jungle tours to Daintree River cruises.

Shopping and dining on Macrossan Street are other Port Douglas highlights. And if you're looking for unique souvenirs, browse the stalls at the Port Douglas Market on Sundays for handmade crafts and artisan foods.

Port Douglas is also a springboard for rewarding hinterland day trips. Cool off in the crystalline waters of Mossman Gorge, raft white-water rapids or sign up for a rainforest safari.
Cape Tribulation and the Daintree Rainforest



Cape Tribulation, Tropical North Queensland



At Cape Tribulation, two of the planet's richest ecosystems – the Daintree Rainforest and Great Barrier Reef – collide.

Explore the Jurassic beauty of the rainforest, estimated at over 180 million years old, and see some of the thousands of species of plants and animals that call the forest home. Hiking trails and wooden boardwalks make trekking through the lush rainforest surprisingly easy, and you can even paddleboard along the Mossman River. Indigenous Kuku Yalanji guides also offer educational tours, drawing from their 50,000-year history and extensive knowledge of bush medicine.

After exploring the rainforest, head to the crystal-blue waters of the coast, where you can snorkel around Mackay and Undine reefs.
Cape York



Cape York Peninsula Lodge, Bamaga, Tropical North Queensland
Ready for a rugged road trip adventure? Pack your camping gear and plan a 'trip to the tip' of Cape York. On this remote far northeastern tip of the continent, most of the roads are unpaved, so you'll need a 4WD to explore the region. Anglers should particularly check out the Wenlock river for everything from barramundi to mangrove red snapper.

Cape York's capital, Cooktown, is also a significant site for both Aboriginal and early colonial history. Learn more at the Cooktown Museum, or book an Indigenous tour.

Nature lovers can explore some of Cape York's 10 national or regional parks; the picturesque Chilli Beach in Kutini-Payamu National Park is perfect for pristine coastal camping.
Torres Strait Islands



Thursday Island, Tropical North Queensland



Want to escape the crowds? Find tranquility with a visit to the Torres Strait. Comprising 274 remote islands strung between Cape York and Papua New Guinea, the Torres Strait Islands remain relatively untouched by tourism. Patches of lush rainforest dot the islands, and the turquoise waters teem with marine life, from sea turtles and marlin to dolphins and dugongs.

Torres Strait islanders have inhabited the region for over 70,000 years, and distinct cultures and customs have developed in each of the islands' communities. On Thursday Island, you can learn more about these cultures at the Gab Titui Cultural Centre, or explore one of the oldest military structures in Australia, Green Hill Fort, which is also a popular spot for sunset drinks. Private Roko Island offers glamping accommodation, as well as tours of a working pearl farm. Horn Island is another popular island and a great place to embark on a private boat charter. It's also home to historic World War II sites.

In the Torres Strait Islands, it's easy to find solitude on a lonely shore.

Words: K. Hastings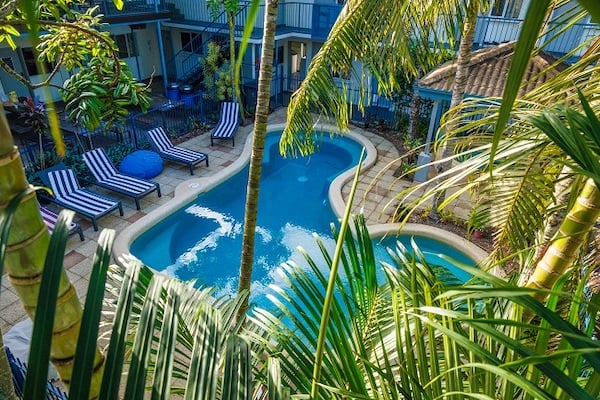 YHA Cairns Central
Centrally located in Cairns, this relaxed YHA offers a warm community feel, great outdoor living spaces and lush tropical surrounds.