Follow the rainbow.
Australia with its arid outback, enchanting aquamarine waters and thick, luscious forests means it's a country of endless vibrant colours – so the next time you 'Holiday Here', follow the spectrum of light!
Red – The Red Centre, Northern Territory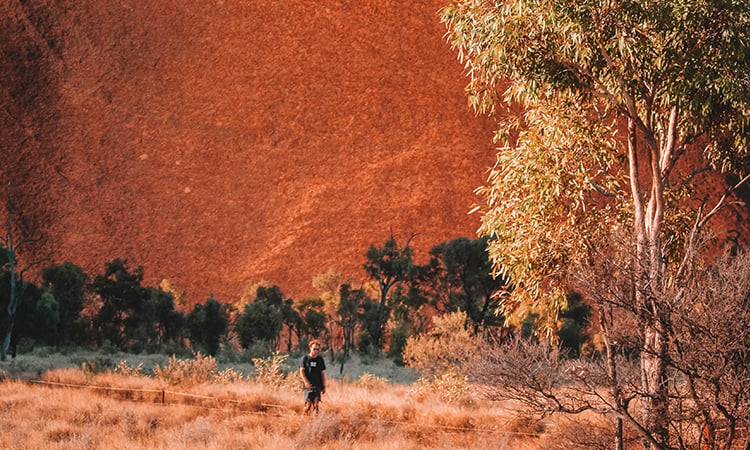 Red sand. Breathtaking sunsets. A myriad of cheeky kangaroos, and hot, hot weather. The Northern Territory's Red Centre is where all your dreams of the rugged Aussie outback will come true, making it an ideal spot to start your rainbow journey. Base yourself in the Red Centre's crowning jewel, Alice Springs, and from there, you're in prime position to discover the best of Australia's rusty hues – starting with one of the world's most famous landmarks, the sacred site of Uluru. Uluru is famous for appearing to change colour at different times of the day, but it's a must see when it glows almost beacon red at sunrise and sunset. Once you've ticked off Uluru, channel Priscilla and soak up the views from Kings Canyon, feeling on top of the world. Back in Alice Springs, a tour of the Kangaroo Sanctuary at sunset is an experience you'll remember forever, especially the moment you were able to cuddle and feed a red kangaroo joey! They say red is the colour of love, and we'll wager you're about to fall hard for the Northern Territory.
Orange – Broome, Western Australia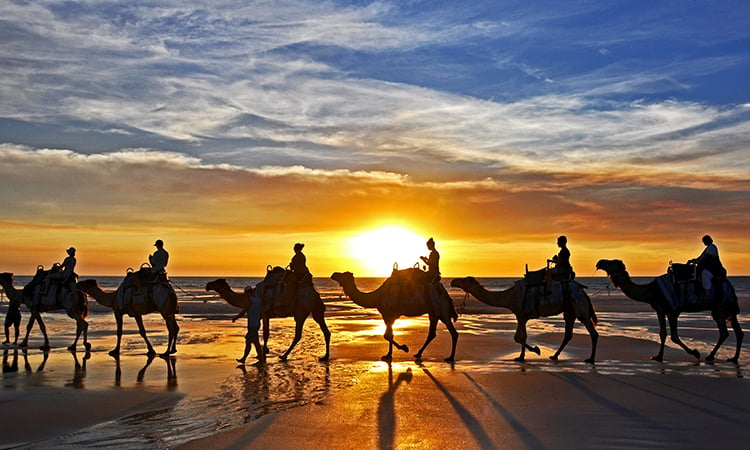 At the top end of Western Australia, is Broome – the beating heart of the Kimberley region. Though still technically the outback, Broome earns the orange spot on our Aussie rainbow because of one of the quintessential Kimberley experiences – seeing the incredible sunset on Cable Beach. Of course, the best way to witness it is on the back of a camel, but even just finding a spot to stretch out on the warm sand and watch the sun go down is a magical experience in itself. If you're visiting during May to October, why not head to Roebuck Bay for a moonlight picnic? You may be lucky enough to witness the Staircase to the Moon – where you'll see the full moon glow orange (nope, we're not kidding) and reflect over the water. You can keep up to date with the dates you'll be able to witness the phenomenon here. As orange combines the energy of red and happiness of yellow, the tropical, sleepy town of Broome will captivate, fascinate and inspire you!
Yellow - Noosa, Queensland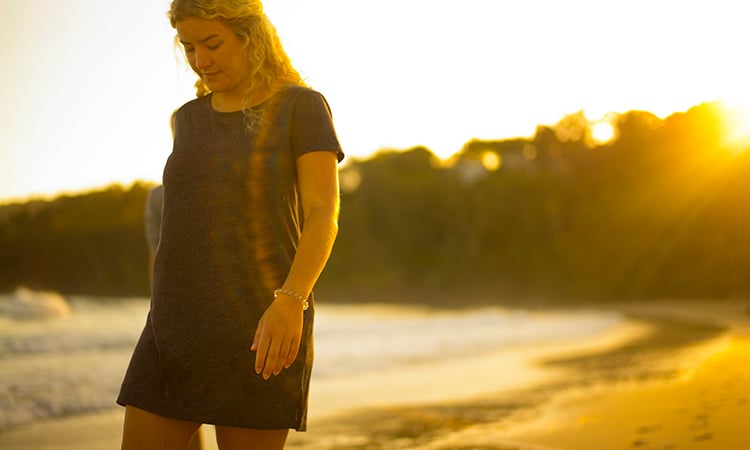 A hidden gem in the gorgeous state of Queensland, Noosa is everything you could wish for in a relaxing coastal getaway, complete with sandy toes, salty skin and beach hair! The Main Beach is the most popular spot in the city to surf, swim, sunbake and more – with golden sand framing the bright blue ocean. Once you've had your fill of the beach, you're in prime position to wander up and down Hastings St to your heart's content – with its sublime selection of hip cafes and boho boutiques. Your sunset activity is sorted – don't miss out on taking one of Noosa's famous River Cruises, where you can listen to some chill tunes, be entertained by fantastic guides and just enjoy the tranquil ride. Make sure to stop by the Eumundi Markets on Wednesdays and Saturdays to sample some scrumptious local delicacies and collect some handmade goodies. If you're an adventurer at heart, check out Noosa National Park and locate the highly sought after fairy pools. As the brightest, most dazzling colour on the spectrum, there's no place more fitting of being described as "yellow" than Noosa!
Green – Apollo Bay, Victoria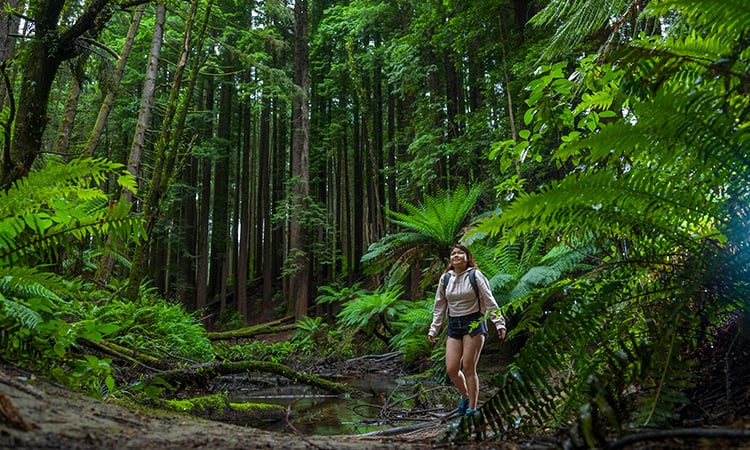 Sorry not sorry to humble brag, but Australia really is the country that has it all. We've covered the mesmerising outback, picturesque beaches and now we're about to tell you about the densest, leafiest forests you ever did see, nestled along the famous Great Ocean Road in the charming town of Apollo Bay. Apollo Bay is not only home to its own beautiful beaches, but also home to the magnificent Otway Ranges. With Otway Fly Tree Top Adventures, you can literally walk along the treetops and experience unrivalled views of the rainforest – nothing but vibrant, jaw-dropping green as far as the eye can see...and then more green. Also, just quietly - and please forgive us for this - your followers will be green with envy when you post your photo of the 12 Apostles at sunrise and sunset, which you're in prime position to do so when you stay at Apollo Bay Eco YHA. Speaking of Apollo Bay Eco YHA, by staying there, you're making a choice that's cleaner and greener, as one of the most sustainable, eco-certified hostels in our network.
Blue – Whitsundays, Queensland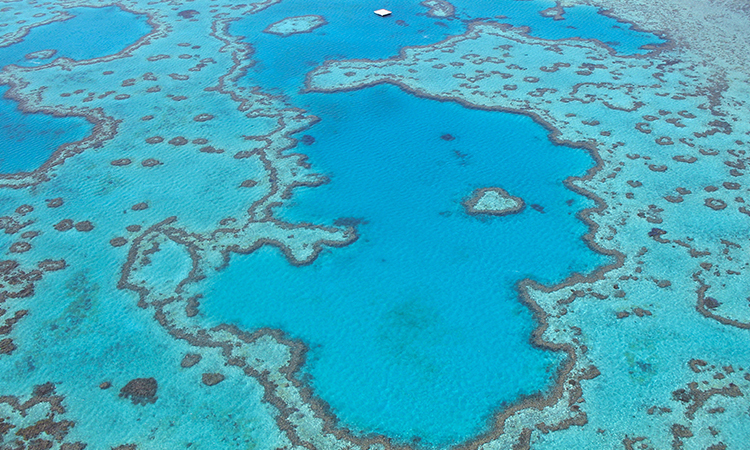 We all know about the turquoise, crystal clear waters and white sand beaches of Australia - but where do you choose? For the ultimate experience, it's the Whitsunday Islands you'll be needing. The colour blue is considered to be beneficial to the mind and body, producing a calming, heavenly effect – and you'll understand why when you first set foot on the white, powdery sand of Whitehaven Beach, the centrepiece of the Whitsundays. Head to Tongue Point lookout to get the shot Instagram influencers would kill for, and on the beach, keep your eyes peeled for turtles, dolphins and some other curious marine life that are lucky enough to call this veritable paradise home! Once you've done that, there's 73 more Whitsunday Islands at your disposal – tick off as many as you can and you won't be sorry! Photos really don't do the dramatic hues of the Whitsundays justice – see them for yourself and be smitten right away.
Violet – Blue Mountains, New South Wales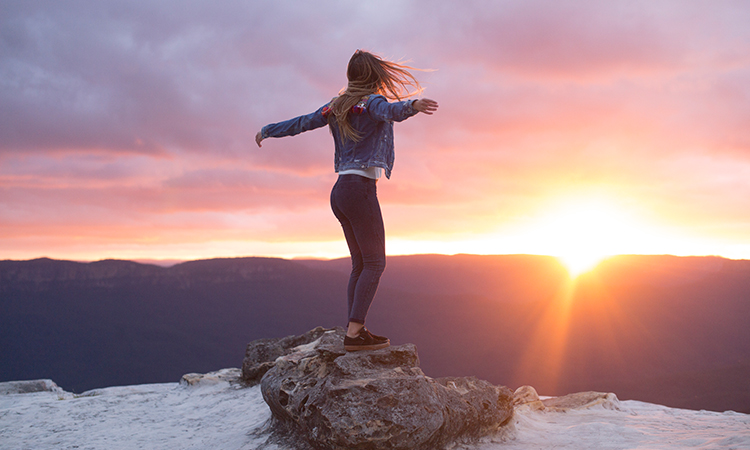 Our last stop on the Aussie rainbow – but most certainly not least - is violet! We know what you're thinking – how many violet attractions could there possibly be in Australia? Well, violent represents spirituality, purification, calmness and creativity. The best thing you can do to achieve all these vibes is to abscond to the glorious Blue Mountains, worlds away, yet just two hours out of busy, bustling Sydney. But we haven't just bestowed violet upon the Blue Mountains for ~metaphoric~ purposes…if you look upon the famous Three Sisters at twilight, you'll see a romantic hint of pinkish-purple in the sky! Alternatively, you can see them at dawn and witness the spectacle of the mist clearing and revealing the natural beauty of this incredible attraction. When the day is out, you'll find the sunsets here also take on a gorgeous, pinkish purple tinge rather than the orange glow typical of the outback – the Kings Tableland is the best place to do it.
And voila – your very Aussie rainbow is complete! You may not have found a pot of gold, but hey, these experiences are pretty damn golden.