Iconic Aussie trips - Sydney to Byron Bay
With a loaded car and some mates, Karen Thorne rediscovered the Pacific Highway north of Sydney.
"A boy broke his back landing on a floating cow here last week, you'd best be careful." Literally the last words I hear as I fly off a rope swing two stories high into a waterhole. Thank you, creepy old man scaring the tourists. It had taken over an hour to discover the concealed swimming hole near Ballina, plus the two days drive from Sydney. Needless to say we were swimming, dead cow or not.
Our Sydney to Byron Bay road trip began with a crocodile pie. Two friends bet that it didn't exist; a little pie shop in Frederickton begged to differ. Fortunately, the 960km stretch of bitumen that links Sydney to Brisbane on Australia's east coast has much more to offer than just baked goods. This coastal route, known as the Pacific Highway, passes through all the major towns, but detouring these in favour of smaller spots was our plan.
Day One
First stop, the pub. Five hours north of Sydney we roll into the sleepy surfing town of Crescent Head. A tip from tavern locals sees us driving a further 15km down a precarious gravel road until we arrive at the deserted hideaway Point Plomer in Limeburners Creek Nature Reserve. Barry's Bay provides a clean beach break for surfing, but with limited amenities available, bringing your own board is a must. Board or no board, this quintessential Aussie beach location will have you working up an appetite for pies.
"Russell Crowe, Jon English and Bryan Brown have all stopped in to eat our pies," I overhear a Fredo Pie employee bragging to the hungry travellers. The famous pastry shop in Frederickton, north of Kempsey, is sadly bypassed by the Pacific Highway. The menu reads like a who's who of Australian wildlife, kangaroo, emu and of course, their biggest seller the crocodile pie. Bet won. While my friends are eating their humble pie, they're pleasantly surprised by the subtle flavours of crocodile, "It's like eating a fish and a chicken at the same time."
While they're busy tucking in I get the scoop from fellow transient voyagers, Terry and Barbara from Melbourne, on a waterhole a swift drive up the coast in Ballina.
Day Two
Terry and Barbara lied. It turns out Ballina is not a quick drive from Frederickton, it is almost four hours.
"I said turn left, not right" was the soundtrack to our journey. Seven wrong turns later, and no closer to the swimming hole I had stopped listening to my backseat driver. We were lost, in what appeared to be, well, the middle of nowhere. We eventually followed the tracks of four kids in swimmers who appeared from the bush and discovered the illusive watering hole we were searching for. It turns out that leaping off a ten metre rock-face was even more fun than it had sounded.
I'm not going to lie, after 33 hours on the road, friends can get annoying. With this in mind we encountered a body of water we named 'The Lake of Fright' and the ultimate game of 'Lurk' was instigated. The rules of Lurk are simple, wade in to the lake, zone in on your target, take a deep breath and begin your watery descent. To maximise the scare tactic Lake Ainsworth in Lennox Head is stained a reddish brown from the surrounding tea trees. The water colour is an eerie coca-cola black, ideal for undetected attacks. Now all you have to do is locate a leg underwater, grab and wait for the scream.
The afternoon sun was heating up as we drove the final 20km to Byron Bay. Who knows where we'll head on our next journey along this iconic highway. Perhaps we'll learn of another hidden waterhole while chowing down on an Australian native animal; or we'll hear a local tell an unamusing story about a boy and a cow. All I know is this road will see me again.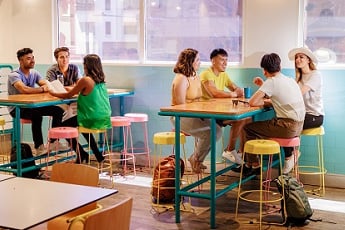 YHA Sydney Central
Located in a heritage-listed building in the heart of Sydney, this bustling international hub is next all major train & tram lines for easy access to the city's top attractions.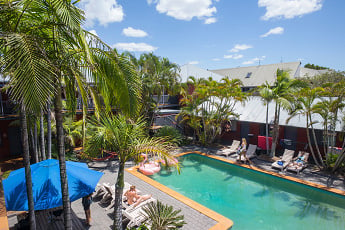 YHA Cape Byron (Byron Bay)
Just blocks from the beach, this laid-back oasis attracts a diverse crowd of global backpackers. Come for the surf, stay for the warm and welcoming atmosphere.