Sydney in winter
Throw off the doona, here's your ultimate guide to all the unique things you can do around Sydney this winter. From dazzling coastal walks to pop-up picnic spots, you'll soon see why Sydney is here to amaze and inspire you throughout the winter months.
It's whale season
View this post on Instagram
Whether you're 8 or 80, there's no experience quite like seeing a whale for the very first time. With the winter chill comes humpback whales migrating to warmer waters, and you can witness the action right in the heart of Sydney. If you like your chances at spotting whales without help, there are several vantage points across the city where people have been known to spot not only humpback whales, but orcas and minke whales too. South Head in Watsons Bay is a mere 11 kilometres north-east of the Sydney CBD, make your way to The Gap, an ocean cliff boasting exquisite views of Sydney Harbour, and hopefully a whale or two.
Further north, you can take the Barrenjoey Lighthouse Walk, for unrivalled ocean views and, at 91 metres above sea level, a perfect lookout for whale spotting. This winter, don't live through your Instagram feed, get on out there on a sunny day and see a whale for yourself.
Bask in the warm glow of a cosy bar
Sydney has lots of cosy bars, and The Taphouse is one of them. It's a beer lover's dream come true, offering an impressive beer list that includes 20 ever-changing local and international beers on tap. The cosy atmosphere, complete with vintage lounges and old bookcases, is the perfect setting for the free Monday night trivia, beer appreciation sessions and other events on offer. The rooftop terrace also provides a great spot for live music and a bar menu of gourmet burgers and pizza, while The Taphouse Restaurant utilises the extensive beer menu in their modern Australian fare.
Explore Spice Alley
View this post on Instagram
Turn a corner in the heart of Sydney's Ultimo area and find yourself in Spice Alley, a winding collection of hawker-style Asian eateries under the glow of red lanterns. Soak up the atmosphere, breathe in the tantalising smells and experience a touch of Asia right in the heart of Sydney, before perusing the endless food options. Whether you're looking for a congee from Hong Kong Diner to warm your winter or you're all about the famous roti from Alex Lee Kitchen, you're guaranteed to find the perfect dish for your cravings. Other highlights include Japanese dining hall KYO-TO and Vietnamese delicacies from Viet. For the indecisive, the best option is to get a few small dishes from a range of cuisines, so you can sample half of Asia in one sitting!
You can bring your dins to the local Chippendale Green for outdoor dining that feels like an escape from the city, or try to grab some of the limited seating available. Spice Alley is the go-to spot for every smart Sydneysider to meet friends for a mid-week dinner out. Fun fact: it's BYO and no corkage is charged, so hit up the bottle-o next door beforehand!
Soak up the scenery on a coastal walk
View this post on Instagram
You've seen the breathtaking shots from the lookouts on coastal walks, but you've never got around to doing it for yourself. Fair enough, it's a big ask on a steamy summer's day, you'll be drowning in your own sweat in no time. But a sunny, crisp winter's day? Perfect! If you're new to the walk game, take it easy with the 1.8 kilometre Hermitage Foreshore Track in Sydney's beautiful east. Quick as it may be, there'll be plenty of pit stops along the way, with enthralling views of Sydney Harbour, Shark Island and more. Still in the "short and sweet" realm, the 3 kilometre return journey that is the Barrenjoey Lighthouse Walk will take you to Sydney's northern-most point at Barrenjoey Head, and you'll feel that healthy burn in your calves as you hike up the steep trail!
If you're ready to kick things up a notch, the 6 kilometre Bondi to Coogee Walk is an excellent, easy-going workout, winding along a narrow stone path and offering glorious views of secret beaches along the way. Hungry for more? You'll be wanting to try the 10 kilometre Spit Bridge to Manly Walk showcasing everything that's incredible about Sydney's Northern Beaches, with some ace views of Sydney Harbour on the side. Don't let the cold put you off, nothing warms you up like some easy-going exercise under the stunning Sydney sun.
Take yourself on a picnic
View this post on Instagram
The winter sun is rather lovely here in the fair city of Sydney, with gorgeous views and parks just begging to host you for a delightful meal in the outdoors. Head to the Royal Botanic Gardens on Sydney Harbour for harbour views that won't cost you a cent, or explore further afield at Wendy's Secret Garden for Sydney's best kept secret.
Tell me more
Sydney.com is your one-stop shop for the latest news and events happening in Sydney all year around! There are also specific tips on what to do in Sydney during the winter - whether you're looking for the warm embrace of retail therapy, a feel-good show or want to get right amongst the action during peak sporting season.
So, where do I stay?
YHA Sydney Harbour with its stunning rooftop views, deluxe private rooms in the heart of the harbour, and knowledgeable staff is the best place to base yourself this winter as you enjoy everything Sydney has to offer. Whether you're walking, skating or stuffing your face all day, YHA Sydney Harbour will offer you a warm bed and even toastier hospitality to come home to every night. Check it out! Looking for an accommodation that is conveniently located? Then stay at YHA Sydney Central. This YHA property is located right next to Sydney's Central Station. Are you a nature lover and like to stay just outside the city? Then YHA Pittwater Eco is recommended.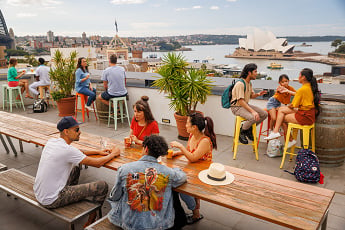 YHA Sydney Harbour
This modern, sustainable property in The Rocks draws an international crowd with its world-class harbour views of the Sydney Harbour Bridge and Opera House.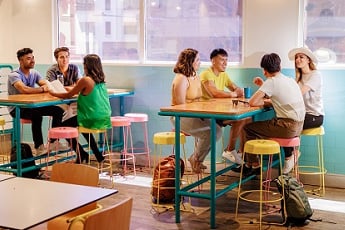 YHA Sydney Central
Located in a heritage-listed building in the heart of Sydney, this bustling international hub is next all major train & tram lines for easy access to the city's top attractions.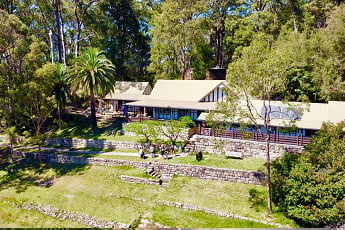 YHA Pittwater Eco (Sydney)
Perfect for those wishing to get out of the city without actually leaving Sydney, YHA Pittwater Eco (Sydney) is nestled on the hillside of Morning Bay in Ku-ring-gai National Park.