The eight strangest Christmas traditions on earth
Half-goat demons, pooping logs, doorway-sniffing trolls, Colonel Sanders… yep, this intro isn't going to make any sense. Just read on to discover eight of the weirdest and most wonderful ways Chrissy is celebrated around the world...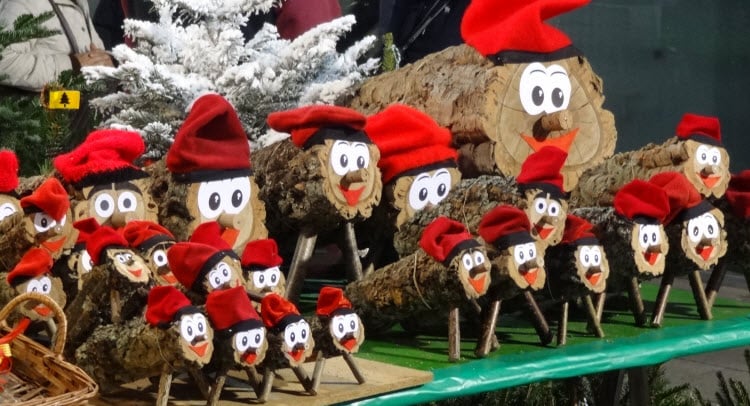 Krampus, Austria
As if the threat of missing out on presents wasn't bad enough, Austrian kids who end up on Santa's naughty list also have to worry about Krampus: a horned, hairy beast that snatches misbehaving children in his wicker basket, serving as Saint Nicholas' creepy enforcer. Many towns in Austria (and neighbouring countries), especially the alpine villages around Salzburg and Tyrol, celebrate Krampusnacht on December 5th, when dozens of men dressed as the half-goat demon parade through the streets brandishing sticks and terrorising children. We'll just stick to our lump of coal, thanks.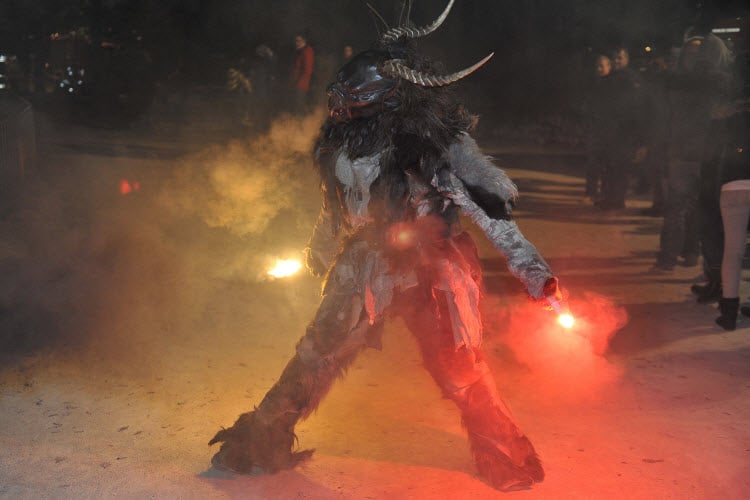 The pooper and the pooping log, Catalonia
For some inexplicable reason, Catalans observe not one but two poo-based Christmas traditions that will put a smile on your faeces, ahem, sorry, faces. The first is the 'caganer', roughly meaning 'the pooper' – a figurine of a pants-less peasant laying a cable that's snuck into nativity scenes alongside Jesus, Mary and Joseph. The second is 'caga tió – or the 'pooping log' – which is a small stick with a smile on its face that lives on the dinner table in December, is 'fed' every day with nuts and sweets and kept warm with a blanket, then gets beaten with sticks on Christmas Eve to poop out presents (in reality, the kids duck out to pray for pressies while relatives pop the gifts under the blanket).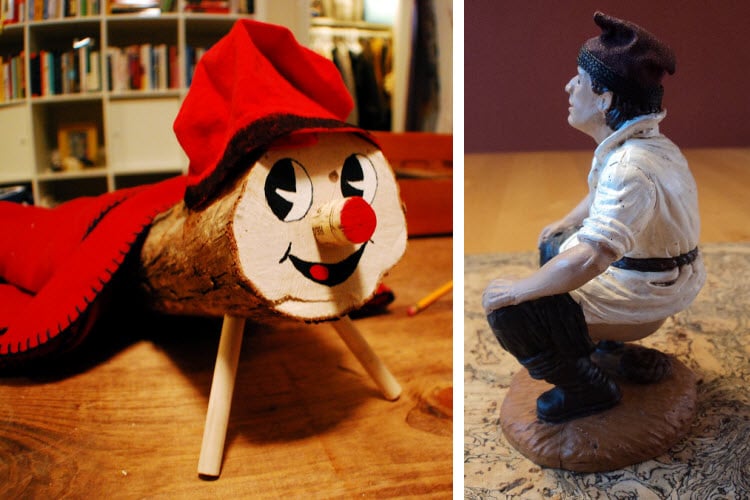 The Yule Lads, Iceland
Icelandic kids don't just get one Santa Claus, they get 13 mischievous trolls roaming the country in the fortnight before Christmas. Like Snow White's seven dwarves, each of the 13 'jólasveinar' (Yule Lads) has his own personality – including Doorway-Sniffer, Spoon-Licker, Sausage-Swiper, Candle-Stealer, Curd-Gobbler, and the ominously named Window-Peeper. Each takes turns visiting children who leave shoes in their bedroom window, dropping off pressies for the good kids and rotting potatoes for the bad ones.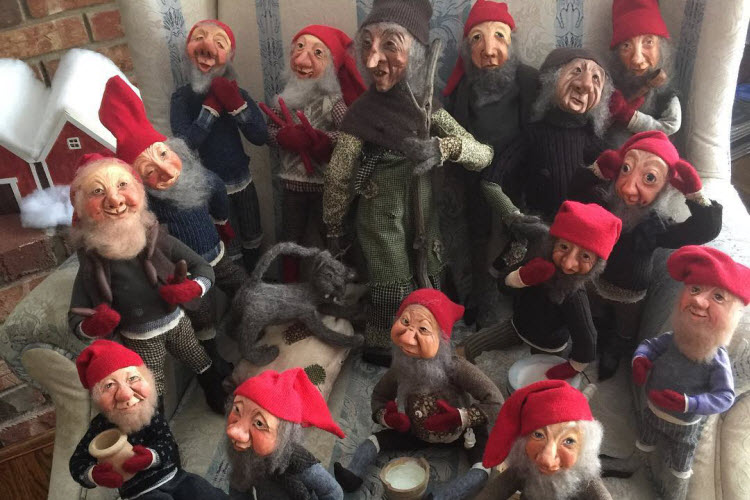 Mari Lwyd, Wales
Welsh culture is ancient and steeped in superstition. It's not surprising, therefore, that residents of South Wales enjoy parading an undead horse around their villages to celebrate the happiest time of year. In a wassailling display dating back to (probably) celtic times, the custom involves draping a white sheet over a pole with a horse skull attached and knocking on townsfolk's doors, no doubt giving them the fright of their lives. The party carrying the morbid effigy then sing to the residents, who are supposed to sing back before relinquishing some food or drink. There is some debate about whether Mari Lwyd translates as 'Holy Mary' or 'Grey Mare', but either seems equally creepy to us...
View this post on Instagram
Kentucky Fried Christmas, Japan
Introducing the greatest Christmas marketing triumph since Coca-Cola popularised the fat, jolly, red-suited image of Santa Claus we all know and love. Christmas isn't huge in Japan but a ridiculously successful KFC ad campaign during the 1970s established the tradition of families tucking in to buckets of fried chicken on December 25. In fact, holiday-themed dirty bird has become so popular around Japan that restaurant reservations and specially packaged delivery orders are placed months in advance.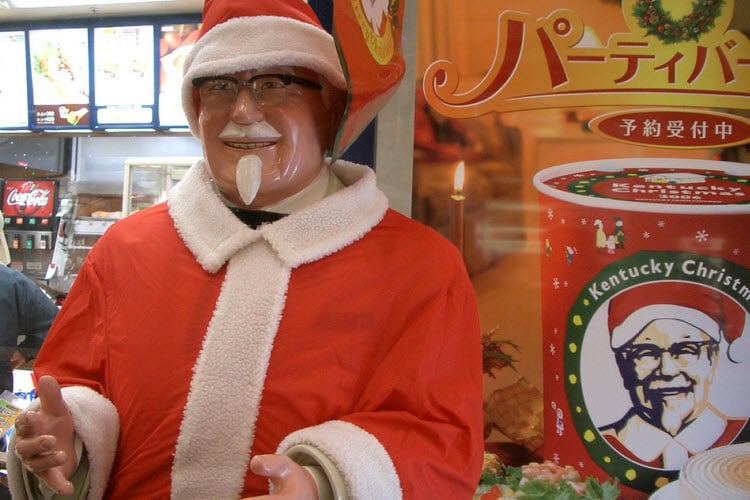 La Befana, Italy
Italian Christmases are celebrated with a wine-drinking witch – and no, we don't mean that alcoholic auntie from the dodgy side of the family. Twelve days after Santa's visit, on the eve of the Epiphany (January 5), families across Italy leave out a glass of vino and a plate of sausages for 'La Befana', who pops down the chimney on her broomstick. According to folklore, the old lady knocked back an invitation from the Three Wise Men to witness the birth of Christ, and was so devastated about missing it, she spends every Christmas time gliding around the country searching for Baby Jesus (though we're not sure why she thinks she'll find him in Italy), and doling out presents to good kids and coal to naughty ones.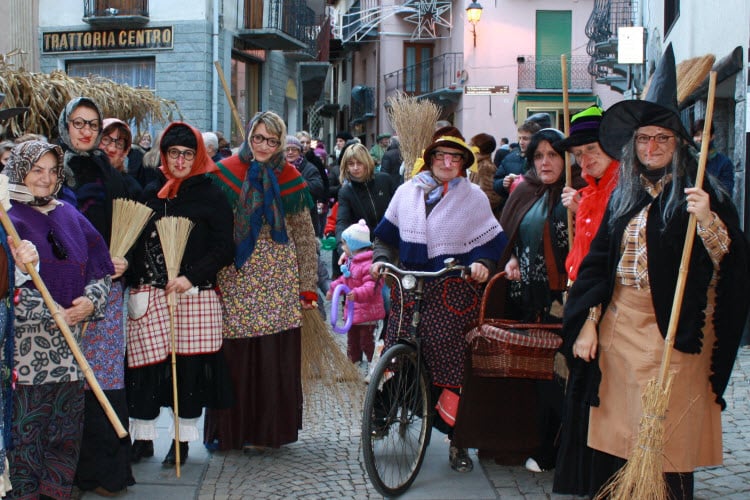 Spider webs, Ukraine
The Ukrainians take a different approach to Christmas decorations, swapping fairy lights for spider webs. The legend of the Christmas spider explains that a poor widow and her kids cultivated a Christmas tree from a pine cone but couldn't afford any decorations… then, on Chrissy morning, they woke up to see their tree blanketed in cobwebs, which sunlight then transformed into gold and silver. Nowadays, trees across Ukraine are decorated with little spider ornaments called 'pavuchky' and fake spider webs, which is said to be the origin of the sparkly tinsel that shimmers at Christmastime all around the world.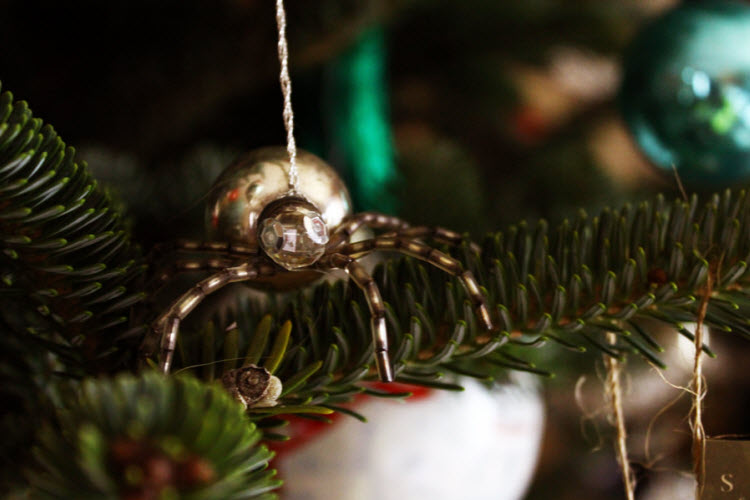 Radish carving, Mexico
Each year in the Mexican city of Oaxaca, the days before Christmas are marked with an event known as the Night of the Radishes. Sadly, it's not a low-budget 80s horror movie, but instead a vegetable carving competition. Participants get remarkably creative, with everything from nativity scenes to fantastical monsters on display as thousands of visitors descend on the city to witness the fun. The radishes in question are grown specially and pumped with chemicals to grow immense, but it all seems a bit futile, as the works can only be displayed for a few hours before the veges wither away.
View this post on Instagram
Book your stay
YHA Australia is a member of Hostelling International (HI), the world's largest provider of backpacker accommodation with more than 4000 hostels in 60-plus countries… including close to all these unique Christmas destinations. Click here to book your stay.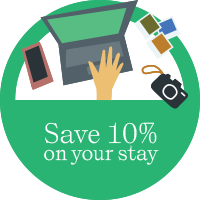 Book direct and save
By booking direct with MyYHA you'll receive our exclusive discounted rates. Sign up or login to get 10% off at select properties.