The Red Heart
Janet Mcgarry Takes The Leisurely Route Around Australia's Iconic Red Centre.
"Coooooooooooooooooooooooe'.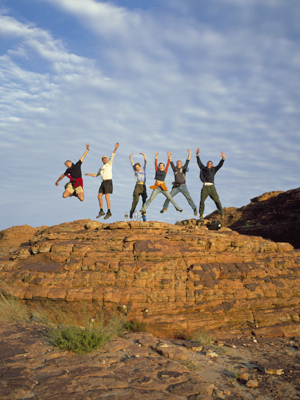 The yell sounded out across the canyon. Seconds later it bounced back, magnificently clear. We were standing on a rocky platform overlooking Kings Canyon, in Watarrka National Park. Situated at the western end of the George Gill Range, and lying 450kms southwest of Alice Springs, Kings Canyon isn't as well known as its famous neighbour Uluru, but is a beautiful companion piece to any trip exploring the Red Centre of Australia.

Later, after a terrific walk around the rim of Kings Canyon that both stretched the legs and was a visual feast, I reflected on the options for exploring Central Australia. We were spending that night sleeping out in swags at a bush camp just short of Yulara. The night before we'd been in Alice Springs. This is the only regional town in this part of the Northern Territory and one with its own distinctive feel and atmosphere.

Many visitors to the area now opt to fly in and out – there are very convenient direct links to Ayers Rock whilst Tiger is helping to revitalize Alice. But what combination of air and land transport offers the best outback experience? And how can you avoid feeling like you've dropped in to this unique environment like an alien – there but for a moment, and leaving without having really experiencing the true outback.

The answer, of course, like most travel planning is to combine a range of options with sufficient time to really immerse yourself in this ancient landscape. To get you started here's some alternatives:

Fly-drive-fly loop

This itinerary can be done in either direction, but I'd recommend starting in Alice Springs and building up to Uluru, unless this is part of a longer NT trip and you are driving on to Darwin and the Top End.

Alice is a great introduction to outback Australia. Whilst seeing the usual Coles and Woolies as well as other familiar shops can seem weird, the feel of the town is definitely not your normal suburbia. The dry Todd River cuts through centre and is a reminder of the desert lapping on the doors of town. A sunset stroll up Anzac Hill gives you a full 380 degree perspective on Alice's location beneath the Western MacDonnell Ranges.

The town centre itself is compact, but allow enough time for a visit to the splendid Alice Springs Desert Park, renowned for its desert birds and plants. Most people also plan a visit to the School of the Air and the Royal Flying Doctor Service HQ.

Making your way to Uluru, you have a couple of options: the lengthier scenic route is west from Alice visiting the beautiful gorges of the West MacDonnells, through to Glen Helen. From there, the adventurous can take Larapinta Drive around to Watarrka National Park, or keep to the more travelled route east past the entrance to Palm Valley. You rejoin the Sturt Highway and head south from there, or with a 4WD, take a magnificent day drive through Finke Gorge National Park coming back to the main road into Watarrka. The choices really come down to time, vehicle and driving experience – but remember to plan fuel, food and overnight stops as choices are limited.

Wattarka National Park is home to Kings Canyon – a towering canyon-like red gorge famous for its rim walk. Incredibly hot in summer, the walk takes 2-4 hours and offers terrific views. It's perfect in mid winter - popular but nowhere near as busy at Uluru; a spot more frequented by backpackers and grey nomads.

An overnight stop at Kings Canyon Resort allows you time to savour both the sunset and desert night sky. There is nothing quite like the incredible sight of the sky after dark. With no light pollution and clear visibility, a visual feast of stars opens up above you. My favourite option is to take a rug and a torch, wander a little away from the resort, and just lie back and absorb it all. But if dining under the stars is your fancy, Kings Canyon offers a slightly cheaper and less crowded special starlit dinner than the more famous option at Uluru.

The next day, it's an easy drive to Uluru and all there is to see and do here and out at Kata Tjuta before hopping on a return flight home out of Ayers Rock Airport.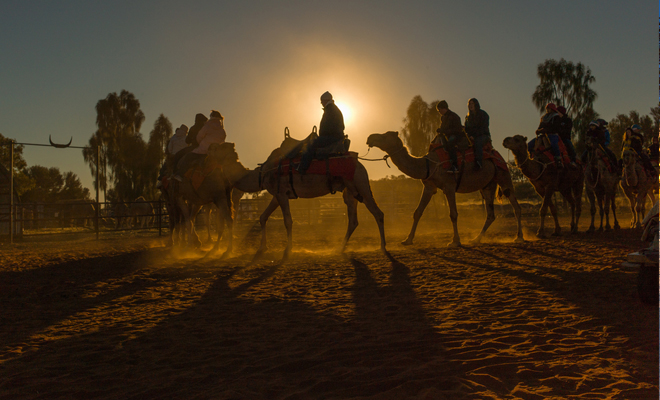 TOP 3 RED CENTRE ACTIVITIES

Don't come so far not to get out amongst it:

1. Camel Safari
They may be a bit grumpy, but this is a terrific way to see the desert at sunrise.

2. Motor Cycles
Like something with more horse-power? A Harley ride around Uluru is just the ticket.

3. Indigenous Activities
Yulara now hosts a regular program on indigenous activities mainly held in the town centre and open to all.

WHERE TO STAY

Alice Springs YHA


Getting There:

Alice Springs YHA can organise coach transfers from Alice to Ayers Rock on AAT Kings. Enjoy The Rock Tour with two nights (one pre and one post tour) at Alice Springs YHA – book online.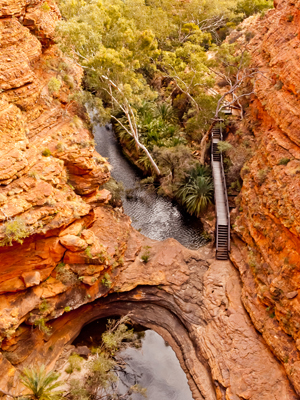 Fly-coach-Fly

Time short and don't want to self-drive but like a bit of independence? Then combine flying into Alice, a few days to see the sights there before buying a one way coach ticket through to Yulara at Uluru. In Alice, it's easy to add day trips out to the West MacDonnell Ranges if you have time.

Uluru is 500kms south-west of Alice Springs, and it's a quick sealed road all the way. The coach will take half a day, and you can sit back and watch the changing desert scenery. Most get fooled that they are approaching Uluru when in fact they are seeing another great monolith, Mt Connor. Much less visited and lacking the incredibly rich orange texture of Uluru, Mt Connor looms slightly foreboding on the horizon.

From Yulara, you'll want to plan how to get around. Uluru is 17kms away in the National Park, so a ticket for the local bus gives you the options of going back and forth as you wish. Most people now opt not to climb the Rock, and instead wander the nearby path to viewing points at the base. Take a bit more time, and the full circuit base walk is much more interesting and really allows you to see the changing faces of the Rock, its sacred sites and waterholes.

I found the Cultural Centre a bit of a disappointment – in need of updating, it has good information on the national park and local indigenous communities but considering the numbers visiting should be renovated soon.

Fly-tour-Fly

Want no hassle travelling, and enjoy having company? Then this is the option for you, combining the Alice Springs leg above, with a 3 day/2 night outback tour. There are lots of companies to choose from but the backpacker ones offer terrific value for money. The Rock Tour is probably the best known of these and benefits from being specialists – this is all they do so they do it really well.

An early start out of Alice ensures that the first long day packs in the rim walk at Kings Canyon and a lot of kilometres before heading to a night sleeping under the stars in swags on a station before you reach the Rock. There's nothing quite like dinner whipped up on the open fire, a few glasses of whatever takes your fancy, some tall stories and then drifting off to sleep tucked up in a sleeping bag. It won't be the most comfortable night you'll ever have, but it will be one you'll remember.

Day two knocks off the Uluru highlights – the Valley of the Winds walk at Kata Tjuta and the base walk at the Rock before finishing with dinner at the sunset viewing point. That ground feels a lot harder on night to but at least there's a hot shower in the campground at Yulara.

The last day in the Red Centre – and you can settle in for the drive back to Alice and a few drinks with new friends to close out the tour, or hop on a plane out of Ayers Rock and wing your way home.

What is sure, whichever option you choose, slow down if you can, take in the sights, colours and textures of this wonderful landscape that is Central Australia.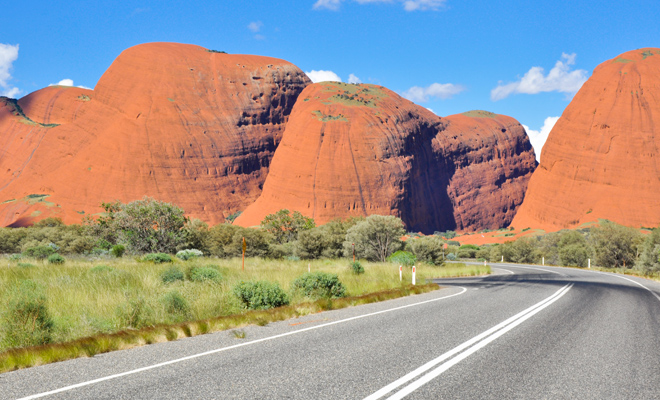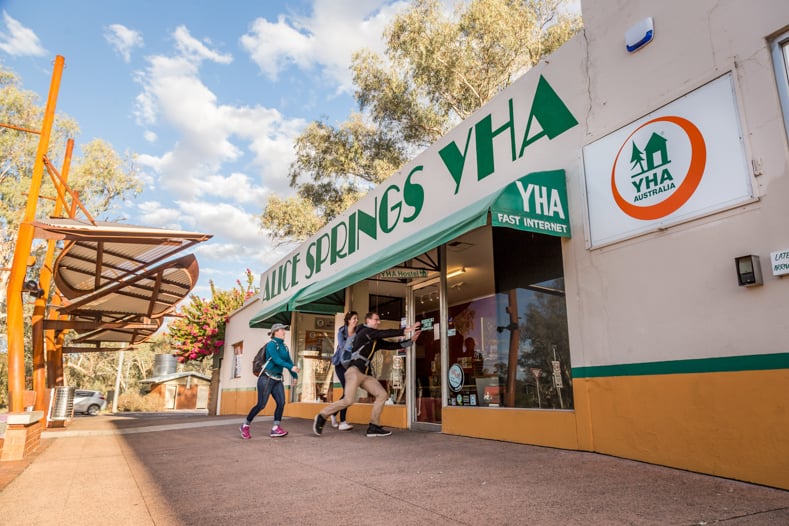 YHA Alice Springs
Located in the iconic desert town of Alice Springs, gateway to the Outback and Uluru, the historic YHA Alice Springs was once an open-air theatre and still hosts nightly movies.