The ultimate Adelaide must-do
Just arrived in Adelaide? Australia's capital of culture and cool has so much to offer, and we've got the top things you should do before leaving. Whether you're hoping to spend as little as possible or looking for something to splurge on, there's great things to do for every budget.
Splurge on Kangaroo Island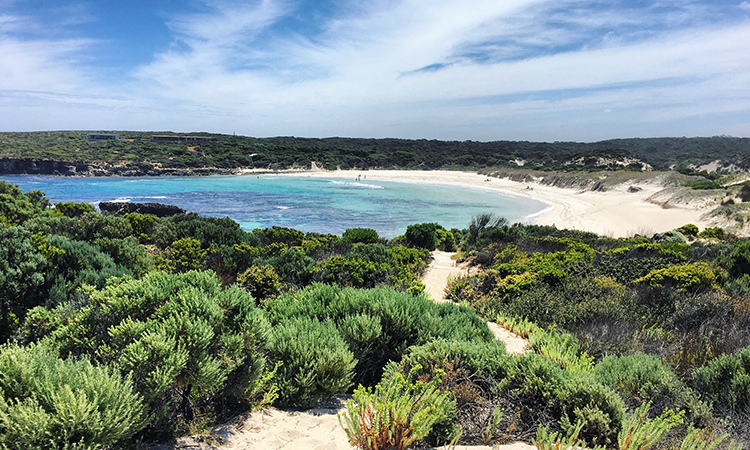 A return ferry from Adelaide to Kangaroo Island is exxy, but trust us, you won't regret it. There is SO much to see and do in this magical place, you'll never want to leave. First, the wildlife! The Seal Bay Conservation Park is the only place in the world where you can walk amongst endangered Australian sea lions. You can spot koalas along the Koala Walk at the Hanson Bay Wildlife Sanctuary, as well as echidnas, goannas, and kangaroos all over the island. If you're a foodie, you'll be in paradise here – Kangaroo Island is known for exquisite seafood, cheeses, wines and rare honey. Swim or snorkel at pictueresque beaches, see the stunning sunset on Vivonne Bay, and have the place to yourself at Stokes Bay or Western River Cove. To make the most of your time on Kangaroo Island, you might have to give your wallet a workout, but it's worth it to fully experience the magic of Australia's third largest island.
Affordable things to do in Adelaide
Visit Wang Wang and Funi at Adelaide Zoo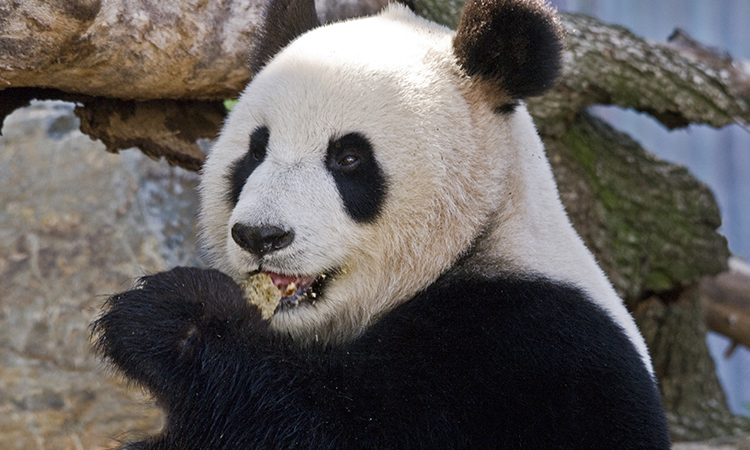 Image: South Australian Tourism Commission
Pandas, need we say any more? You're never too old or too mature to have a great zoo day, and Adelaide Zoo is one of the best in the country. It is Australia's second-oldest zoo, and is much loved by locals and travellers alike. There are over 250 native and exotic species and over 2500 animals on site – including two giant pandas, Wang Wang and Funi, who have called Adelaide home since 2009.
Bike along the River Torrens
Adelaide is a largely flat, open and bicycle-friendly city which has a fairly prevalent penchant for all things pedal-powered. With this in mind, what better way to see it than by knifing right through the middle of town along a solid 30km of mostly uninterrupted bike path? Rent or borrow a bike and mount up to ride down the extensive green swathe which follows the River Torrens from the coast to the hills, and provides both a healthy commute for many Adelaidians and one of the best casual rides in the entire city.
Get wine tipsy at the Barossa Valley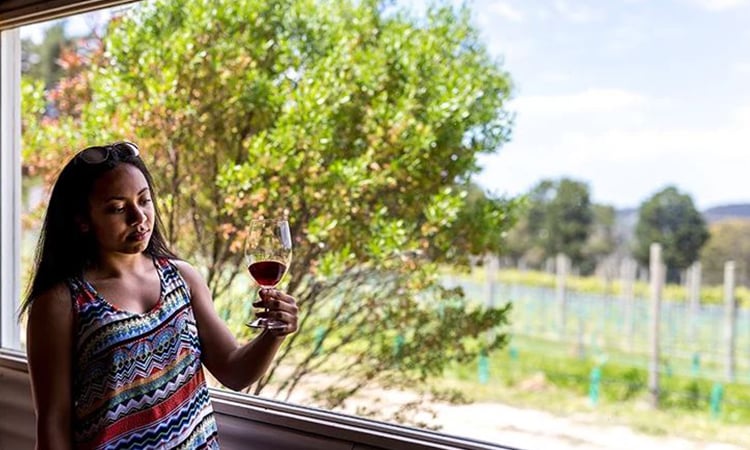 Arguably Australia's best wine region, visiting the Barossa Valley is a must-do! An hour's trip out of Adelaide, the Barossa encompasses a whopping great 150 wineries and 80 cellar doors, surrounded by villages, stone churches and lush hills. It is the home of Australia's most famous red wine, Penfolds Grange, as well as household names such as Jacob's Creek or Wolf Blass. You'll also find the finest produce in the country - pick up a gourmet picnic basket filled with wine glasses, a cheeseboard and a condiments dish and fill it up as you explore the mouth-watering Butcher, Baker and Winemaker Trail. The Barossa is an unforgettable experience that you can enjoy while spending as much or as little as you like. Do it by bicycle, motorbike, vintage car, hot air balloon or helicopter - just make sure you do it!
Wander around Adelaide Central Market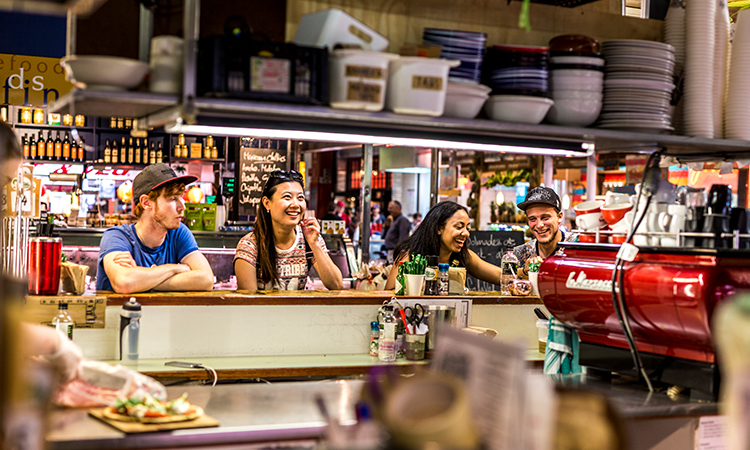 The largest undercover produce market in Australia, Adelaide Central Market buzzes with life, colour and dedicated traders all year round. Sample the freshest fruit and veg, meat, seafood, cheese, baked goods and health foods, along with the city's most loved eateries. To get behind the scenes knowledge, join a tour and learn all there is to know about the unique history of the market and all the goodies you're tasting. With a diverse history dating back to 1869, you'll feel the rich culture of this place from the moment you step inside. You could spend exactly $0 all day, just taking in the atmosphere, but shelling out a few dollars to support local growers is probably some of the best money you'll spend during your trip. Adelaide Central Market is South Australia's most visited tourist attraction with over 9 million visitors a year - make sure you're one of them!
Best free things to do in Adelaide
On top of the world at Mount Lofty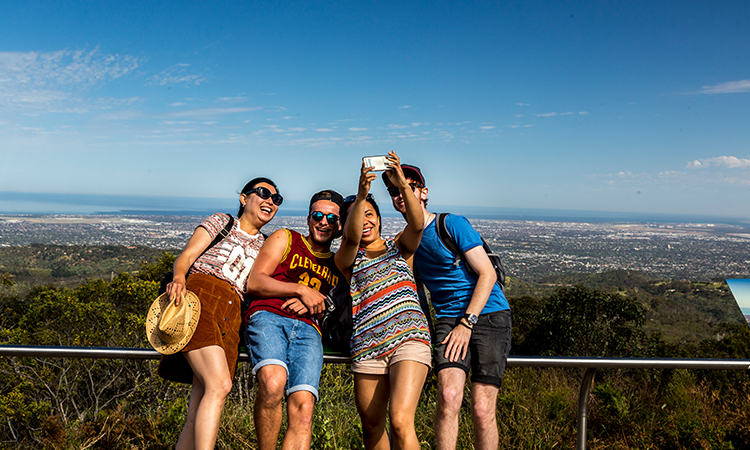 A popular little outdoor adventure for Adelaide locals, Mount Lofty offers panoramic views of the entire city of Adelaide, and costs you $0 to experience. At 710 metres above sea level, there's a few ways you can get to the top – drive it if you're short on time, take the 1-3 hour hike if you fancy yourself a trekker or bike ride if you're up to it! You can pack a picnic and spend the day taking it all in - spotting kangaroos, emus and other wildlife. When you're done with the views, you can wander over to Waterfall Gully or Mount Lofty Botanic Garden and experience the majesty of this unique region of Adelaide. A great place to take a date, some friends, the family or just go alone and ponder the meaning of life. Mount Lofty is an excellent way to spend a day without spending a cent.
Get cultured South Australian Museum and the Art Gallery of South Australia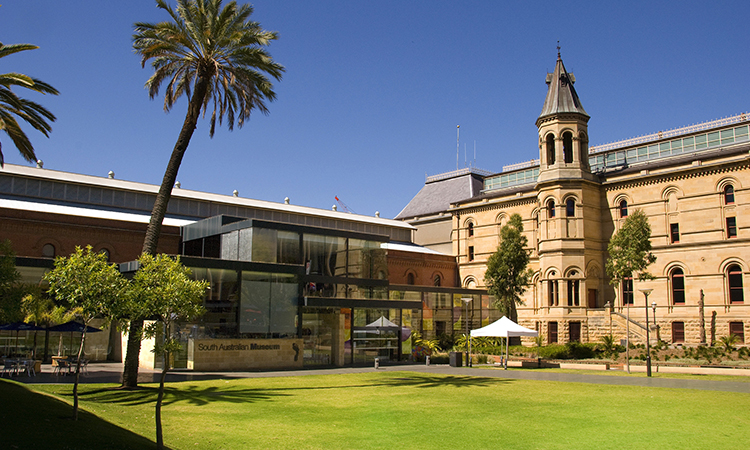 Image: Brett Sheriden, South Australian Tourism Commission
It costs nothing to get cultured in Adelaide! You'll find the South Australian Museum and the Art Gallery of South Australia right next to each other, so you can spend a day delving deeper into Australia's history than you imagined. Peruse endless fascinating exhibits and examine artefacts from the indigenous Ngarrindjeri people at the Museum. At the Gallery, lose yourself in Australian, Indigenous, Asian, European and North American art, and join a free guided tour to learn all about the wonders you are experiencing. Museums and galleries are one of the best ways to get to know a city on a budget – make sure you put some time aside to lose yourself wandering around these two gems.
Catch some rays at Glenelg Beach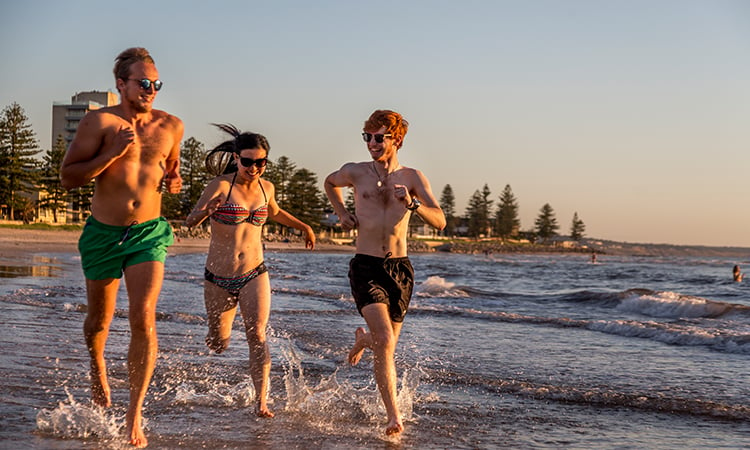 You can't go wrong with a beach day when you're trying to save some money. The most popular beach in Adelaide is Glenelg Beach, frequented by locals and visitors alike. You will always be able to find a sandy patch to spread out on, and spend the day alternating between people-watching on the shore and taking a dip in crystal clear blue waters. Right on the beach is The Beachouse amusement park, where you can embrace your inner child and enjoy waterslides, rides and arcade games. The suburb of Glenelg is buzzing, with the beach framed by fantastic cafes, pubs and boutiques for you to browse. You can spend a day exploring this popular suburb with your wallet stowed firmly away, but surely you can spare a few bucks to grab an ice cream and walk the jetty by sunset!
Find your inner peace at Himeji Gardens
If you love Japanese culture (and who doesn't?), the Himeji Gardens are the place for you. A slice of peace and tranquillity right in the heart of the CBD, the Gardens were a gift from Adelaide's sister city in Japan, Himeji, in the early 1980s. Find your inner peace wandering through perfectly manicured shrubs and trees, still ponds and gorgeous lily pads. With shady and sunny areas, the Garden is the perfect place for a peaceful picnic all year round. Spot goldfish, ducks and turtles in the Garden's stunning water feature, accompanied by a hidden waterfall under the trees. See an authentic Japanese zen garden, teahouse and enjoy intricate Japanese architecture. Entry to the garden is free - a great opportunity to get a prime backdrop for your Adelaide Insta post without spending a cent.
Need quality budget accommodation for your Adelaide trip? Look no further than YHA Adelaide Central!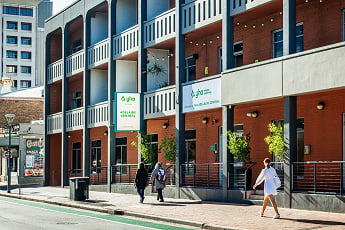 YHA Adelaide Central
Located in the heart of Adelaide, the chilled-out YHA Adelaide Central boasts spacious communal spaces & easy access to all the hotspots & events of South Australia's capital.