Top 6 cycle-friendly cities in Australia
Though not yet at European levels of adoption, cycling is on the rise in Australia and is fast becoming one of the best ways to get about and explore its cities. With the added benefits of exercise, low cost AND a low environmental impact, there's lots to love about being a cyclist as a tourist or local. In this article, we've chosen 6 of the most bike-friendly Aussie cities for you to pedal around to your heart's content, so strap up, clip in, and enjoy the ride!
6. Perth

Image: Tourism Australia
Attitudes towards cycling are slowly shifting in Perth. Though fundamentally built with cars in mind, cycling is on the rise in WA's capital and a new influx of government investment has started to lead to more and better bicycle infrastructure in its most frequented areas. As it stands, Perth has quite a lot going for it as a cycling destination: A growing number of excellent cycle-friendly paths, buses that allow bike transport, a relatively mild climate with plenty of sunshine, an active cycling community and some amazing scenic riding spots within touching distance of the city (including the ever-gorgeous Rottnest Island). Cars do still rule the roads here, however, and many of the 'dedicated' cycle paths are actually shared with pedestrians, leading to some situations where cyclists feel like an afterthought. There are still plenty of great rides to try, though, including Marmion to Burns Beach, the Perth Discoverer loop and even the annual Dams Challenge event – and when you get tired, YHA Fremantle Prison is a fun and quirky place to lock up your bike AND yourself for the night.
5. Hobart

Image: Tourism Tasmania/Heath Holden

Hobart doesn't immediately feel like it was built with cyclists in mind. Despite strides in the last decade, dedicated bike lanes and paths are somewhat sparse in Tasmania's capital, and rides along its main roads can be a bit hair-raising as a result. Thankfully, traffic in Hobart is relatively light for a major city, and most of its lesser streets are perfectly suitable for meandering along on your steed. What's more, riding on the footpath is legal in Tasmania (assuming you keep speed down and give way to pedestrians), giving you another versatile option for navigating around town. Hobart's city centre also has a decent number of bike shops and service centres, plus lots of bike parking facilities, and you can always park up at YHA Hobart Central for the night to sleep off the wobbly legs between rides.
While Hobart's purpose-built bicycle infrastructure is still relatively lightweight, its one huge advantage over most of the rest of this list is how it serves as the gateway to the entire island of Tasmania – an incredible playground for experienced road cyclists, trail riders and mountain bikers alike. With a temperate climate and fresh Antarctic breezes, the conditions are ideal for long, brisk rides, and the stunning mountains, dense forests, sweeping coastlines lend themselves to some truly memorable rides; ideally capped off with some hearty, locally-produced food to refuel.
4. Brisbane

Image: Tourism & Events Queensland
It's pretty clear when you visit Brisbane that the Queensland Government is putting a lot of effort into making it more eco-friendly and easy to navigate for tourists, and cycling is one of the biggest beneficiaries of this. In much of central Brisbane, including South Bank, Brisbane City and other stretches along the river, a network of cleverly laid out paths and bike lanes are interspersed with green spaces and complimented by ample bike storage (including at YHA Brisbane City, we might add). You can also take your bike on the train here, so linking up longer rides is quite easy if you'd prefer to just go one way. Much like Perth though, what holds Brisbane back (and this goes for the surrounding Gold Coast and Sunshine Coast regions, too) is how entrenched cars are in the local culture, leading to motorist-centric roads that can feel inhospitable to cyclists, particularly outside of the city centre. It's also quite humid in summer, which can be unpleasant – though the cooler months are admittedly gorgeous.

All in all, cyclists will find plenty to love in Brisbane, and bikes are an undeniably wonderful way to explore the city for visitors. Aside from a leisurely spin around the main sightseeing spots, the broader Brisbane River loop is a must-do ride for getting the lay of the land, while the route from The Gap to Mt Nebo and then Mt Glorious is a great road ride just out of town. Also check out the Brisbane to Gold Coast Cycle Challenge event if you like riding in a peloton.
3. Adelaide

Image: Lewis Potter
The first thing a pedal head probably thinks of when they think of Adelaide is the massive international pro cycling race held here every year, the Tour Down Under, serving as both a cornerstone of the UCI WorldTour calendar and a festival of all things cycling. But Adelaide's affinity with two-wheeled traversal goes a bit deeper than that. Adelaide is a very breathable city – the roads are wide, there's lots of open spaces, and would-be aggressive drivers seem to get a bit more oxygen to their brains. Attitudes to cycling are decently tolerant overall, and between its fair extensive network of bike paths and lanes, and footpath riding being made legal in 2015, cycling is a genuinely viable mode of transport across nearly all of the city. Similar to Brisbane and Perth, one of the best and most accessible rides is along its main river, the River Torrens (Linear Park), where 30km of relatively uninterrupted paved path are yours to explore. The coast between Seacliff and Outer Harbour is great too, while the Adelaide Hills and wine country are an attractive prospect for more challenging rides, with the potential perk of winery visits.

Do be aware that while you can take a bike on the train, it costs extra here, and also know that Adelaide can get brutally hot in the summer – which, confusingly, is usually when the Tour Down Under is held (lucky they're professionals, right?). Finally, if you're looking for somewhere affordable to stay, YHA Adelaide Central is right slap bang in the middle of town and has free bike storage, so give it a look.
2. Canberra

Image: Lewis Potter
Canberra was always going to find its way near the top of this list. With the benefit of being an 'artificial city' – conceived from the get-go with a number of modern city building principles in mind; Canberra certainly doesn't disappoint when it comes to catering to cyclists – even if it sometimes does in other ways. Firstly, Canberra is quite flat, with lots of wide-open areas, broad footpaths (which cyclists ARE allowed to ride on) and dedicated cycle paths. It also has bike racks everywhere, including outside all the museums, galleries and restaurants that make the city interesting to visit to begin with. Not only that, but you don't have to go far in any direction to find yourself in the countryside, which delivers some solid long-distance rides for those looking to get their legs burning. The city IS quite spread out, though – which could be a good or bad thing depending how you view it – and temperatures can get below freezing in winter, meaning you'll likely need to rug up and wear gloves when biking during these months. Still – bottom line: Cyclists are fairly spoilt here, and cycling really is one of the best ways to get about as a tourist, full stop. If you're new in town, be sure to try out the Lake Burley Griffin and Cotter Uriarra loops to get a feel of what we mean.
1. Melbourne

Image: VisitVictoria
Beating out its rivals on this list (as well as that other city starting with 'S', by quite a large margin), Melbourne is our top pick for cycling for a number of reasons. For starters, it has a cool, temperate climate that never gets too frosty – perfectly suited to long, brisk rides. Its relatively flat topography also lends itself to accessible riding, and while you're unable to use the footpath as a cyclist in Victoria, Melbourne's ever-growing labrynth of bicycle paths, bike lanes and quiet streets (of which there are many choices due to Melbourne's grid-like layout) is the most dense and comprehensive of any Australian city. You can also bring bikes on trains (though not usually on buses or trams) and there are plenty of bike racks scattered around for mooring your mount while you stop off for a coffee or sightseeing. What's even better, is Melbourne is within reach of some truly world-class road riding beyond the city's limits – we're talking about the Yarra and Dandenong Ranges, High Country, Great Ocean Road and more. One important tip for riding in Melbourne: Watch out for tram tracks! Crossing these at an acute angle can get your wheel caught and lead to some embarrassing and potentially dangerous falls.

Some great routes to get you started in Melbourne-proper include the Yarra, Merri Creek and Capital City trails, and if you're up for a challenge, the climb to Arthurs Seat is also a blast.
Bonus: Tips for cyclists in Australia
If it isn't obvious from the direction of the traffic already, when riding on roads with cars, keep left and be very clear with your signalling (sticking an arm out) when you intend to cross the traffic.
Wearing a helmet while cycling is compulsory in Australia. This is partially a result of how cycling is viewed here compared to, say, the Netherlands, where riding is a lot safer and helmets are very much optional. Nevertheless, it never hurts to protect your head from falls – they really do save lives.
Know how to assemble and dissassemble your bike. Some public transport (usually buses, where relevant) require you to partially dismantle (read: take the wheels off) your cycle before stowing it aboard.
When tackling longer rides, make sure to pack a puncture kit, pump and any other basic tools you might need in an emergency fix scenario – Australia is a huge country, and even some places just outside our major cities can be quite deserted and far from assistance.
If you want to see how your next city destination looks in terms of cycle routes, try turning on the 'cycling layer' in Google Maps. Check out the link in the Melbourne section above for an example.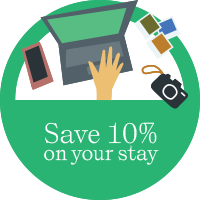 Book direct and save
By booking direct with MyYHA you'll receive our exclusive discounted rates. Sign up or login to get 10% off at select properties.