Things to do in Byron Bay's Hinterland
Byron Bay is known for its beautiful beaches and beautiful people… but wander off the beaten track and discover the perfect weekend escape. Here's your guide to the best food, hikes and experiences in the Byron hinterland region..
Enjoy locally grown at the gourmet destination of Bangalow
Walk in rainforests where dinosaurs once roamed
Pick up one-of-a-kind goodies at the markets
Eat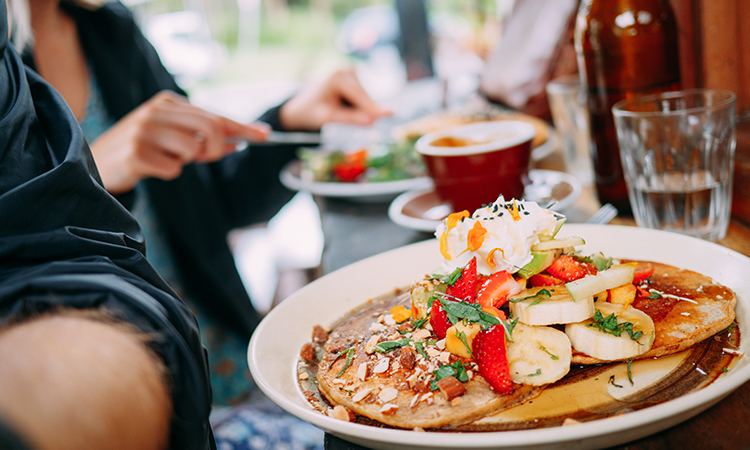 Before heading on any great adventures through the Byron hinterland, you gotta get some food in your belly! There's a huge variety of organic, locally grown, and ethically sourced produce across the region, with rich volcanic soil from Wollumbin (Mount Warning) providing the perfect environment for delish fruit and veg.
Sydney legends Three Blue Ducks have headed north to establish a Byron base and boy oh boy, we're glad they did. Serving up stunning meals and incredible cocktails, the team have adapted to provide takeaway in case you can't score a table, so nobody misses out on a great feed!
Sit in the lush surrounds of Harvest, just outside of town in Newrybar - where nearly all their produce is locally sourced, and what they can't find - they grow! You can check out the gardens right from your table, just make sure to book in early, this is a favourite with the locals!
After a big day hiking, smash a pizza at Milk and Honey in Mullumbimby. The gluten-free, vegetarian, and vegan options make this one of the most popular vegetarian pizza places in Byron, you won't feel like you're missing out while munching on slices of balsamic roasted pumpkin or a pear and prosciutto pie
Keen for more food? Head to Moonshine Coffee Roasters in Federal for your daily cup of joe, family run and supplying great coffee from Sydney to South Korea! Shelter in Lennox Heads is another delish option away from the big city, serving up house-made produce, take home meals, and fine dining options with ocean views.
Explore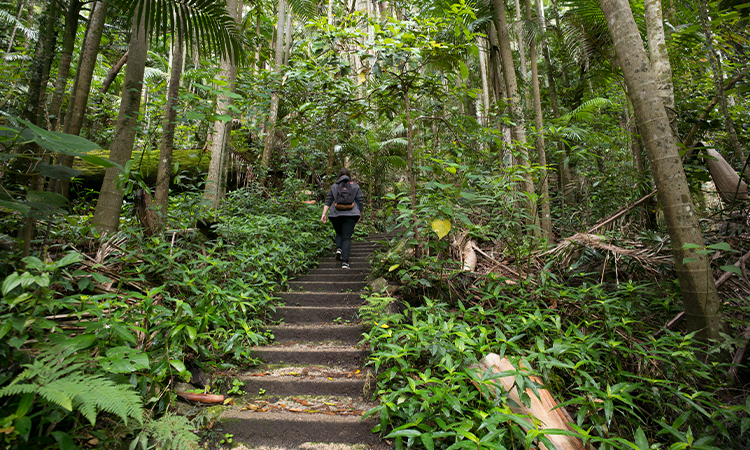 Nestled into world-heritage listed subtropical rainforest, Nightcap National Park is where you'll find waterfalls, glow worm caves, and stunning mountain views. Just under an hour from the Byron town centre, Nightcap is part of the Gondwana Rainforest World Heritage Parks, and home to the famed Protestors Falls. In the heart of Nightcap, Protestors Falls are where the huge protests to protect the stunning rainforest were held in the 1970s, cementing Byron and its surrounds as a home for activism, environmentalism and care for country. Make sure to visit after rain if you can, to see the stunning cascades remind you why sustainability is more important than ever.
There's plenty of stunning places to explore close to town too, with the classic Cape Byron walking track leading to Australia's easternmost point, the first place in the country to catch the sunrise! Just north of Byron is the Tyagarah Nature Reserve, 7km of unspoiled beaches and coastal walks, a perfect opportunity for a digital detox in Byron!
Of course, while you're thinking of things to explore in Byron, you can't pass up the ultimate Byron experience - the Byron Crystal Castle and Shambala Gardens! Tucked away in the heart of the hinterlands, explore centuries old crystals, wander the over 5 hectares of forest, and pick up a little crystal to take home. Can you even say you've been to Byron if you haven't visited this must-visit spot?

Enjoy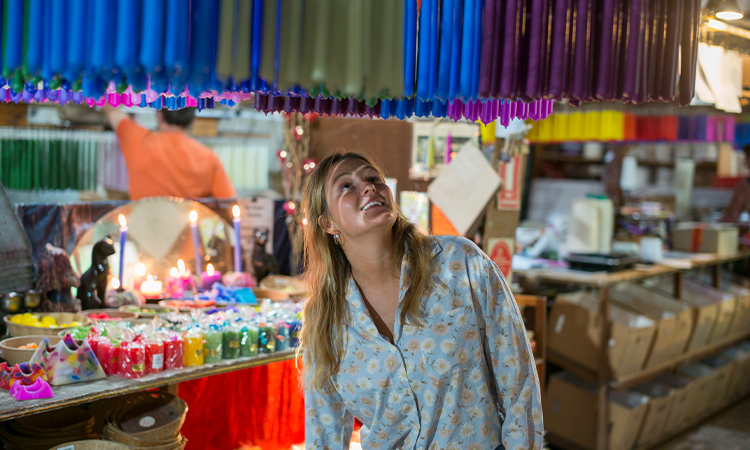 Once a day of eating and exploring is done, rest and relax – after all, that's what Byron's all about! The main beach, just a short walk from Byron Bay YHA, is the perfect place to watch the horizon turn a hundred shades of blue, purple, orange and pink, shifting into dusk.
The Nimbin Markets set to excite all your senses with food, drinks, clothes, crystals and beautiful handmade goodies looking for their new home. The hippie town of Nimbin may be known for its grass festival, but you'll find it filled with organic and handmade goods, from hand creams to hemp linen!
All down the main street of Bangalow, you'll find quirky antique stores, vintage second-hand shops and truly unique finds. If you've got the budget to splurge a little, you've gotta check out local goods at Our Corner Store in Bangalow. Filled to the brim with quality homewares and clothes, so you'll always have a bit of Byron to take home with you that's like nothing else.
Another local gem, The Farm has hundreds of thousands of followers on Instagram, and its no wonder why – pop in to the local Byron collective with bakeries, cafes, nurseries and a whole bunch more ready to welcome you.

Ready to book your trip to the bohemian heart of Byron?
You'll need more than a day or two to truly soak up the wonder of this magical town, and when you book using FlexiSaver you'll get 10% off any booking of 3 nights or more!
The best bit? Just pay a refundable deposit for one night, so you can book now, pay later, and get to planning a great time away in Byron Bay.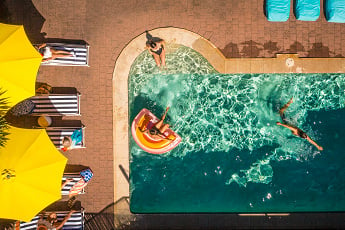 YHA Byron Bay
Relax in good company at this state-of-the-art, sustainable YHA in Byron Bay. With gorgeous communal spaces & a great social vibe, you'll never want to leave.