Why Apollo Bay is more than a Great Ocean Road pitstop
Apollo Bay may be best known as a popular stop on the world-famous Great Ocean Road, but this idyllic coastal town offers plenty of reasons to extend your stay – or even make it the focus of your entire getaway.



Seeing the iconic 12 Apostles might be the main aim of your Great Ocean Road visit, but Apollo Bay has much more going for it. From award-winning seafood pies to comfy, eco-certified stays and guided wildlife walks that support local conservation efforts, there's so much to see and do in and around this cool coastal town. Here's nine experiences which might tempt you to turn your Great Ocean Road trip into an Apollo Bay break.
Chase waterfalls at the Great Otway National Park

Image:

Kirk Richards via

Visit Victoria
Stretching from the coast into the hinterland, the Great Otway National Park is paradise for nature lovers. As the home of many incredible waterfalls, make sure to add a hike to your itinerary when you're in the area. Triplet Falls (near Wyelangta) is an easy walk along a boardwalk, whereas a hike to take in both Upper and Lower Kalimna Falls is tougher and best suited to fit hikers up for a challenge. This corner of Victoria is known for having a large population of one of Australia's favourite mammals, the koala; so be sure to stop and look up into the treetops frequently to try and spot one.
Capture a cracking-good lighthouse snap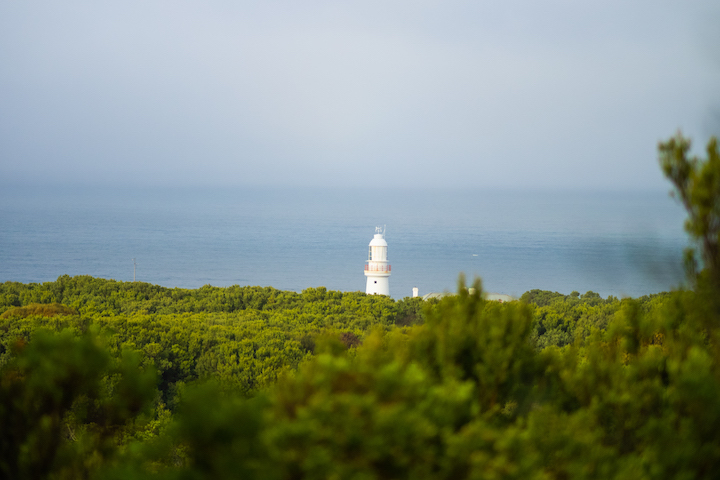 If you're into photography, you're probably keen to capture the epic beauty of the 12 Apostles, but don't sleep on some of the other amazing scenes worth snapping. The oldest surviving lighthouse on mainland Australia, Cape Otway Lightstation, is a real beauty to behold. Buy a ticket and spend some time exploring and admiring the lighthouse (built back in 1848), but be sure to check out the old-school telegraph station and World War Two radar bunker too.
Support native wildlife conservation

Image: Wildlife Wonders
Since opening in 2021, Wildlife Wonders has welcomed visitors to see and learn about some of Australia's famous (and not-so-famous) native animals. A not-for-profit sanctuary set up to support the good work of the Conservation Ecology Centre, a guided nature walk through this beautiful habitat protected by predator-proof fencing is a must-do when you're in the area. Home to emus, wallabies, pademelons, bettongs, bandicoots, gliders and more, there's a good chance you might see a species you've never encountered before. The ocean views from this serene spot aren't bad either.
Be overshadowed by tremendously tall timber

Image: Visit Victoria
You don't need to travel all the way to the USA to walk among a forest of Californian Redwoods. Planted more than 80 years ago, the impressive redwoods of Beech Forest are a majestic sight to behold, and the best part is that the area is just a 40-minute scenic drive from Apollo Bay. Pack a picnic and spend a few hours lunching under the towering trees, which stretch towards the sky. On a clear day, sunbeams filter in through the canopy to create incredible light for photography.
Embark on aquatic adventures

Image:

Darren Donlen via Visit Victoria
With the biodiverse, intertidal reefs of Marengo Reefs Marine Sanctuary just offshore, this is a great (albeit very chilly in winter) spot to snorkel, swim and dive. If you prefer to stay above the waterline, book a spot on a guided kayaking tour to see hundreds of Australian Fur Seals barking, snoozing and sunning themselves on rocks before paddling back to the beach.
Explore surrounding villages and townships

Image: Visit Victoria
If daytrips are your thing, there are many pockets to explore just an hour or two from Apollo Bay. Head east to spend some time at the surf beaches and cafes of Lorne. Travel inland to see the tiny village of Forrest, once a logging community, this area is now a mountain biking mecca with a busy little general store and brewhouse. When you inevitably drive west to the world-famous 12 Apostles, keep driving and you'll hit the laidback coastal city of Warrnambool and the old fishing town of Port Fairy, known for its historic buildings and maritime heritage. Fair warning – many people fall in love with Port Fairy's charms, so consider booking a night or two at YHA Port Fairy, too (it's one of the oldest heritage buildings in the town, so not your ordinary seaside hotel stay).
Find a gully of glow worms

Image: Visit Victoria
You'd be forgiven for thinking that all the action happens during the day in and around Apollo Bay, but after dark there's something special to be found in the forest. Head to Melba Gully State Park from evening onwards and you might be lucky enough to see glow worms illuminating the forest gloom. Bring a torch to find the way, but don't forget to switch it off intermittently so you can see the glow worms light up the dark with their amazing powers of bioluminescence.
Treat your tastebuds

Image: Visit Victoria
No doubt you'll expend plenty of energy swimming, hiking and exploring, so refuelling is a must. From tucking into a famous scallop pie from the award-winning local bakery, to enjoying a nutrient-packed breakfast bowl at a wholefoods café, Apollo Bay has plenty of top-notch food options to choose from. Worked up a thirst on your travels? Beer drinkers are also taken care of with the Great Ocean Road Brewhouse. Make sure you try the Prickly Moses Spotted Ale – every sale supports the conservation of the endangered Tiger Quoll.
Enjoy a sustainable stay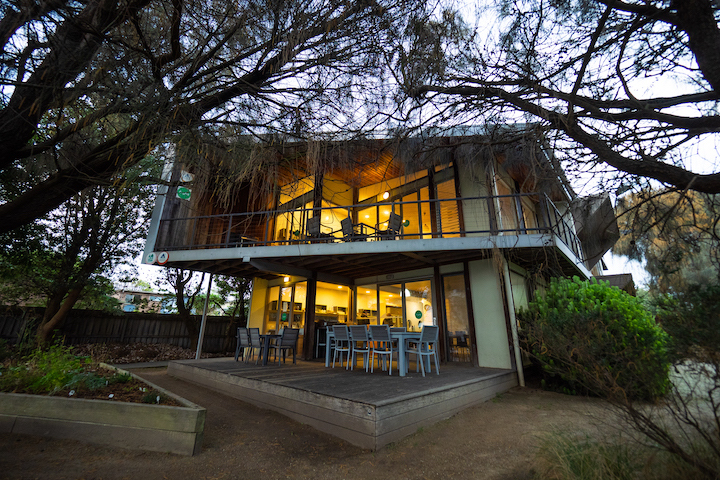 Located right in the heart of town, the eco-certified YHA Apollo Bay is a top choice if you're keen to enjoy a low impact stay. From using low-energy heating and lighting systems to composting organic kitchen waste on site, YHA Apollo Bay is taking many measures – big and small – to reduce the footprint of each and every stay. Just a short stroll from the beach (and some of Victoria's best fish and chips) YHA Apollo Bay is popular, so be sure to book in advance to avoid missing out.
Words: Jo Stewart
Hoping to spot some koalas on your visit to Apollo Bay? Brush up on your koala facts!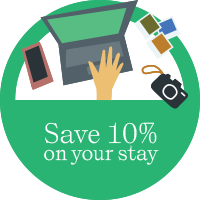 Book direct and save
By booking direct with MyYHA you'll receive our exclusive discounted rates. Sign up or login to get 10% off at select properties.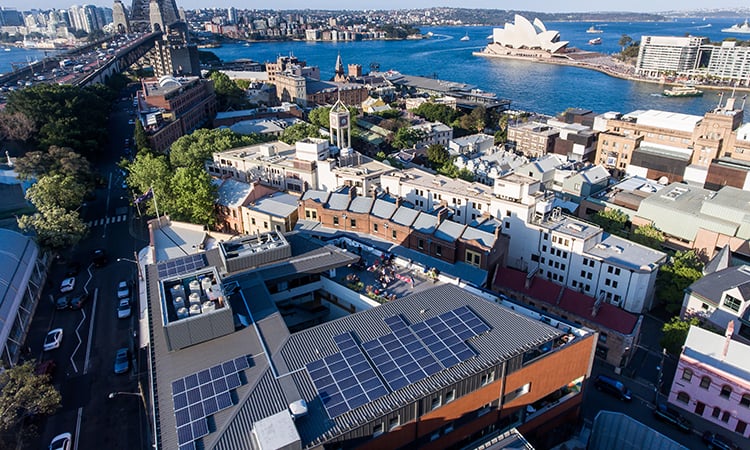 Sustainability at YHA
Properties across our network feature energy-efficient and water-saving features like solar panels, rainwater tanks and recycling facilities.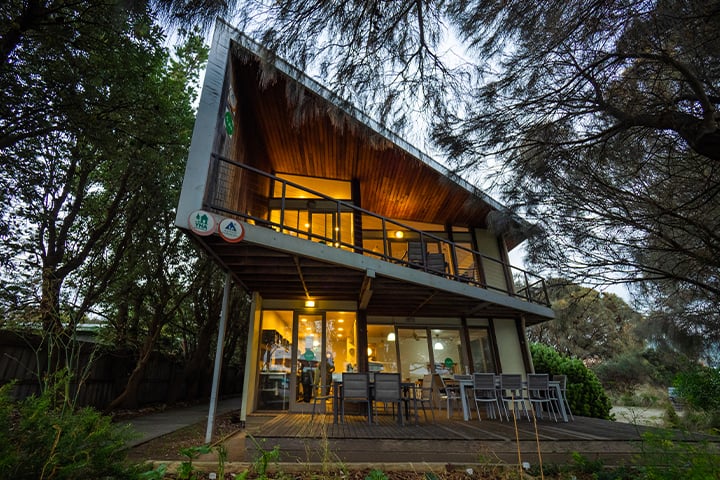 YHA Apollo Bay Eco
Midway along the famous Great Ocean Road, relax by the wood fire heater, and enjoy ocean views from the rooftop at YHA Apollo Bay Eco.