Sun, surf, scuba and sea turtles: Why you should visit North Stradbroke Island
Located just off Brisbane and a mere 50-minutes by ferry from the mainland, Queensland's North Stradbroke Island ticks all the boxes for a rejuvenating island break.

Image: Tourism and Events Queensland
Locally known as 'Straddie', North Stradbroke Island/Minjerribah is the spirit of South East Queensland distilled into one island. Sure, there's beautiful beaches and epic dive spots, but there's also nature walks, oceanside coffee spots and beachside stays that won't cost you an arm and a leg. If Straddie is on your holiday radar, read on for all the best places to swim, dive, hike, eat, drink (and most importantly, relax), and find out why you should definitely pay this stunning spot a visit.
Take a dive

Image:

Nigel Marsh/Tourism and Events Queensland
With great visibility and diverse marine life, the waters off the coast of Straddie are known for being among the best dive spots in Australia, if not the world. Manta Lodge/YHA Stradbroke Island is your one-stop-shop for both accommodation and top-tier diving instruction on the island, and you'll be in safe hands exploring the various aquatic ecosystems from beneath the waves. There's no shortage of fantastic dive sites; but Manta Bommie or Flat Rock are great places to spot larger creatures like manta rays, sharks and sea turtles, while Shag Rock's swim-through is fantastic opportunity to see schooling fish, cuttlefish, ghost pipefish and nudibranchs, among other. If you prefer snorkelling, the rock wall at Amity Point is a top spot to do so when the tide is slack.
Get in the swim of things

Image: Tourism and Events Queensland
Taking a refreshing dip in the sea is a bit of a no-brainer when you're on an island renowned for its golden, sandy beaches and crystal-clear waters. Cylinder Beach is a popular, patrolled beach ideal for families with kids, while Main Beach is also patrolled, but only safe to swim at between the flags (as conditions can be unpredictable). If you're a bit nervous about swimming in the open ocean, Amity Point has a swimming enclosure perfect for visitors who prefer to swim in a sheltered spot.
Walk this way

Image: Tourism and Events Queensland
A standout trail that runs along a 1.2-kilometre boardwalk at Point Lookout, the Gorge Walk is a truly unmissable island highlight. Apart from taking in phenomenal ocean views, you'll also have a chance of spotting manta rays and turtles during summer season and whales throughout winter. Nearby, strong riptides make Frenchman's Beach too risky for swimming, but it's a top spot for a wander along the dramatic coastline. Walk behind the headland onto neighbouring Deadman's Beach for incredible views.
The serene Naree Budjong Djara National Park has many walking tracks suited to different levels of fitness. A return journey along the Mount Bippo Penbean track will take you about two hours to complete, but on a clear day you'll be rewarded with views that stretch all the way to New South Wales from the summit. Along the way look for Glossy Black-Cockatoos feeding on cones from the surrounding black she-oak trees.
Choose your own adventure

Image: Tourism and Events Queensland
People don't come to Straddie to stay inside all day, that's for sure, and Queensland's adventure playground will keep you as busy as you want to be. Try sea kayaking or sandboarding, hire a boogieboard or surfboard to ride the waves at Cylinder Beach, or join a sunrise yoga class for a slow-paced start to the day.
One of the best things about Straddie is that there's no need to bring your own vehicle. From the ferry terminal, just jump on the bus that runs in a loop around the island. Most of the island's shops, restaurants and beaches are easily accessed on foot too, and you can otherwise hire a scooter to get around on two wheels or join a 4WD day tour to see more of the island with a local guide.
Get back to nature

Image: Tourism and Events Queensland
On North Stradbroke Island, wildlife encounters are pretty much guaranteed. Expect to see plenty of marsupials like kangaroos and wallabies, especially at sunrise and sunset. While it's tempting to want to touch these cute critters, it's best to not pat or feed them as they're happy munching on grass and leaves. Koalas also live on the island, so look up at the tree canopy while you're out adventuring. The eucalyptus trees at Amity Point are probably your best bet for a koala sighting.
If you're a bit of a bird nerd, then you'll be delighted with Straddie's abundance of birdlife. From kites to sea eagles, spoonbills, honeyeaters and migratory species like shearwaters – a whopping 260 different bird species have been recorded on the island.
Savour some island eats

Image: Tourism and Events Queensland
There are two major food groups that Queensland excels at: seafood and tropical fruits. While on Straddie, make the most of the abundance of freshly caught seafood available around the island. Local king prawns, snapper, bream, Spanish mackerel, whiting, mud crab and the endemic Moreton Bay bug are all in abundance here.
Islands aren't always known for having good food, wine and coffee. Thankfully, on Straddie you'll find coffee and cocktails that rival the quality of city cafes and bars. Start your day with a latte at Fever on Straddie (you can take home some coffee beans from here too) or visit the Blue Room Café for a chai with ocean views. Got special dietary requirements? Bo Beans Coffee has your back with a range of vegan, gluten-free, and dairy-free treats. In the afternoon, treat yourself to a banana smoothie or mango gelato at Oceanic Gelati. Visiting on the weekend? The Point Lookout Markets is where you'll find locally made arts and crafts, coffee and snacks.
When the day is done, grab some takeaway fish, chips and salad to enjoy while admiring a glorious beach sunset, or visit Kokomo Beach House to unwind with a mojito in one hand and a slice of wood-fired pizza in the other – this is what a balmy island break is all about.
Words: Jo Stewart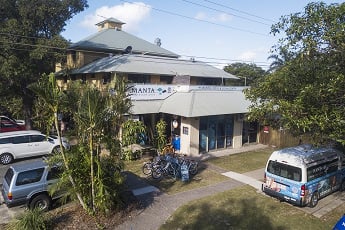 YHA Stradbroke Island | Manta Lodge & Scuba Centre
YHA Stradbroke Island is a hostel and scuba dive centre providing beachfront traveller accommodation with a friendly and relaxed atmosphere.