The best diving and snorkelling spots in Australia
With an astonishing 34,000 kilometres of magnificent coastline to explore, Australia's wealth of beaches, bays, islands, and reefs makes it one of the top destinations in the world for snorkelling and diving enthusiasts. From encountering sea turtles to exploring shipwrecks and sinkholes, here are some of the best diving and snorkelling spots in Australia.
Gordons Bay: Sydney's snorkelling heaven

Image: Destination NSW

In Sydney, you won't have to travel far to find amazing snorkelling and diving spots. Sitting between Coogee and Clovelly Beaches, Gordons Bay's azure waters may look beautiful from the clifftops above but seeing it from beneath the waterline is an equally enchanting experience. Home to wrasse, rock cod, perch, stingrays, wobbegongs and more, this serene spot is an enduring favourite with Sydneysiders. After you've explored the Gordons Bay Underwater Nature Trail, spend your afternoon sunning yourself on the surrounding rocks just like the locals do.
Where to stay: Sydney Harbour YHA | Sydney Central YHA
Fitzroy Island: Queensland's turtle hotspot

Image: Tourism and Events Queensland

A 45-minute ferry ride from Cairns, Fitzroy Island is a family-friendly spot to swim, dive and snorkel the famous Great Barrier Reef. Sea turtles, clown fish and gropers can all be found in the year-round warm water surrounding this picture-perfect tropical island which is also home to a Sea Turtle Rehabilitation Centre.
Where to stay: Cairns Central YHA
Also check out: Great Barrier Reef Dreamtime cruise and snorkel tour
Ningaloo Coast: Whale sharks and more on the Western Australian coast

Image: Tourism Australia

A two-hour flight from Perth to Exmouth will deliver you near this remote, World Heritage-listed site home to what's considered one of the greatest underwater adventures anyone could have: a close encounter with gentle, slow-moving whale sharks. Swimming through deep blue water alongside the biggest fish in the world is a real drawcard for the Ningaloo Coast, but there's also a chance to snorkel with sea turtles and massive manta rays in Coral Bay too. Time your visit right and you might even get to share the sea with migrating humpback whales from July – October. It doesn't get much better than this.
Where to stay: Exmouth YHA
Don't miss: Ningaloo Humpback Whale Swim
Rottnest Island: Wildlife hotspot only a ferry ride from Freo

Image: Tourism Australia

Capturing a selfie with an adorable quokka may be a top priority for visitors to Western Australia's Rottnest Island, but divers also have hundreds of dive sites to explore here, with the colourful Roe Reef and caverns of the Opera House being among the most popular. Home to a resident population of endangered grey nurse sharks, Shark Cave is another standout for experienced divers who can keep their cool when encountering sharks and rays. When it comes to snorkelling, following the information panels found on the seabed along the Parker Point Snorkel Trail is a standout experience.
Where to stay: Fremantle Prison YHA
Must do: Rottnest Island ferry, bike and snorkel package
Limestone Coast: The sublime sinkholes of South Australia

Image: Tourism Australia

Diving and snorkelling aren't limited to oceans. For a special experience you won't soon forget, make a booking for a memorable dive at Kilsby Sinkhole. Located on a working sheep farm near Mount Gambier, this historic sinkhole has been used for everything from weapons testing to police dive training. Today, the sinkhole is open to visitors, with certified scuba divers able to explore the unique geological phenomenon with approved dive operators. Nearby, Ewens Ponds Conservation Park features a series of spring-fed sinkholes considered to be one of Australia's best freshwater dive and snorkel sites. The intense blue water fringed with verdant underwater plant life is home to a proliferation of marine life, including the rare Ewens pygmy perch. Pack a wet suit – this spot is a cold one!
Where to stay: Port Elliot YHA | Port Fairy YHA
Julian Rocks Nguthungulli Nature Reserve: Byron Bay's aquatic paradise

Image: Destination NSW

Only 2.5km from Cape Byron, this marine reserve is home to several dive sites teeming with sharks, rays, turtles and pelagic fish. Experienced divers will revel finding nudibranchs, crayfish, ghostfish and bubble snails in Hugo's Trench, spotting moray eels and grey nurse sharks cruising in and around the Cod Hole and watching wobbegongs and turtles in the Cray Cave. The protected shallows of the Nursery make it an ideal spot for snorkellers and new divers keen to see sea turtles in a more sheltered spot.
Where to stay: Byron Bay YHA | Cape Byron YHA
Lady Bowen dive site: A spooky shipwreck off Mission Beach


Shipwreck diving fans will relish exploring the atmospheric wreck of the Lady Bowen just off the coast of Mission Beach on Queensland's Cassowary Coast. What remains of this four-masted iron schooner that sunk in 1894 is now an eerie underwater museum protected by law. Suitable for experienced divers, many aquatic species call this wreck home, including sea snakes and barracuda.
Maria Island: Tasmania's wild paradise

Image: Tourism Australia

You might not associate Tasmania with aquatic adventures but look a little closer and you'll find an unspoilt coastline rich with marine life. A short shuttle bus and ferry ride from Hobart, Maria Island is a wildly beautiful place that attracts travellers keen to see wombats, echidnas, and rare native birds. But exploring the spectacular Maria Island Marine Reserve found on the island's west coast is another great reason to visit. Vibrant jewel anemones, striking weedy sea dragons, curious red velvetfish and hardy banded morwongs (known to live for up to 100 years) can all be spotted lurking in and around the reserve's seagrass and rock shelves. Maria Island doesn't have a dive shop, so be sure to bring your snorkel, flippers and wetsuit!
Where to stay: Hobart Central YHA
North Stradbroke Island: A manta-filled marine wonderland

Image: Nigel Marsh/Tourism and Events Queensland

North Stradbroke Island, off the coast near Brisbane, plays host to an astounding array of marine life. Stradbroke Island YHA (Manta Lodge) is YHA's very own scuba centre and takes guests/visitors to dive or snorkel at over 15 sites all within a short boat ride of the shore. Highlights here include Manta Bommie, where migrating manta rays congregate in the summer; Shag Rock, a 'macro' spot home to a cornucopia of aquatic creatures; and Shark Alley, where advanced divers can swim alongside gentle grey nurse sharks and other varieties of toothy predators.
Where to stay: Stradbroke Island YHA
Words: Jo Stewart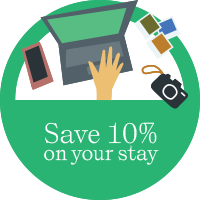 Book direct and save
By booking direct with MyYHA you'll receive our exclusive discounted rates. Sign up or login to get 10% off at select properties.