Bedtime Stories
You know that saying "if these walls could talk"? Well, ours can! Pull up a chair, get comfy - it's time for us to tell you a bedtime story.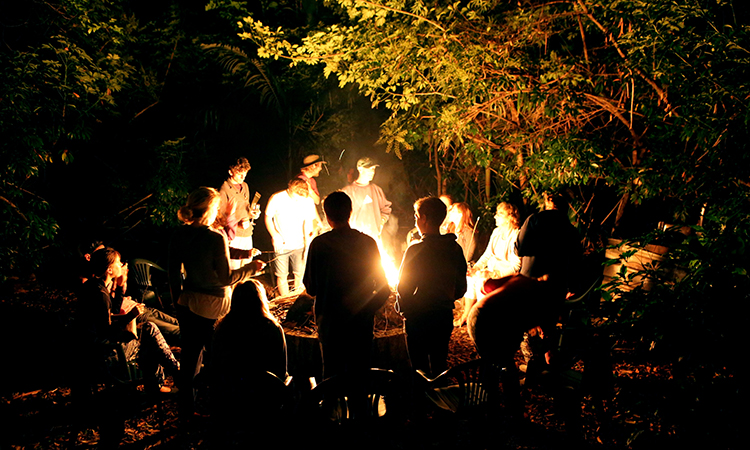 A shilling and a gum leaf
After YHA's first property in Hawkesbury Heights burnt down in the 1994 bushfires, a purpose-built structure replaced it – this time with automatic shutters sensitive to heat. As a nod to the building's history, the granddaughter of the original owner continues to ask only a shilling and a gum leaf from YHA as rent. A shilling to pay debts, and a gum leaf to prove that the natural bushland is being preserved! *Unfortunately this property is no longer part of the YHA network.
The matchmaker
Dunsborough YHA keeps a tally of 24 – yep, 24 – couples that have married after meeting at the hostel… there must be something in the serene turquoise waters of Geographe Bay! The ocean-front beach house was originally a one-room school in the early 1900s before turning into a backpackers, first dubbed 'Three Pines' for the three towering Norfolk Island pine trees shading the front lawn.
The tale of Emoh
Wealthy Victorian businessman William Rutledge built this Georgian-style stone dwelling in the 1840s before a new owner renovated the exterior in 1885. The heritage-listed cottage became Port Fairy YHA in 1977, welcoming generations of travellers driving the Great Ocean Road over the past four decades. The name? Emoh – 'home' spelled backwards.
Hot off the press
If the walls of Tom McHugo's could talk, they'd have more than their fair share of yarns to weave. Located just across the road from the Mercury newspaper's landmark Macquarie St headquarters, the much-loved pub was a favourite watering hole of Tasmania's journalists who'd congregate there to sink schooners and spill secrets. YHA now owns the establishment, attached to the newly renovated Hobart Central YHA.
Moonlight, camera, action
The year 1942 heralded the opening of the Pioneer Theatre, an open air cinema to solve the issue of no air-conditioning in the Northern Territory at the time! Also known as the 'Walk-In', the cinema's screen faced south to avoid lighting from the sun and moon. The house attached to the theatre is now known as Alice Springs YHA – a place where the premiere of A Town Like Alice was held in 1956 and where guests still watch films under the stars every night in 2018.
The ghost of Newcastle Beach YHA
Newcastle Beach YHA was opened as a gentleman's club in 1885 before handing over the keys to the neighbouring hospital during World War One as part of the war effort, providing accommodation to nurses. YHA took over the property in 1998, but the nurses haven't disappeared entirely.

"We've received half-a-dozen reports of a female ghost wearing a nurses uniform in Room 10 – the old matron's quarters," manager Damian says. "She usually appears at 2am to walk across to the balcony, opening and closing the door behind her, sometimes with a pet cat. We have many nurses who lived in the building come and visit and they're still scared of the matron's living memory… so we don't dare tell them that she's still about."
Dissapointing Kangaroos
One day, Batemans Bay YHA (no longer part of YHA network) manager Francis took two Chinese visitors on a tour to Pebbly Beach. While walking the Discovery Trail, the trio ran into a red belly black snake AND a goanna, resulting in three very jittery beach-goers! When they reached the beach, they spotted a few kangaroos were lazing the day away. Francis thought this was his opportunity to turn the day around for his backpackers… but one began to cry! He asked why, and couldn't stop laughing when she told him she was disappointed the kangaroos weren't wearing wetsuits and surfing! She pulled out a magazine with a feature of Pebbly Beach and it had a picture of just that – a suited-up roo catching a wave.
A hammer, a book and a Holden ute
Hostel manager Mark had the idea to build a hostel after travelling around Asia as a backpacker – he wanted to keep the dream alive. Construction of the bungalows began in 1992 when the property was just a bush block. Mark used to clear the land using his old Holden ute to knock over the scrub and lantana. Building started with a book, 'The Australian Carpenter', in the left hand and a hammer in the right. Twenty-five years later, Port Stephens YHA is still standing – Mark's handiwork mustn't have been too shabby!
The best party in the Mountains
Between the two World Wars, widows in the Blue Mountains took to opening their homes as guesthouses for travellers. In 1923, a man by the name of Hornie Gates purchased such a property – Homesdale – and added a sprung timber dancefloor and huge art deco stage to the ballroom, re-opening the guesthouse as the Wentworth Cabaret. The house band rocked Katoomba for three decades before YHA took over the property in 2001… and Blue Mountains YHA guests still get a kick out of bouncing around the dancefloor in the communal lounge area.
The oldest guesthouse in town
The town of Noosa was only established in the 1870s, and Halse Lodge has been there almost since day one. Originally known as 'Bay View', the property grew into a two-storey timber lodge by 1900 and has been a permanent feature of the local landscape ever since – the only guest house in Noosa Heads to survive from the 1920s, in fact, as the town around it boomed into one of Queensland's premier holiday hotspots. The Heritage-listed property celebrated its 21st birthday as a hostel in 2017, raising a glass to many more years to come.
Spooky showers
Fremantle Prison YHA staff are often told by guests about an inexplicable presence in one of their shower blocks. No one can quite put their finger on it, but there is definitely an occasional odd feeling in the cell block.
Some months after the hostel opened in 2015, two former prison guards who used to work at the women's prison came to visit to pay their respects to the only woman ever hanged in Western Australia, Martha Rendell. Her case was controversial and many did not believe she was guilty.
They explored the hostel and then visited the cell block – turns out her former cell has been converted into a shower. The guards even asked if sometimes there is a strange feeling in the room, something which was not disclosed to them during their visit.
The tale goes that after Martha's death, her spirit would pay her old home a visit from time to time… and it sounds like it still does, more than 100 years later!
YHA takes the snow
The original snowfield YHA was purchased after Paddy Pallin sent this extraordinarily casual letter to Fred King: "I spent a few days at Kindara at Wynnstay and the Association has a definite offer (verbally) of the place for £350 and as it is a three bedroom cottage with lounge room, kitchen etc, in reasonably good repair, it is well worth it as a structure. Anyway, I would like to have a yarn with you about the whole set up…"
And yarn they did! Dedicated YHA members took residence for varying amounts of time to undertake vital building work, as well as fashioning their own skiing gear from Victorian Ash timber, bamboo and leather as Australia didn't import professionally-made skis and stocks at that time.
Sixty-eight years later, Thredbo YHA attracts more than 9000 visitors every year, most of whom rent their ski kit from a Paddy Pallin store en route to the hostel!
Remember to floss
Charles Hall was a dentist who built his family home overlooking Morning Bay in Pittwater in the 1920s. His North Sydney dentistry practice kept him away from home throughout the week, but he travelled back of a weekend to spend time with his family, always keeping a chair in his home to tend to the mouths of the locals! The ferry stop that Pittwater YHA guests alight from today is named Halls Wharf – named after a certain charitable dentist.
And the generosity doesn't end there. After purchasing the property in 1959, YHA member Ebena Isles generously donated her home to YHA in 1967 – and it's been Pittwater YHA for the half-century since.
We scream for ice cream
After backpacking Europe, the US and South-East Asia, Murwillumbah YHA manager Tassie simply walked into the town one day, stumbled upon and fell in love with an old sea captain's house, then converted it into a hostel. With 38 years under his managerial belt, Tassie is perhaps the longest-serving hostel manager in the world, and – just as he did when he first opened the hostel – serves free ice cream at 9pm every night to provide an opportunity for travellers to congregate and share their tales.
The shanty of Captain Allen Anchor Beard
Sydney Central YHA is home to a huge mural by Mulga of Captain Allen Anchor Beard, who had a fondness for seagulls because many moons ago a trusty seagull saved his life.
Allen was thrown overboard during a particularly vigorous storm as he sailed the summit of Cape Horn. After surviving the shark infested waters for the whole night a seagull chanced across Allen on its breakfast fishing expedition. Being a smart seagull it realised the predicament Allen was in and went back to land to find a rope to help Allen with. After finding the rope Sully the Seagull threw it to Allen and dragged him back to terra firma. They have been the best of friends ever since and sing sea shanties together every Saturday evening.
All aboard!
Railway Square YHA takes its heritage and sustainability really seriously. Like, really seriously. Located on the disused Platform Zero of Sydney Central Station, the hostel features train carriages as accommodation and the old parcels shed as the main building, complete with a vertical garden made of old railway luggage racks. Throw in dining tables made from local recycled timber posts, jars as cups in the kitchen and the bike repair kits for rent and you've got a pretty socially aware train platform!
A view fit for a mayor
Harry Handby became the mayor of Port Elliot shortly after he opened the Arcadia guest house in 1914, treating himself to 270-degree views of Horseshoe Bay from the spacious veranda on the grand sandstone lodge. After decades as the Arcadia Hotel and a stint as a nursing home, the historic guest house re-opened as the modern Port Elliot YHA in 2010 – the only hostel anywhere on South Australia's scenic Fleurieu Peninsula.