10 Unique Things to Do in Byron Bay
When you've already secured your money shot at Cape Byron Lighthouse (Australia's most easterly point, BTW) and surfed up a storm, you're going to be hungry for the "other" Byron Bay – the Byron only the locals know about! So, here is your ultimate guide to the 10 best things to do in beautiful Byron Bay…that is, when you've already done what Google tells you is the top 10.
EXPERIENCE THE FARM
If you love animals, food and giving back, The Farm is without a doubt going to be the highlight of your Byron adventure. Like nothing you've ever experienced before, The Farm is just that – a farm, but with a unique twist. They invite everyone to see for themselves how a farm operates, supports the environment and contributes to a healthier lifestyle. This purpose is perfectly encapsulated by their motto: Grow, Feed, Educate, Give Back. See how Australia's incredible food is grown and produced…then sample it, at the on-site boutique restaurants and stores who all share the same goal. With your belly full, don't leave The Farm without taking a farm tour (on or off horseback!) or participating in a workshop, giving you exclusive insight into exactly what goes into creating Australia's incredible food. Reflect, eat, learn, enjoy and breathe in the fresh air. This is a unique opportunity to be part of something truly special and see another side of Australia. Just a 12-minute drive from Cape Byron YHA, this is an experience not to overlook.
PARTICIPATE IN A DRUMMING CIRCLE
Byron Bay has undergone a lot of change in recent years, but its hippie heart beats on and on. If you're all about that life, you can't miss experiencing one of Byron Bay's famous drum circles – where everyone is included, the vibe is infectious and the energy is palpable. Main Beach is the place to be at dusk when the weather's fine – because when the sun starts to go away, the drummers come out to play. An eclectic array of free spirits will be seeing out the sun with drums, brass instruments, interpretive dance and more. Everyone is welcome to be involved – whether you have an instrument to play, are in the mood to dance like nobody's watching or just want to close your eyes and take it all in. Travelling solo can get lonely at times – this is the place to go when you want to meet some interesting people and feel part of something truly special, with everyone from locals to tourists stopping to have a stickybeak. All the world's a stage, hunny! Own it!
SEE HOW YOUR BEER AND GIN IS MADE
If your Byron trip is like anyone else's, we're willing to bet you're sampling a fair amount of alcohol, so why not visit Byron's hip breweries and distilleries and see where the magic happens? One of Byron's most underrated attractions is the Cape Byron Distillery, just a 14-minute drive from Cape Byron YHA. In oh-so-Byron fashion, the staff here have job titles such as "Spiritual Gurus" and "Spiritual Assistants." It can be argued that their famous distillery tours are spiritual experiences in themselves, with the opportunity to not only learn everything there is to know about how award-winning Brookie's Byron Dry Gin is made, but experience the nearby subtropical rainforest which provides the native botanicals for their art. If beer is more your bag, just a four-minute drive or 20-minute stroll from Cape Byron YHA is Byron Bay Brewery, home to live music, great food, happy vibes and of course, some damn delicious beers. Hey, if you're going to be partying hard, you may as well drop some beer and gin trivia while you do!
POSE WITH THE BIGGEST CRYSTALS IN THE WORLD
If you really want to immerse yourself in Byron Bay's hippie scene, the Crystal Castle and Shambhala Gardens will have you functioning as your best self in no time. Located in the Byron hinterlands and home to the world's largest amethyst cave, we just can't comprehend how this attraction has remained such a hidden gem (had to throw that in there, sorry). It's also home to the world's biggest crystals – looming at a staggering 5.5 metres each, these smoky quartz geodes are easy to stand between and get a glittering addition to your Instagram. Enjoy a whole range of unique experiences, from meditation in the amethyst cave, to learning how to use crystals and read tarot cards. When you need to refuel, enjoy organic tea and coffee and delicious snacks from the Lotus Café. End the day by finding out what your aura looks like with a personalised aura photo – we can bet that after a relaxing and enchanting visit to Crystal Castle and Shambhala Gardens, it will be pretty damn beautiful. This incredible attraction is just a 20-minute drive from Cape Byron YHA – you (and your newfound positive energy) can thank us later.
SEEK SANCTUARY AMONGST THE TREES
Prominently featured on every Byron local's list of the best things to do is the Cumbebin Swamp Nature Reserve, specifically the Wetland Sanctuary Boardwalk. Known simply as the "tree sanctuary," it's a nook of paperbark wetlands, serving as a haven for all sorts of birdlife and amphibians. Only a 20-minute walk from Byron Bay's centre, yet worlds away, you can enjoy a picnic from the Farmers Market, just stroll up and down the boardwalk taking it all in or just sit in the shade for a while, thinking and breathing the cool, earthy air. Before Byron was Byron, the entire area was a swamp – and this unique attraction is a small preservation of its past, unearthed entirely by volunteer locals totally dedicated to protecting Byron's natural environment. Bring your mosquito repellent - but it's a truly immersive experience, and a must-do for anyone who loves nature and de-stressing. Spend a few hours here and feel the general stress and tension of backpacking float away from you.
SAMPLE LOCAL COFFEE
If, like Lorelai Gilmore, you need coffee in an IV, Zentvelds Coffee Plantation and Roastery will be a standout from your Byron trip. Run by a family of coffee devotees and earth lovers, the team pride themselves on sustainable coffee growing practices, and making one hell of a brew. Start your visit out at the roastery door to get some fresh coffee in you right off the bat (or tea or drinking chocolate, if you fancy!) You can sample every blend on offer, possibly some cold brew, and connoisseurs can also stock up on the best quality brewing tools and equipment. When you're sufficiently caffeinated, you have the opportunity to learn more about the process involved in giving you the perfect cup of coffee. Check out the incredible coffee trees, which thrive naturally in Byron's subtropical climate and are sustained with mulch obtained from local food producers' waste. Specialised tours and open days are only held on certain days of the year, but if you fancy upskilling during your travels, you can take a barista course here – the day includes a thorough tour of the plantation!
REJUVENATE AT THE TEA TREE LAKE
You know tea tree, that essential oil that smells really nice, is really good for spots and is really, really expensive? Well, you can immerse your whole body in it just a 25-minute drive south of Byron Bay CBD, at Lake Ainsworth. Lake Ainsworth is surrounded by tea tree plants, so their magical oil drips into the water and creates the ultimate healing bath. Dying the water a brownish colour, you may not think it looks very appealing but boy, the water is fresh - and the oil will work wonders on your skin. It also boosts your immune system and provides relief from aches and pains. If the tea tree wasn't enough for you to ~unwind~, the peaceful and idyllic surrounds will do the rest. You'll come out feeling like a whole new person – like hitting "reset" on your body and soul. There's also plenty of BBQ and picnic areas around the lake for those who want to hang around all day, and honestly, why wouldn't you? No need to fork out for a spa day with Mother Nature working her magic fo' free over at Lake Ainsworth.
WEAR THE RAINBOW
While Byron is renowned as a hip hangout for you pesky youths, a number of older residents remain. Having lived there all their lives, these people remember the days before the tourism boom, where tie dye reigned supreme. The Rainbow Shop on Byron's bustling main street is a long-standing remnant of those days, and is a standout on a street fast becoming dominated by chain stores. If you want to channel Byron's golden years, make a beeline for The Rainbow Shop and kit yourself out in vibrant colour from head to toe. Almost all products are made in store, from classic tie-dyed T-Shirts to pretty headbands. It's also an excellent place for souvenir shopping, if we do say so ourselves! So if you want to upgrade your wardrobe, add a splash of rainbow to your life and support a local small business owner while you do it, don't miss the opportunity to check out The Rainbow Shop – a brisk 5-minute stroll from Cape Byron YHA.
CHECK OUT THE SURROUNDING TOWNS
Byron Bay is full of plenty of delights to keep you occupied, but if you're staying for a while (and why the heck wouldn't you be), why not take a cheeky trip to the surrounding smaller towns? Just an hour and a quarter's drive from Cape Byron YHA, you'll reach the village of Nimbin, just as much of a hippie haven as Byron, but not quite as busy. Pay a visit to the Hemp Embassy – get a photo with the "Happy High Herbs" sign (your parents will love it). For an overnighter, crash at quirky Murwillumbah YHA. Check out YHA Travel and Tours for day tours from Byron if you want the thinking done for you, and enjoy an incredible adventure in the hands of pros! As amazing as Byron is by itself, checking out these lesser known small towns is a brilliant way to make your Byron adventure truly unique.
GET CRAFTY AT CAPE BYRON YHA!
If you've shopped til you dropped or you're feeling a hint of sunstroke from those long hours on the beach, you probably wouldn't say no to a quiet afternoon of recovery. Luckily, Cape Byron YHA has plenty of chilled activities for this exact purpose – most famously, their Wednesday crafternoon sessions! It's been proven time and time again how good being crafty is for your mental health and creativity, and this is the opportunity to soothe your mind after a long time on the road. Maybe you'll bedazzle a postcard back home, or add even more pizzazz to some of your purchases from The Rainbow Shop? Perhaps you'll finally learn how to knit? Or will you just improvise and revel in the childlike wonder of it all? Whatever you decide, you'll feel well-rested and relaxed after a big morning…placing you well for yet another classic Byron night out!
Ready to uncover the Byron Bay they don't tell you about in guidebooks? Book your stay at Cape Byron YHA , and in true Byron fashion, we'll see where we go from there…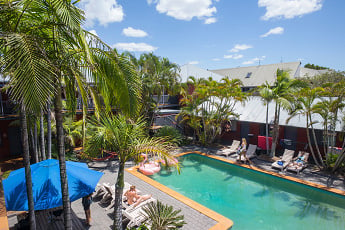 YHA Cape Byron (Byron Bay)
Just blocks from the beach, this laid-back oasis attracts a diverse crowd of global backpackers. Come for the surf, stay for the warm and welcoming atmosphere.