50 free things to do in Melbourne
For all you thrifty travellers, exploring wonderful Melbourne doesn't have to hurt your wallet. Here's the top 50 things you can do in Melbourne on a budget of $0!
1. Take a stroll around the Royal Botanic Gardens.
2. Visit the Shrine of Remembrance and get a great view of the Melbourne city skyline.
3. See the free exhibitions at the Ian Potter Centre.
4. Check out the free exhibitions and the world's largest stained glass ceiling at NGV International.
5. State Library Victoria – Discover the library's history, go on a tour and check out one of the exhibitions.
6. City Circle Tram – Take a free ride around the city and learn about the sites of Melbourne.
7. Take a self-guided tour of Melbourne's arcades and laneways.
8. Join a free walking tour of the city from the State Library – they depart every day at 10am and 2pm.
9. Take a tour of Parliament House.
10. Head to Brighton Beach to check out the brightly painted bathing boxes (pictured below).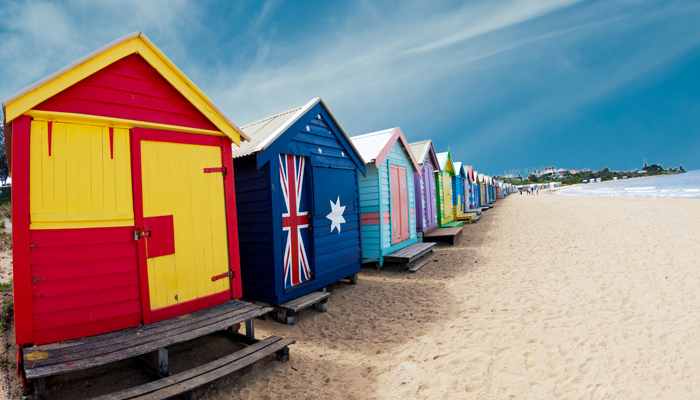 11. Check out the free winter fireworks at Docklands during July and August each evening, as part of the Firelight festival.
12. Appreciate architecturally impressive churches like St. Paul's Cathedral, St. Michael's Uniting Church and the Scots Church.
13. Experience Melbourne's mad music scene at one of the many free gigs around town.
14. Play board games at the pub with some new friends: find dates and venues here.
15. Test your fitness on the 1000 steps Kokoda Memorial Trail or stroll under the giant mountain trees in the Dandenong Ranges. Take the train to Upper Fern Tree Gully station and the visitor centre is across the road.
16. Take a stroll around the colourful and vibrant Queen Victoria Market.
17. Watch a free live classical music performance at lunchtime outside Scots' Church.
18. Visit the Old Treasury Building, which hosts the original gold vaults where gold bullion was stored during the gold rush era.
19. Right next to the Old Treasury building is the Fitzroy Gardens, the perfect place to pack a picnic, see the Fairies Tree and admire the floral displays in the conservatory.
20. Head to St Kilda Pier at sunset to see the fairy penguins (pictured below) return to land after a day at sea.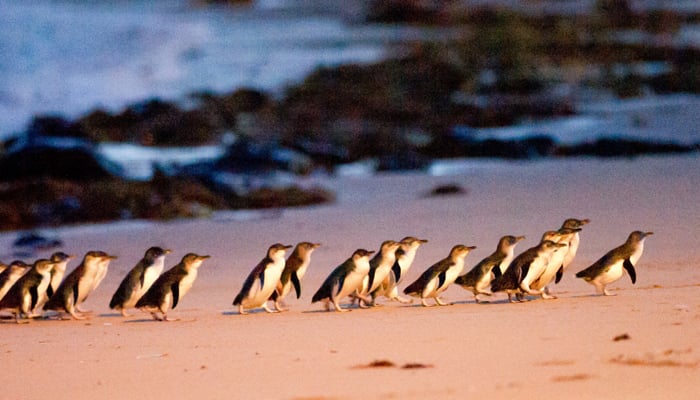 21. Visit some of Melbourne's great beaches, such as St Kilda Beach, Elwood Beach and Black Rock Beach.
22. Stay in step with the locals by running the iconic Tan Track around the Botanic Gardens.
23. Visit one of our many markets in and around the city. There's the Esplanade Market in St Kilda, South Melbourne Market, Rose St Artists Market in Fitzroy, Sister's Market in Brunswick and Camberwell Markets just to name a few!
24. If you like to LOL, hit up Spleen Bar on a Monday for their comedy night. While technically it's free, they would appreciate a gold coin donation, so throw them a buck and settle in for a night of laughs.
25. Travel back in time by window shopping at the Block Arcade.
26. Get cultured at the Australian Centre of Contemporary Art
27. Get your new YHA pals together for a free trivia night at Revolver Upstairs, Moon Dog Brewery or the Mt View Hotel.
28. Sit in the TV studio audience of a TV show – make sure you apply for tickets in advance as there can be high demand!
29. If you're driving in and can bring your mountain bike, there's a heap of great trails in the Melbourne area that are generally free to access. If you need to hire a bike, Blue Tongue Bikes is pretty affordable.
30. Visit the Australian Centre for the Moving Image (ACMI) at Federation Square – they have a mix of free and paid interactive exhibitions (pictured below).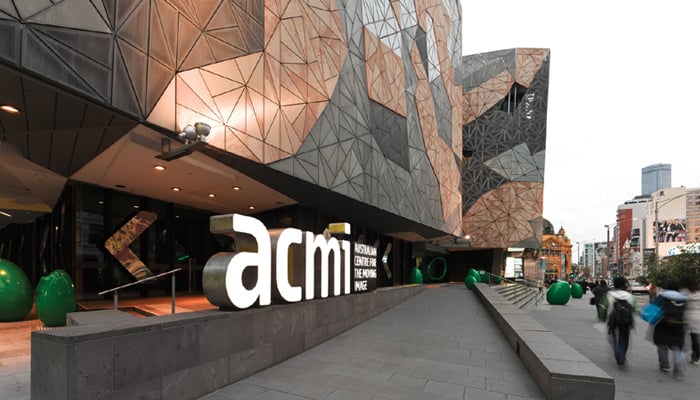 31. If you're still stuck in the 90s and love your Nintendo 64, visit vintage arcade bar Bartronica for some Mario Kart, Super Smash Brothers and Golden Eye. They also have heaps of old school pinball and arcade machines.
32. The rides come with a price tag but it doesn't cost a cent to snap a selfie with the big grinning face that welcomes you to Luna Park in St Kilda.
33. Melbourne has some beautiful walks and hikes so get outside and explore.
34. Melbourne is festival city and there's something happening every month. So whether you're into food, culture, movies, books or anything else, there'll be a festival for you.
35. The Koorie Heritage Trust located at Federation Square is the only public collection in Australia dedicated to the art and culture of Australia's first people.
36. Visit a book store – Readings in Carlton was named the International Bookstore of the Year in 2016. You don't have to buy anything, just browse until your heart's content.
37. Jump in a car and head out to Melbourne Airport to watch the planes fly over your head.
38. If you need some peace and quiet, head to a hidden park in South Melbourne. Find the corner of Park Street and Emerald Hill Place. Walk down Emerald Hill Place to a beautiful hidden park with trees and a ping pong table!
39. Victoria is known as the garden state. We have a plethora of green spaces for you to relax in, including Carlton, Alexandra and Flagstaff Gardens.
40. You MUST visit Melbourne's stunning graffiti-covered laneways including Hosier Lane (pictured below), Union Lane and Degraves Street.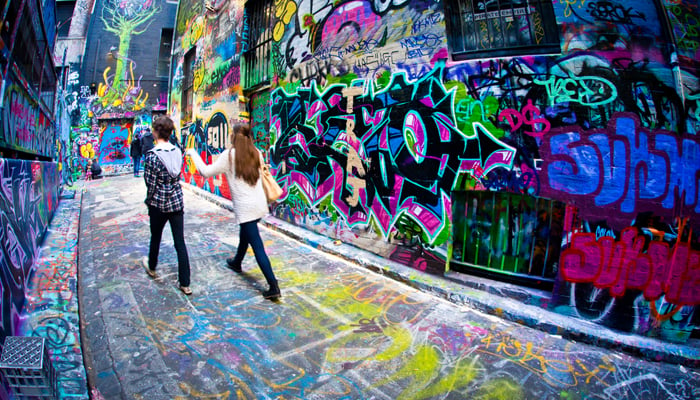 41. If you're interested in preserving our Australian flora and fauna, consider signing up for Conservation Volunteers – it's free when you volunteer for one day projects.
42. The Library at The Dock is a modern public library has a bunch of free one-off and regular events, including table tennis competitions, tai chi classes and their Laughter Club. Check out their events page.
43. Up your Instagram game and take snaps of Melbourne's unique architecture and buildings – we recommend Flinders St Station, Fed Square, Block Arcade and the Royal Arcade. You'll be racking up the likes in no time.
44. If you're a literature buff, make sure you stop off at the Wheeler Centre, funded by the creators of the Lonely Planet Guidebooks. They have regular events with authors, publishers and artists which are usually free to attend.
45. If you love free outdoor entertainment, Melbourne is the place to be. On a Friday or Saturday night as you walk from dinner to the bar, you're bound to go past a busking musician filling the streets with their tunes. Generally on weekends during the day, Southbank will have acrobats or magicians attempting to delight and amaze you.
46. Classical music aficionados, listen up! Federation Square has a ton of free community events on throughout the year.
47. For aeronautical and military buffs, the RAAF Museum just a short way outside Melbourne and is free to visit. Note, the museum reopens in June 2022.
48. There's no better city in Australia to people watch. Melbourne has a diverse range of people walking its streets, you'll never know who or what you'll see next! So settle down on a bench and take it all in.
49. Take a stroll around Albert Park Lake and the Grand Prix track.
50. Once night falls, every hour on the hour until midnight, eight towers along Melbourne's Southbank shoot the world's largest fireballs into the sky. The starting time depends on the time of year, visit Crown's website for details.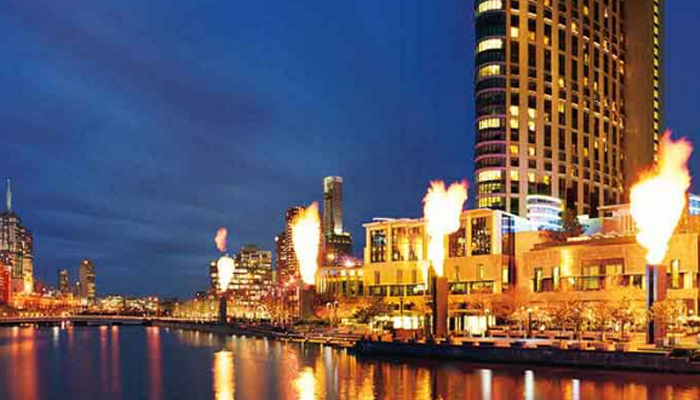 51. BONUS! YHA Melbourne Central has a bunch of free activities for you! There's trivia nights, ping pong competitions and free daily walking tours, plus lots more!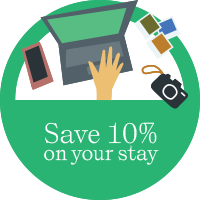 Book direct and save
By booking direct with MyYHA you'll receive our exclusive discounted rates. Sign up or login to get 10% off at select properties.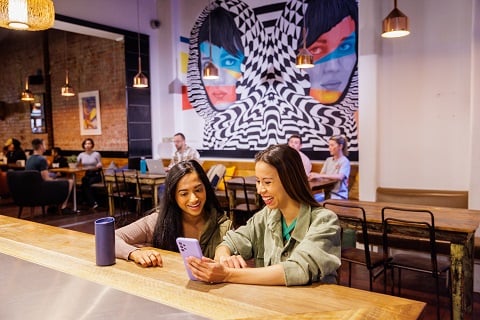 YHA Melbourne Central
Tucked between the downtown Melbourne highrises and with trams on its doorstep, this heritage-listed YHA is the perfect platform for exploring Australia's trendiest city.