A New Christchurch
It's not often a city can stake a claim on being the newest city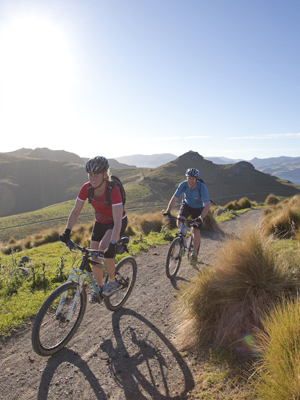 in the South Pacific. These days in Christchurch, cranes and wrecking balls are replaced with clean slates, new buildings and a raft of vibrant things to see, do and experience. The New York Times ranked Christchurch #2 on their Cities to Go list in 2014. I couldn't agree more.
It's the ideal stop for travellers who like to explore. Locals too. I decide to rediscover my city. To discover the new, incredible and local experiences that are gradually finding their way into guidebooks, the experiences that have emerged as a result of the earthquakes.
The best way to go about it? By pedal power.
I hire Ron Burgundy. To be precise, I hire a bike called Ron Burgundy from The Vintage Peddler (I should have worn my polyester suit!). Ron won't win any races, but the bike is fun and a comfortable ride.
I point Ron toward the nearby suburb of Woolston and the Tannery. The Tannery embodies the idea of a new Christchurch built on the old. It's a transformed tannery site on the Heathcote River and is a bastion of heritage architecture (reinforced brickwork, leadlight glass and hand-laid tiles) with a modern twist: boutiques, a deli, yoga studio, fabric shop, craft brewer and music venues. An intimate cinematheque is on the cards for March 2015 where visitors can step out of the Tannery's Victorian arcade and into German Expressionist styled theatres.
CHRISTCHURCH TOP TIPS
ON THE CHRISTCHURCH FRINGES

Hop on the 28 bus for the port town of Lyttelton where you'll pass through the tunnel and into a different side of Christchurch. Visit the Saturday morning farmer's market, take a walk along the Crater Rim Walkway (part of an extinct volcano) or relax at Samo's cafe and enjoy the gosh-darned best muffins in Christchurch.

The Port Hills are a haven for mountain bikers and it's only going to get better. There's an exciting development on the horizon: the world's first purpose-built, year round, chairlift accessed, downhill mountain bike park covering 315-hectares.

Akaroa is New Zealand's only French settlement and is a 90 minute scenic drive from Christchurch. Stroll down Akaroa's French-named streets or along the waterfront. Browse boutique shops and the museum. Then get out onto the harbour for a cruise or swim with the Hector's dolphins. See our Akaroa swimming with dolphins deal.

GOOD EATS

There are plenty of good eats around Christchurch including the newly opened Stranges Lane. An inconspicuous sign draws you in to a brick and glass lane with three New Orleans themed restaurants and bars because, like Christchurch, New Orleans rose from natural disaster ashes.

Of less permanence and more mobility, Christchurch offers these good eats:

Mamacita's is a mobile taco truck bringing fresh, authentic Mexican street food to the hungry masses of Christchurch. Follow them to taco nirvana, but first check their daily location on Facebook!

Pick up your Thai favourites at Thai Container, a cheap, cheerful and colourful caravan parked up on Bealey Ave and Caledonian Road. Good food at good prices. Oh, and the staff are always up for a laugh.

Order your drinks at the bus. You don't hear that often. The Smash Palace takes quirky aesthetic to a new level. And it's very cool. Recycled doors act as tables and strands of multi-coloured lights fan out from the bus roof. Order from the greasy spoon menu or pick up a craft beer.

One of the of the pioneers to operate out of shipping containers following the 2011 earthquake, The Caffeine Laboratory is still serving up Christchurch's caffeine fix with their triple shot coffees as standard.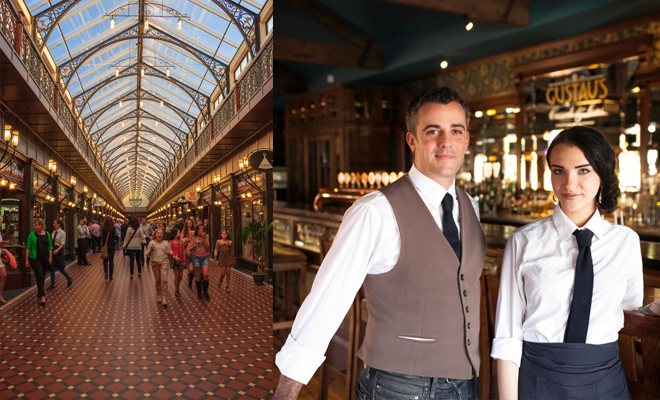 I can't stop at the Tannery without fueling up on the city's best (I contend) woodfired pizza and pale ale. The Brewery has been doing pizza and cask-conditioned ale really well for a couple of years now. And live, local music too. Every weekend. The Brewery isn't alone. Steadily and surely new live music venues and old favourites are opening or reopening their doors around the city.
Like the Astro Lounge. It's a quirky space with a pétanque court out back. I've caught the Latin American strums of Christchurch guitar maestro Dr Sanchez. I've seen the rockabilly band The Eastern at the Wunderbar and every time I visit the Re:Start mall there's an ever-rotating roster of buskers.
In the space of one afternoon at Re:Start I tap my toes to a jazz singer's songs, sway with tap dancers' rhythms and a fall under the spell of a street magician who weaves his magic over the crowd.
Buskers love Re:Start, as do locals and travellers. It's a bustling, funky, colourful, cantilevered pop-up container precinct—one of the first in the world—with over sixty 40ft shipping containers that have been painted, insulated and transformed into cheerful fashion, food and gift shops.
Re:Start is symbolic of the spirit of the city—adaptability and sourcing creative solutions to tough challenges. And so is Gap Filler.
Gap Filler came at the hands of locals who stepped up to temporarily transform vacant sites (left by demolished buildings) with art, music, dance, poetry readings, a book exchange and even a pavilion made with volunteer labour and 3,000 painted shipping pallets.
Ron Burgundy and I roll on to Gloucester Street where a group of flamenco dancers take over the Dance-O-Mat. It's a coin-operated, open-air dance floor and it's one of many Gap Filler projects. Other gaps are filled with a city wide mini-golf course, a community bike shed/workshop and the Sound Garden which is across the street from the Dance-O-Mat.
As I strike, strum and make spontaneous music on the Sound Garden's improvised instruments, I think about this new Christchurch. And I also think about the places I've loved since I was a kid, the places that always made Christchurch singular in my mind: walking tracks in the Port Hills; Hagley Park and the Botanic Gardens; the uncrowded beaches. I want to rediscover these too but I don't think Ron is up for that journey.
Tomorrow then. These days Christchurch is ever evolving and there will always be more to explore and discover tomorrow.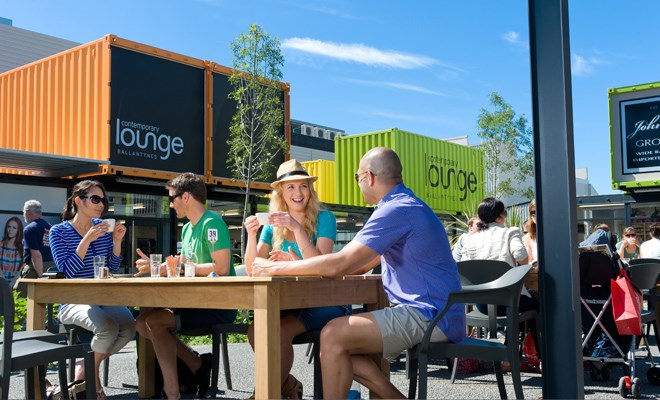 You might also like
Need more New Zealand? Discover the Kiwi's artistic side.
Need to get away from your boss? 8 more Islands you should escape to now.