Australia's Best Animal Encounters
From curious Kangaroos to chameleon-like Cuttlefish, this is where you can get up close and personal with Aussie wildlife.
When Noah filled his ark with two of every animal, he must've made a beeline to Australia to drop off all the good ones. From koala cuddles to caged croc, whale watching to penguin parades, this is the pick of the top animal experiences you can find in Australia.
CROCODILES
Not for the faint of heart, Crocosaurus Cove in Darwin offers a splash with a saltie in their famous 'Cage of Death', a clear Perspex cylinder that's dipped into the croc enclosure like a tin of dog food being dangled in front of a Rottweiler. Steel your nerves for the only crocodile dive in the country, which provides 360-degree underwater views of more than 200 crocodiles, some of the most feared predators on the planet. Plus, it's the most convenient brush with your own mortality you'll ever have – Crocosaurus Cove is located right in the heart of Darwin.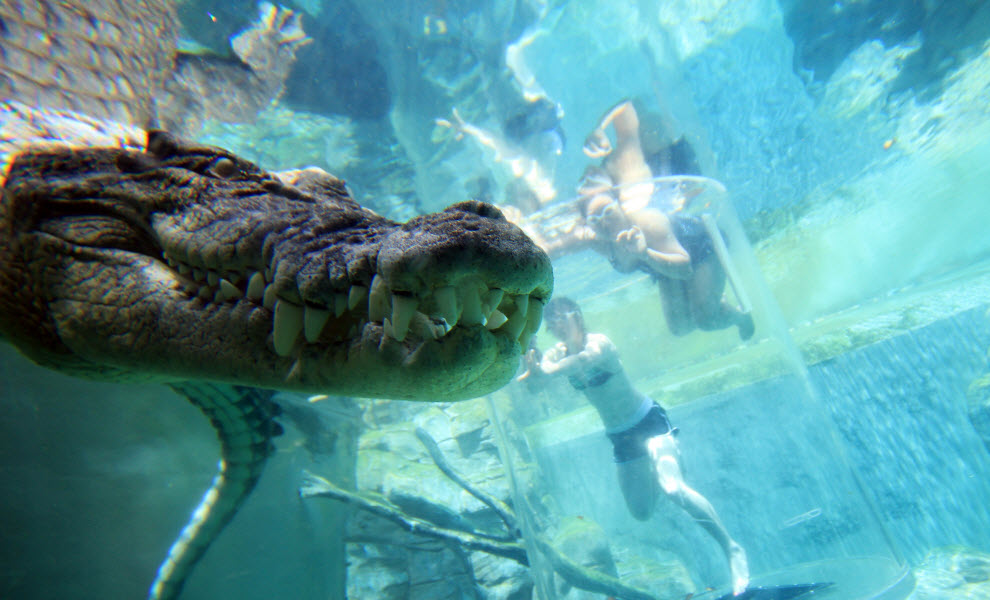 QUOKKAS
At the furrier and friendlier end of the Animal Kingdom hops the quokka, a tiny West Australian marsupial that looks like a cat-sized kangaroo with a grin permanently etched across its face. And forget the Kardashian clan, that trademark grin has made the quokka one of the hottest Instagram stars on the planet – just check out the hashtag #quokkaselfie to see what we're talking about. Often dubbed the world's happiest animal and famously comfortable with approaching admirers, the majority of the vulnerable quokka population resides on Rottnest Island, a haven of turquoise water and white sand beaches best explored by bike and just 45 minutes on the ferry from Fremantle. Just make sure your phone is charged for all those selfies.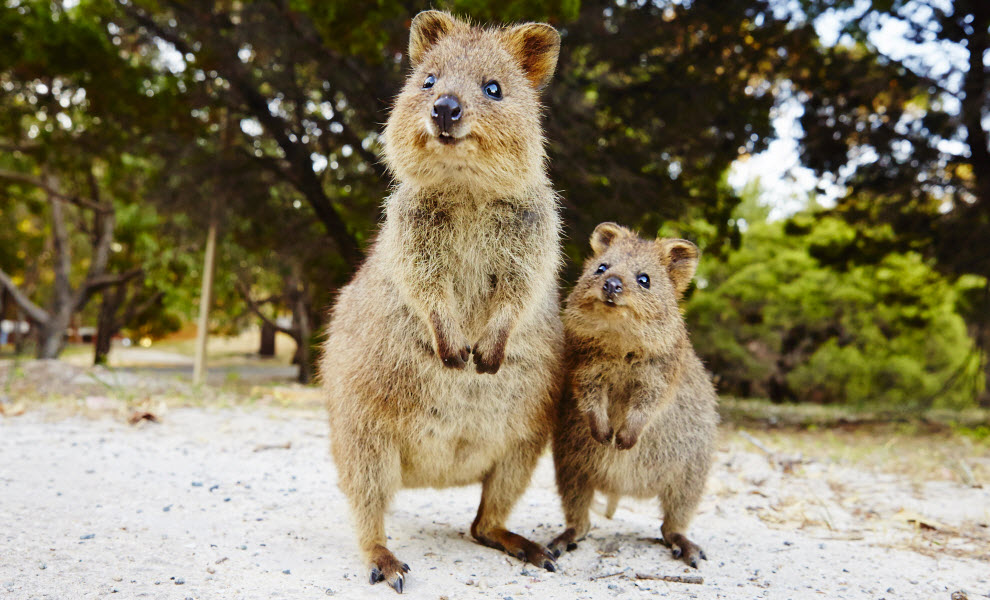 WHALES
Sun-deprived residents of Australia's southern states aren't the only group that migrates north each winter, with thousands of whales making their annual 10,000km journey from Antarctica to the warm waters of Queensland to mate, give birth, and raise their calves. YHA has more than a dozen hostels dotted along the east coast's 'Humpback Highway', which ends at Hervey Bay, where whales rest up before the long trip home. Whale Watching Sydney's custom-built vessels, the ocean views of the Port Elliot YHA balcony, the headlands of Albany on WA's south coast, and up close and personal with whale sharks at Ningaloo Reef are other great vantage points.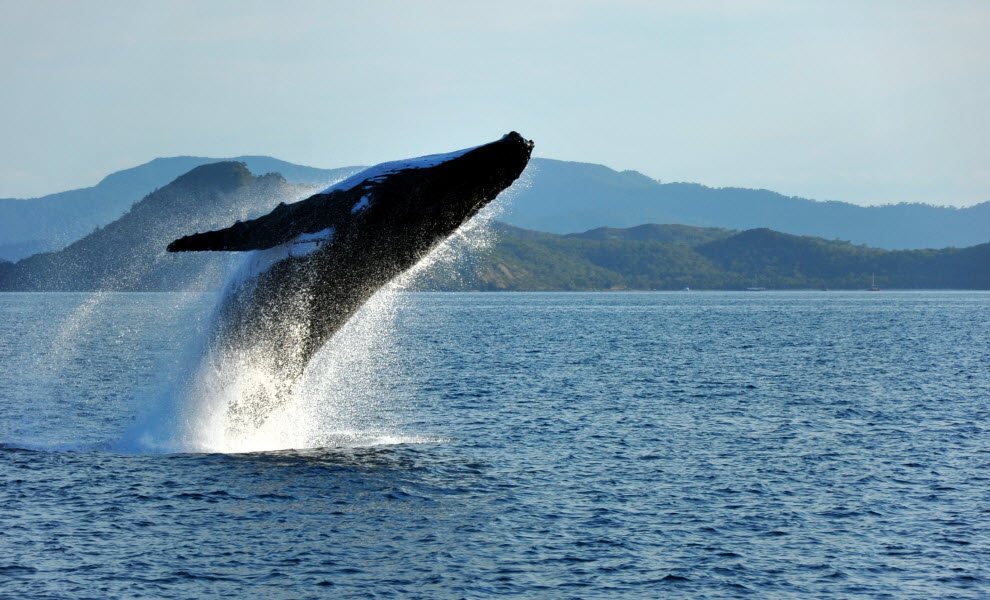 KOALAS
If a selfie of you snuggling a koala doesn't rake in bulk likes, you may as well delete your Instagram account. On NSW's Mid North Coast, Port Macquarie's Koala Hospital – free to visit – is a compulsory stop on any east coast road trip.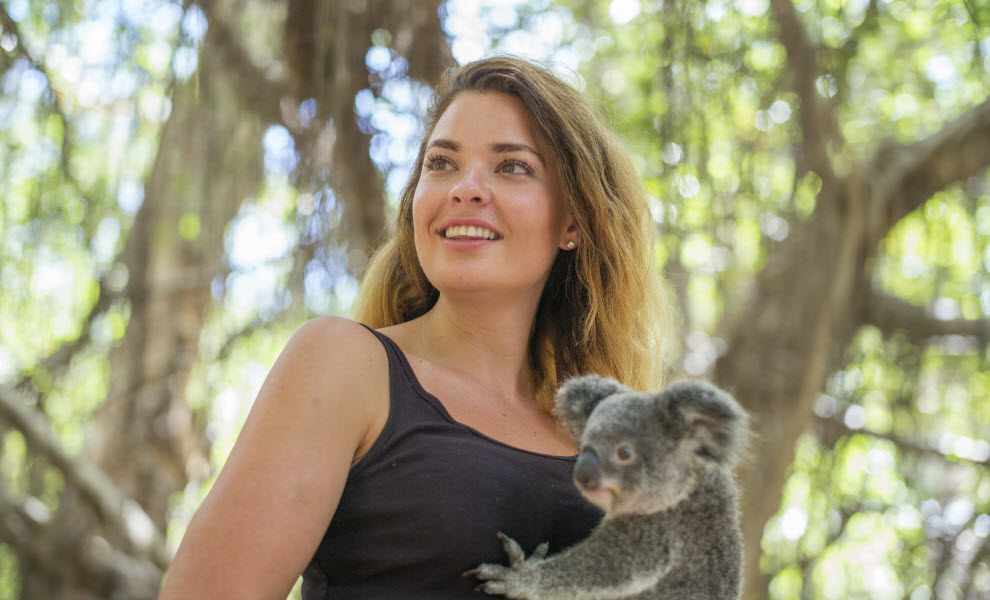 DOLPHINS
Aficionados of B-grade 1990s cinema might remember the film Flipper, where a young Elijah Wood befriends a dolphin during his summer vacation with his uncle Paul Hogan, before *spoiler alert* the title character and his pod of pals save the teenage hobbit from a shark attack. We can't promise anything that exciting will happen when you meet dolphins in Monkey Mia, a serene resort 900km north of Perth, but we can promise the opportunity to get up close and personal with your very own bottlenose buddies, feeding them under close park ranger supervision in shallow water on the beach. You can also frolic with Flipper on a day trip from Perth (September to May), or check out the pod of 130 bottlenose dolphins that call Port Stephens home 12 months a year.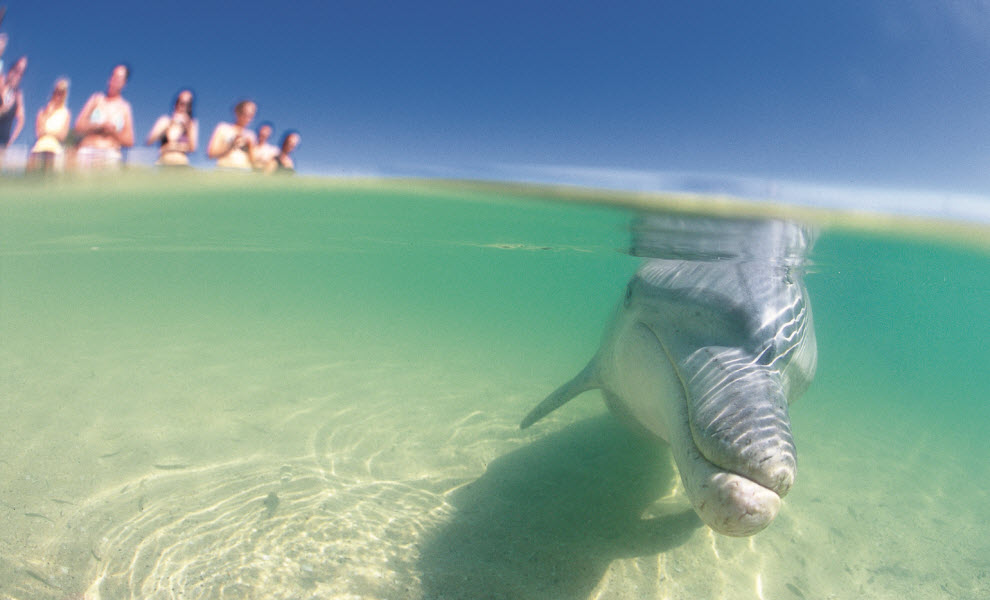 TASMANIAN DEVILS
With the exception of Looney Tunes cartoons, Tasmania is the only place on earth you can find these carnivorous little critters . . . although they've became endangered after decades of hunting and the spread of a debilitating facial tumour among the rare species. The Tassie devil has become so endangered, in fact, that the world's first 'unzoo' has been set up to help save them – including no boundary fence, wildlife habitats with native vegetation, and the chance to come face to face with the ferocious marsupials in the 'Devil Den', an underground see-through dome that pops out of the ground for a devil's eye perspective of the world.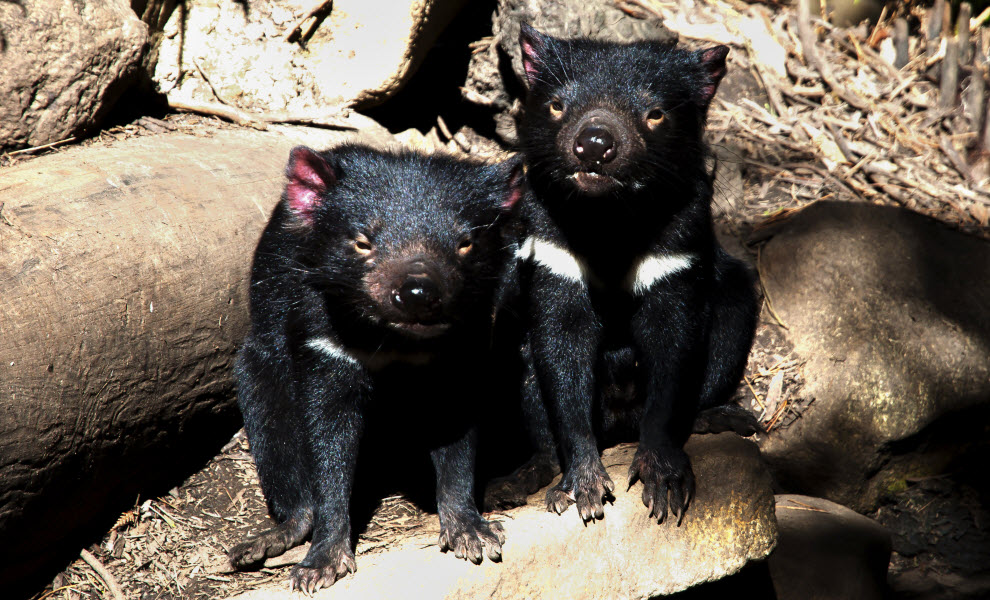 SHARKS
If you didn't succumb to a heart attack in the Cage of Death, saddle up for round two in Port Lincoln, where only a thin metal enclosure stands between you and an impromptu remake of Jaws. The day cruise off the Eyre Peninsula includes 45 minutes in the cage with seven other people – which a Great White must view like an eight-pack of chicken nuggets – and the show from the deck while others take the plunge is almost as impressive. If flirting with 300 razor-sharp pearly whites doesn't sound like your idea of a good time, settle for a selfie with the replica shark and cage at Port Lincoln YHA.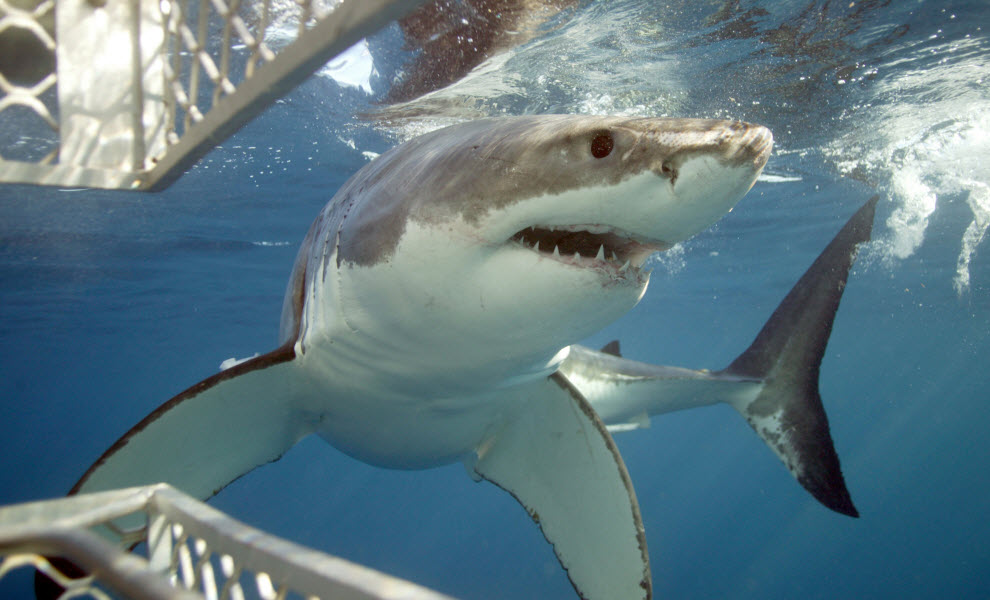 SEA LIONS
Not every occupant of the waters around the Eyre Peninsula wants to tear you limb from limb like a turkey at Christmas dinner, though, with sea lions providing an alternative dive option that's much gentler on the blood pressure. Take a cruise from Port Lincoln to Hopkins or Langdon Island to discover exactly why these endangered mammals – unique to South Australia and Western Australia – are nicknamed the "puppies of the sea", thanks to their inquisitive, playful nature. And if you've got pups of your own, this kid-friendly cruise is certainly less traumatic then sticking them in front of a shark.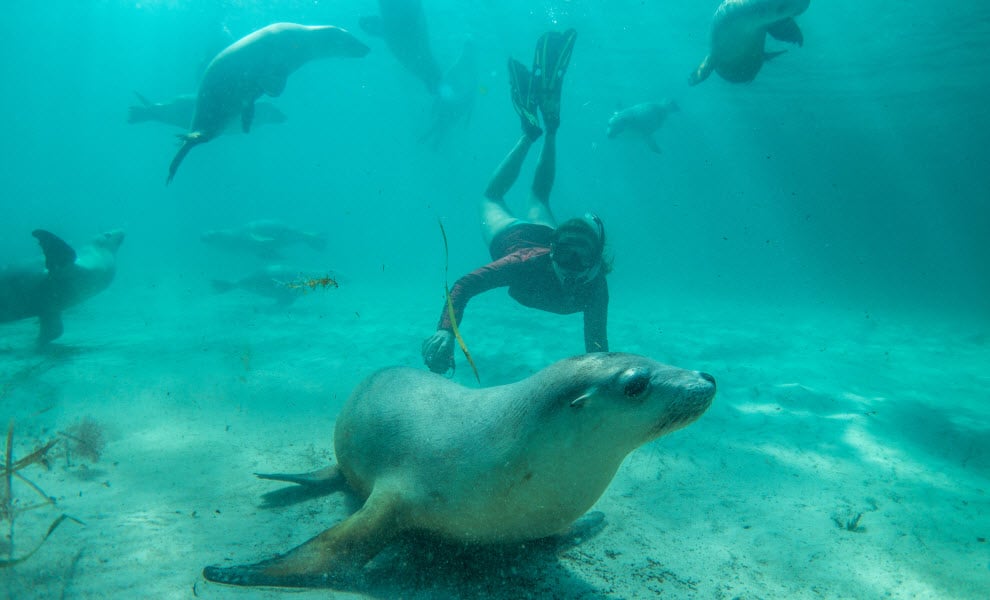 PENGUINS
Like the seven dwarfs returning from a long day down the mines, hundreds of Little Penguins waddle their way across the Phillip Island sand every evening after a long day's fishing, producing perhaps Victoria's most adorable tourist attraction. The 300-seat viewing platform at Summerland Beach gives admirers the perfect perspective of the famous Penguin Parade – either a bird's eye view from elevated viewing platforms or an underground viewing experience that places you nose-to-beak with the stars of the show – as they return to their sand dune burrows at sunset.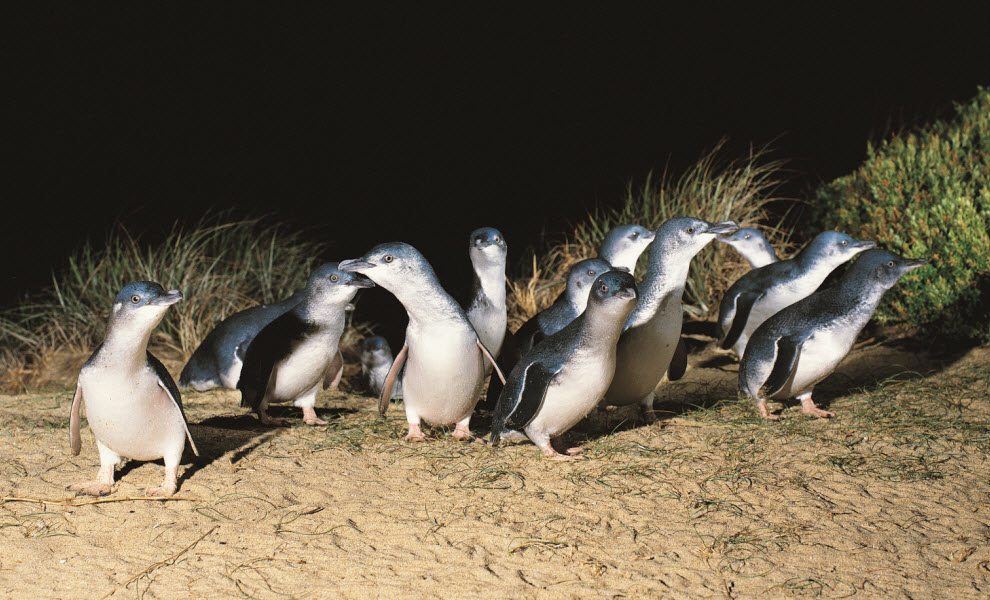 KANGAROOS
You'd expect a place called Kangaroo Island (best accessed via Adelaide) to have a few roos hopping around, and you'd be right – Australia's third largest island is crawling with its own subspecies of kangaroo as well as thriving populations of wallabies, koalas, echidnas, possums, fur seals, sea lions, dolphins, bandicoots, goannas, bats, frogs, and an array of birdlife. Back on the mainland there are more kangaroos than people, meaning you'll bump into our national symbol everywhere. The National Botanic Gardens in Canberra, and frankly most of the NSW North Coast are great places to catch a glimpse as well.