Go Victoria Go West
Melbourne Might Have Next-level Coffee, But There's Much To Discover By Venturing West.
While most visitors to Victoria revel in Melbourne's next level coffee culture and killer live music scene, Western Victoria has plenty of aces up its sleeve, with the Grampians area being home to some of the best terrain for hiking, biking and climbing, whilst the Great Ocean Road has beaches and views to kill for.
The Grampians
By Jo Stewart
Drive 260 kilometres from Melbourne, past yellow bursts of canola fields and bucolic towns filled with heritage buildings and you'll hit the tourist town of Halls Gap, the gateway to the Grampians National Park. It's a town driven by tourism, hosting outdoorsy folks from far and wide keen on experiencing the unbridled opportunities to commune with nature that the Grampians offers. Halls Gap might be set up for tourists, but it's a tourist town with a heart. There are no rip offs, traps or gimmicks here, just genuine, down-to-earth people running businesses that help visitors experience the wonders of the Grampians, whether they're sampling reds at a winery, climbing peaks or going for a mountain bike ride.
At the Grampians National Park, there are enough trails of varying difficulty to satisfy everyone from super-fit rock climbers looking for a challenge to experienced hikers hoping to feel the burn and casual bushwalkers just happy to stretch their legs in nature for a few hours.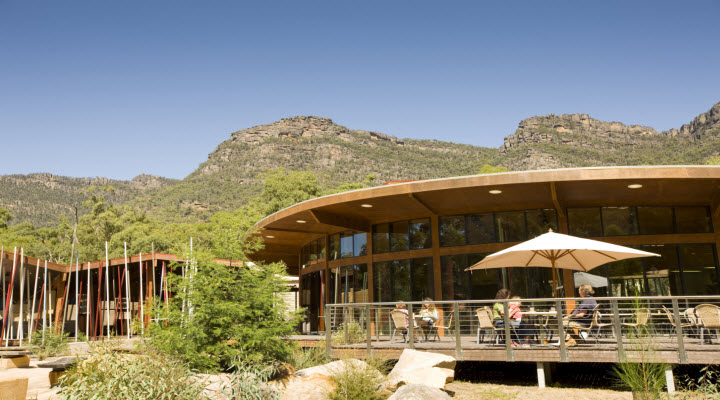 The Pinnacle is, well, the pinnacle of any Grampians visit and can be seen all the way from ground level at Halls Gap. While there are a number of ways to reach the Pinnacle, purists will relish the challenge of starting from the very bottom (from the entrance near the Halls Gap Caravan Park). Taking this route will take about 5-6 hours return and provide walkers with the opportunity to not only test their fitness but also see the changes in terrain that occur when ascending to the Pinnacle. Towards the top of climb, walking is traded in for rock hopping and scrambling over large boulders. It pays to take this part of the trail slowly, to ensure your feet are steady and your grip is good (especially when negotiating mossy rocks that can result in nasty spills). The 'out-of-this-world' views at the top are well worth the climb (this area isn't called 'Wonderland' for nothing) but be prepared to hold on tight if you're afraid of heights.
For those with less time, the walk up to Mount William (named Mount Duwil by the local Aboriginal people) is just the tonic. The road may be paved all the way, but it's not an easy feat to reach the tallest peak in the Grampians. A very steep incline makes for a lung busting (yet achievable) 45 minute walk to the top, where 360 degree views of surrounding farmland awaits.
The beauty of the Grampians is that no matter which trail you take, or how long you spend there, you're pretty much guaranteed to enjoy many native wildlife encounters. Marsupial and bird populations are healthy around these parts, so kangaroos, wallabies and native bird sightings are common. You'll even stumble across mobs of friendly 'roos in Halls Gap, happily munching on grass in parks or on the side of the road as cars rumble on by – or in the paddock behind the hostel!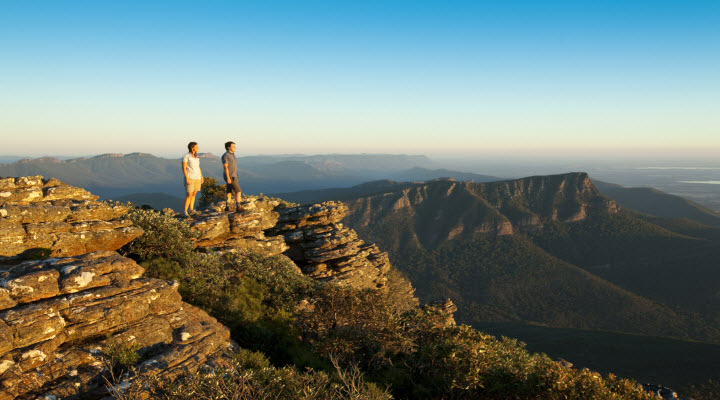 The environment is everything here – with the backdrop of the hills surrounding Halls Gap, this YHA has a range of eco-friendly initiatives. There are the obvious recycling and solar panels, but the hostel chooks and veggie patch makes this a hostel with a difference.
Cosy in winter with wood-fired stoves, the courtyard is the perfect spot at the end of a summer's day. With two kitchen and lounge areas, the hostel is also really set up for groups who can book either half the building or the entire thing under YHA's Rent-a-YHA scheme.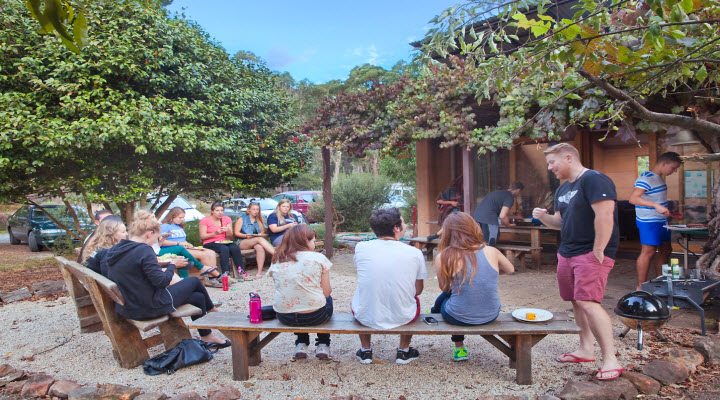 APOLLO BAY
BY KIRSTIE BEDFORD
Apollo Bay feels anything like the sleepy coastal regional town you might expect two and a half hours south-west of Melbourne along the Great Ocean Road.
This is a bustling little village of shops and cafes, which can pull a latte you would expect by any inner-city barista, and boasting great food as well. If you're after a true Aussie fish and chip experience, then tucked away behind the town's golf club overlooking the bay is the Apollo Bay Fisherman Co-op Society – a little café where you'll also find a working seafood factory.
If you are splashing out, La Bimba above the shops in the main street, is a must visit with locally sourced fresh seafood and regional produce. Think 'Otway Harvest' pulled lamb pie, minted green peas and labneh; kangaroo, pyengana cheddar, mountain pepper aioli, brioche and a home-made ice-cream to top it all off.
The Saturday market on the foreshore has locally made, baked, grown, sewn, sculpted, painted or carved products from candles to cakes. And the town is well known for its music festival and live gigs at the Apollo Bay Hotel.
When you're done with the music, walking along the beach, or to the Mariners lookout (a short but steep track that provides breathtaking views across Apollo Bay), kayaking, fishing or just chilling out … then there's the Great Otway National Park and Great Ocean Road to explore. The park, stretches 91 kilometres from Apollo Bay to Glenample Homestead which is adjacent to the 12 Apostles.
You can take a short walk through the rainforest, or jump in a canoe and paddle with the platypus, take the canopy walkway 25 metres above the forest floor or zip line through the forest in a two and a half hour tour attached to a steel cable suspended up to 30 metres above the forest floor.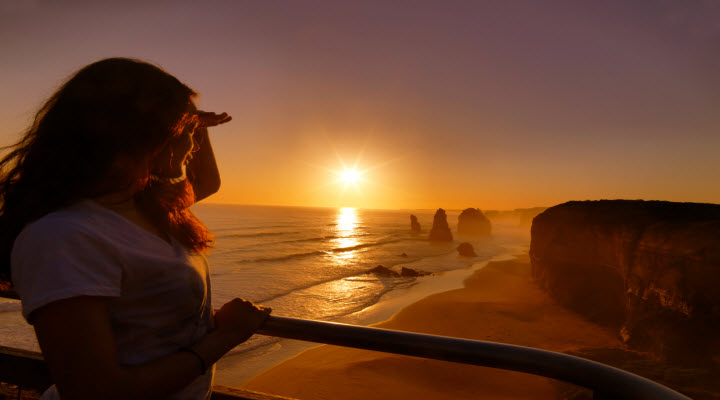 This eco-friendly YHA is leading the way as an environmentally aware hostel with solar hot water, recycling and north facing windows.
The living and dining areas have been carefully designed to be separate from the sleeping areas and it's split across two levels, so can be rented out half a hostel at a time. With a wood fire heater, two spacious lounges, two kitchens, outdoor balconies and a rooftop deck there are no shortage of places to wine, dine and relax.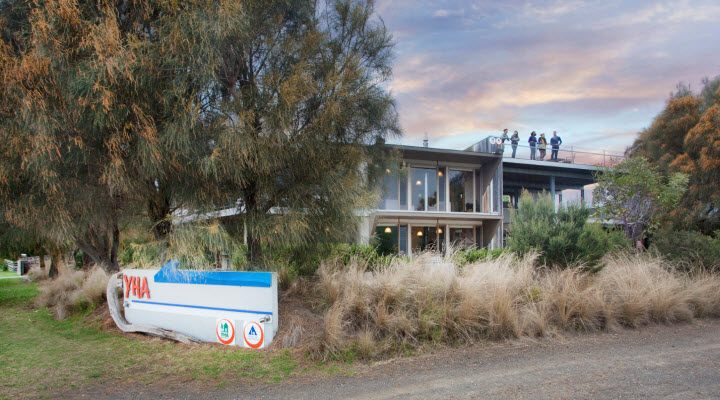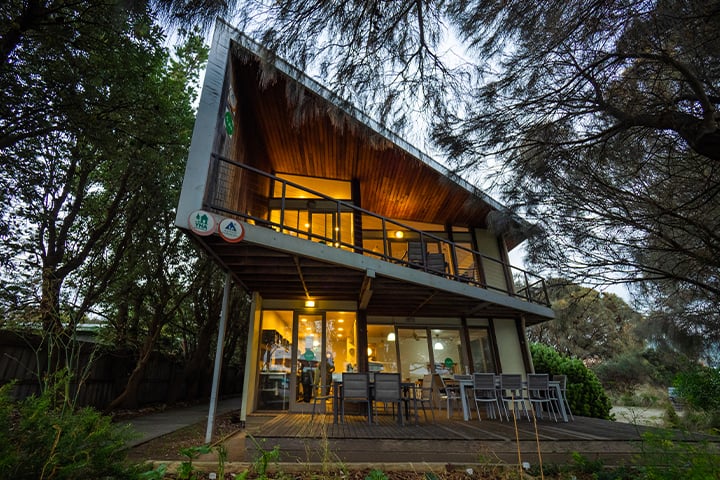 YHA Apollo Bay Eco
Midway along the famous Great Ocean Road, relax by the wood fire heater, and enjoy ocean views from the rooftop at YHA Apollo Bay Eco.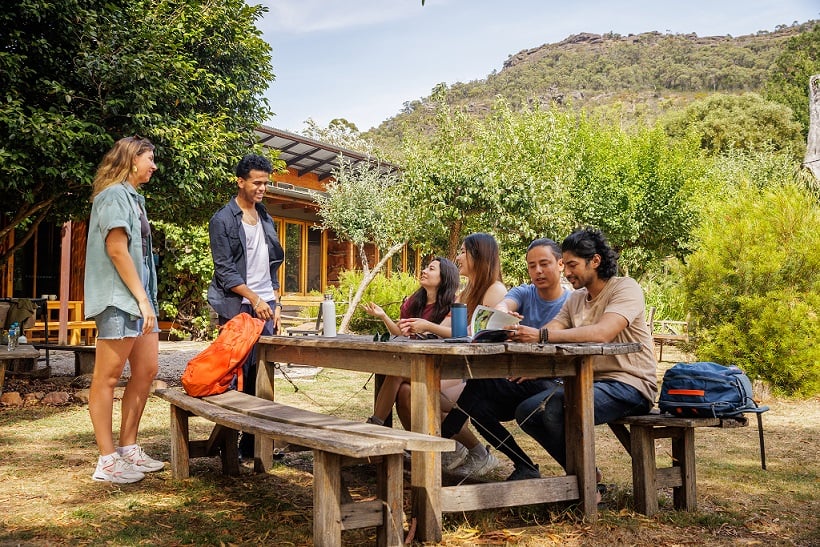 YHA Grampians Eco (Halls Gap)
YHA Grampians Eco is a stylish eco-certified property. Watch wild kangaroos relaxing on the lawn and explore the stunning Grampians National Park.