Victoria: First Nations food experiences
Indigenous Australians have thrived on bush tucker for more than 80,000 years and continue to share their knowledge and expertise with those wanting to know more. Local recipes are enriched with native ingredients and their demand is increasing, both among home cooks and in restaurant settings. Victoria offers opportunities galore to get stuck into some incredible Aboriginal food experiences.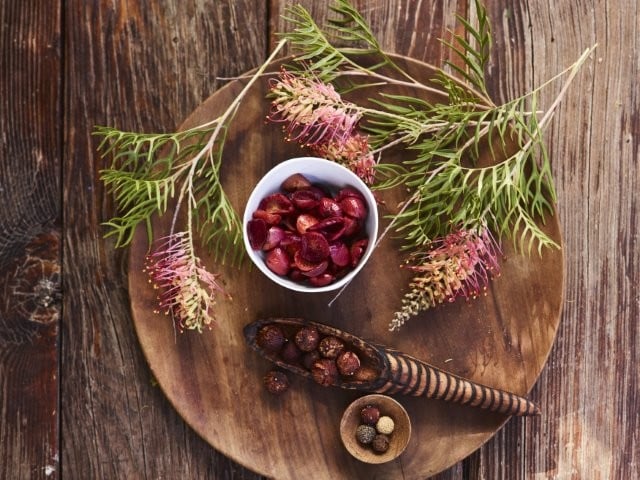 Image: Tourism Australia
Melbourne Area

Pop into Mabo Mabo's Big Esso (translates to "the biggest thank you") and grab a spot at the communal table with friends – or meet new ones. The menu bursts with delicious dishes like bush tomato spiced breadfruit, wild boar and saltbush damper. Save room for desert.
Over in Yarraville, Mabu Mabu's tuckshop has a laid-back vibe, and some seriously good food. Try the wattleseed latte as well as the seasonal vegan plates that make the most of what's growing fresh, and pick up some spices to recreate your experience at home.
At the Milarri Garden in the Bunjilaka Aboriginal Cultural Centre, self-guide through an urban oasis of verdant bush tucker like mountain pepper, white elderberry and kangaroo apple. Used for both nourishment and medicine, these ingredients were essential to good health.
Say hello to some friendly emus and wallabies while you learn more about indigenous spirituality, Dreaming stories and take in the lessons of the past that still serve us today. At Narana Aboriginal Cultural Centre in Geelong, just an hour from Melbourne, immerse yourself in the performances and even learn to throw a boomerang! The on-site café serves indigenous inspired fare, and you can shop for bush herbs and beauty products infused with plant medicine, too.

Where to stay: YHA Melbourne Central
East of Melbourne

At the GLaWAC (Gunaikurnai Land and Waters Aboriginal Corporation) Bush Café in Kalimna West, foods like kangaroo kebabs and Kakadu chili plum sauce are prepared simply and sustainably. Savour the scenic bush vistas and have a wander through the art gallery to soak it all in.
West of Melbourne

Budj Bim National Park hails as the first and only UNESCO site in Australia for its Aboriginal cultural significance. A dormant volcano, the wild and windswept surrounds are a historical treasure trove of evidence that Indigenous people were not simply hunter-gatherers. Thanks to an ingenious system of dams and purpose-built basket traps for catching the short-finned eels, a large community of first Australians settled in and were perhaps, the first sustainable farmers. Visitors can see reconstructed stone huts, scar trees and of course, the eel traps.
Farm to table is taken seriously at Casuarina Indigenous Nursery. Growing a range of bush food, they also recommend local native plants that will flourish in gardens for specific ecological purposes – like pollinating bees and feeding birds. Stop in and smell the coast wattle – when roasted, the seeds taste like nutty chocolate.
A tour of the bush with a knowledgeable indigenous guide is a chance to see things from a completely different perspective. Fill your mind with a new sense of wonder at Tower Hill and gain some understanding about traditional Aboriginal ways of life. Learn about identifying native flora as food or in the treatment of ailments as you explore Victoria's first National Park. Look and listen. The area is home to Australia's iconic fauna including koalas, emus, echidnas, kangaroos and wallabies.

Where to stay: YHA Port Fairy | YHA Grampians Eco | YHA Apollo Bay Eco