Tips for living the digital nomad lifestyle in Australia
Not so long ago, digital nomads were mostly 20-somethings working in tropical beach bars. Now everyone from young families to adventurous couples are ditching the nine-to-five grind to work remotely online in a variety of professions from wherever they please, relishing the opportunity to explore new destinations around flexible online working schedules.
With a lifetime's supply of beautiful places in Australia to set up a temporary office, it's a fantastic destination to embrace the digital nomad lifestyle, whether you choose to travel around in a vehicle you can comfortably sleep in, or you prefer to hop between urban nomad hubs via alternative transport. If you're looking to dip into the digital nomad lifestyle in Australia, here are a few handy things to know.
Plan ahead for reliable internet
If there's one essential ingredient for the digital nomad lifestyle, it's a reliable internet connection. This can require a little forward planning in Australia – while cities and most towns are well connected, remote towns, national parks and roads outside urban areas can sometimes have no mobile phone or internet service. In other words, it's best to plan long driving days and off-the-beaten-track excursions during periods when you don't need to be in constant contact with your clients.
If you plan on spending a lot of time on the road in Australia, you may wish to look into investing in an internet data pack or a dongle to give you more flexibility to work wherever you can get reception. Telstra has the largest mobile network coverage in Australia, but check its coverage map before you venture out. Handily, all YHAs have fast, free wi-fi.
Seek out locations with great co-working options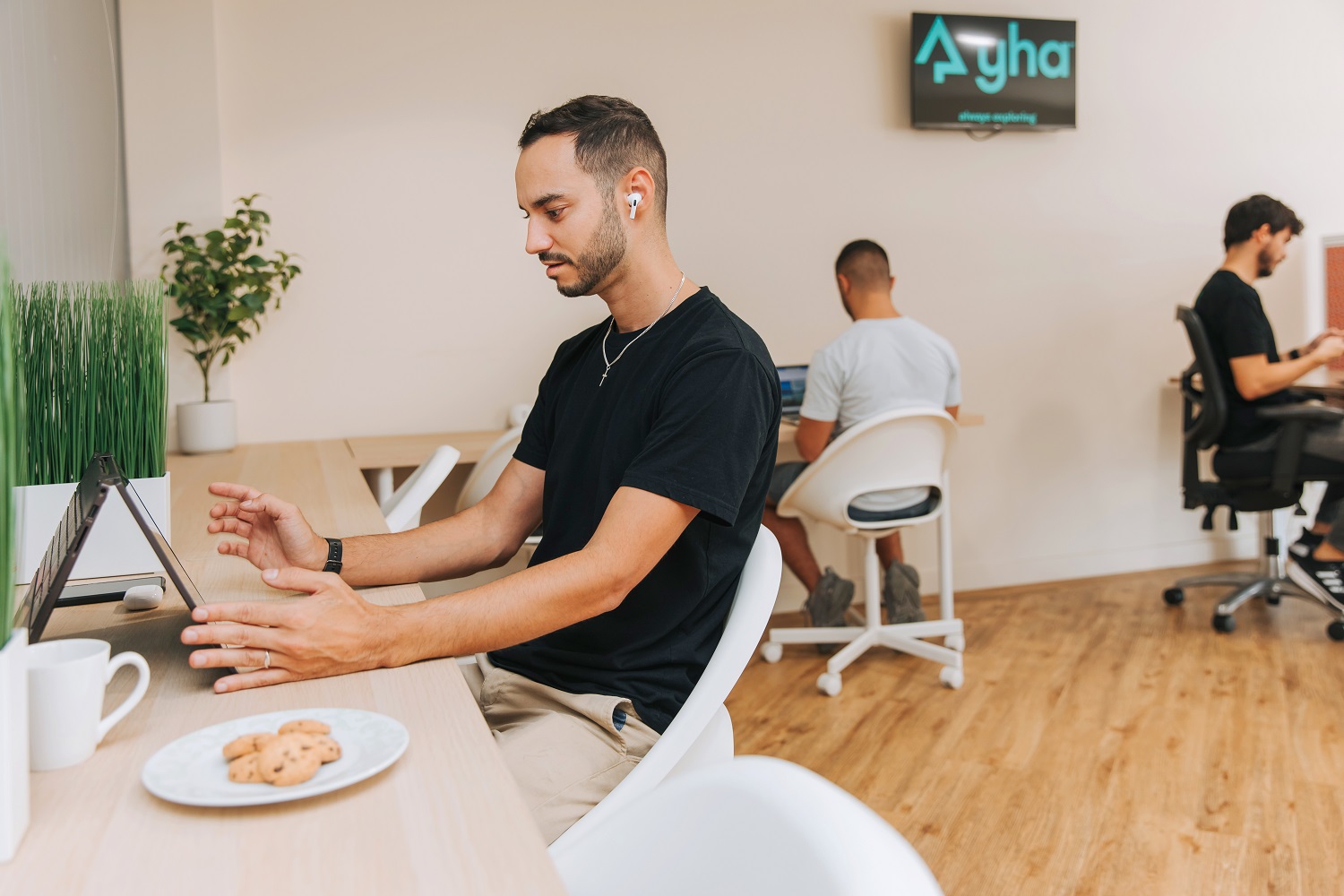 Co-working spaces have become an absolute game-changer for digital nomads in Australia and beyond, offering quiet and comfortable spaces to work with high-speed internet access and handy extras such as printing facilities, drinks and snacks, meeting rooms and even social events.
Most of Australia's co-working spaces are found in cities (including YHA Brisbane City), but these nomad-friendly venues are increasingly popping up in regional areas such as Katoomba in the New South Wales Blue Mountains. Here the YHA Blue Mountains is home to YHA's very first Y-Hive co-working space. With a huge range of access options spanning hourly passes to annual memberships loaded with perks, Y-Hive offers even more flexibility for digital nomads exploring Australia, with additional Y-Hive spaces due to open around the country soon.
For more great tips on great destinations to base yourself as a digital nomad in Australia, check out this article.
Switch up your mobile office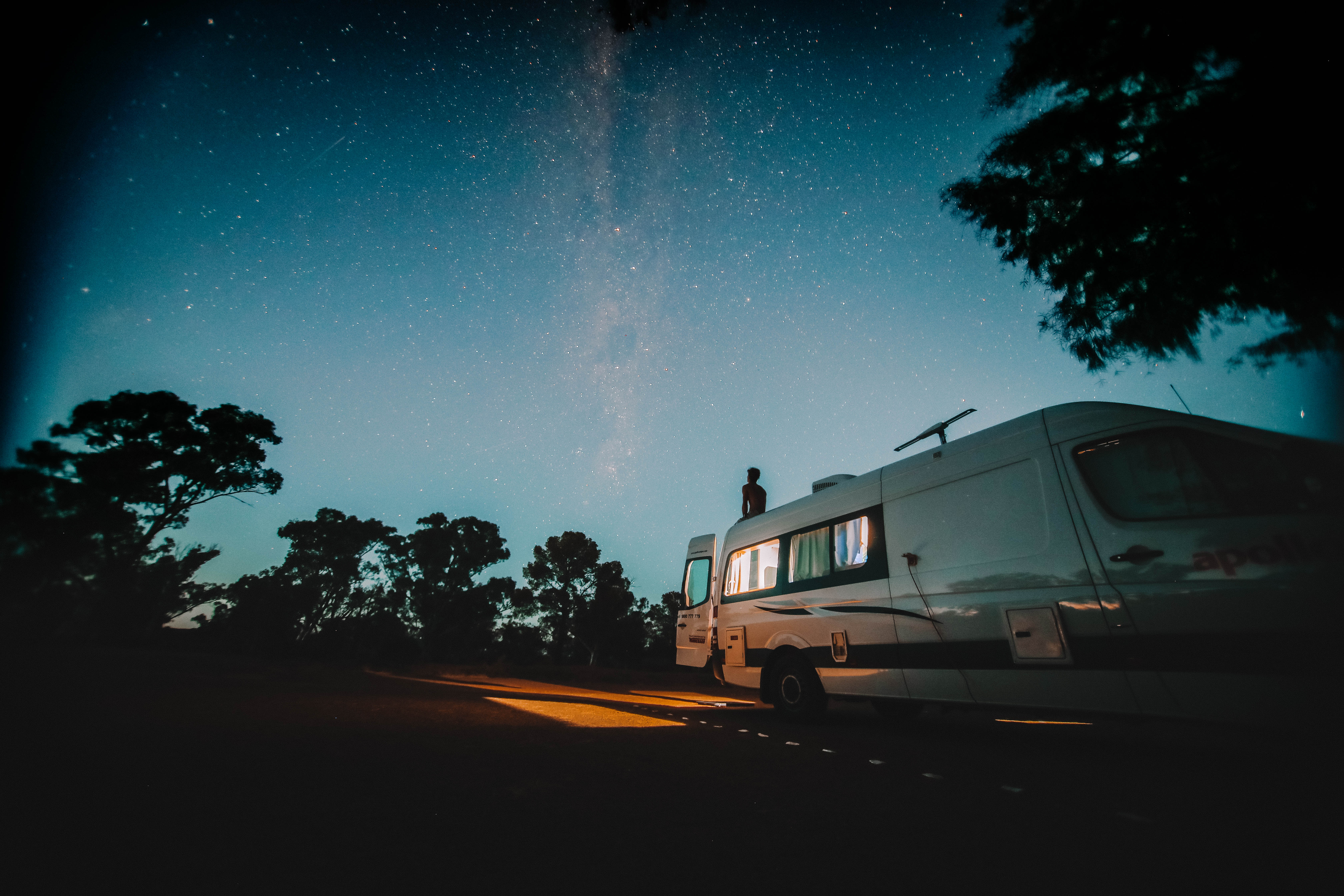 When a co-working space isn't an option, there are plenty of other venues in Australia that can double as a temporary office. While it's not always easy to find a quiet cafe in Australia (and even rarer to find one offering free wi-fi), public libraries offer a quiet place to work with free wi-fi. Many public parks have shaded picnic tables that can be used as rustic work stations on a nice day, with toilet facilities and drinking water in easy reach. Many outdoor spaces also have free wi-fi; download an app like WiFiMap to find a hotspot near you.
Embrace Australia's free barbecues
A great way to keep your digital nomad budget in check in Australia is to make use of the free electric barbecues often found in public parks around Australia. The only accessories you'll need are some paper towel/kitchen roll to wipe down the barbecues before and after use, and tongs or a fork for turning your meat or veg. Then simply sit back and enjoy a cheap and tasty meal surrounded by nature. As any Aussie will tell you, everything tastes better when cooked on a barbecue! Remember – always check local fire ban rules before lighting a wood-burning stove or campfire in Australia.
Look to nature to stay healthy
It can be difficult to maintain a healthy lifestyle while your daily routine is in a state of flux, but Australia makes it easier. While you don't need to travel far in Australia's urban areas to find a gym or yoga studio that offers drop-in sessions, digital nomads will also find a plethora of hiking trails, ocean pools, bike tracks and other natural playgrounds to enjoy some daily exercise. Handily, Australian national park websites allow you to download trail maps for offline use.
Find the perfect work-climate balance

Image: Tourism and Events Queensland
Australia is a vast nation with an incredibly diverse climate – get a handle on the best times of the year to visit the digital nomad hubs on your hit list in order to enjoy them to the max. It's not much fun to freeze your socks off in Tasmania during the mid-year winter months, for example, when you could be working from Cairns during the most comfortable time of the year to explore the Great Barrier Reef and the Daintree Rainforest between deadlines, perhaps while staying at YHA Cairns Central.
Know where you can park and camp responsibly
If you're digital nomading around Australia in a vehicle, it's wise to brush up on local parking and camping rules, which don't only change from state to state, but also from council to council. In popular digital nomad destinations such as the northern New South Wales beach town of Byron Bay, where you'll find two YHA properties, it's illegal to spend the night in a car parked in streets, parks or reserves, which can see you served with a hefty fine. Be respectful of locals, and nature, by following the rules.
Connect with other nomads at YHAs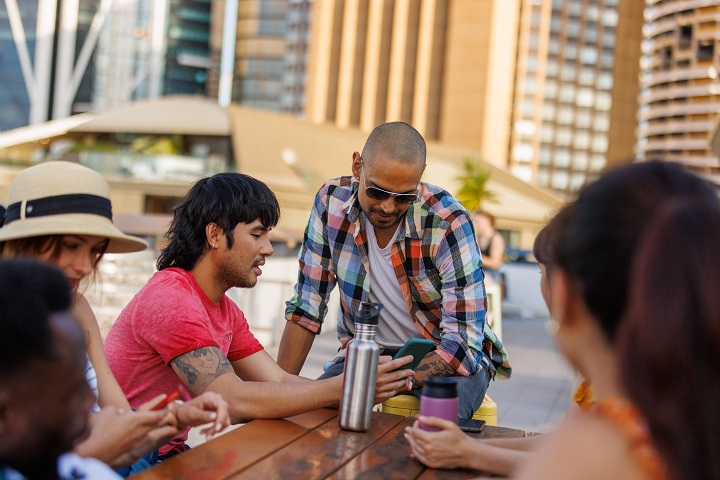 YHAs don't only offer an affordable accommodation option while you're exploring Australia as a digital nomad. They also provide countless opportunities to connect with other digital nomads while you're bunking, cooking, or working alongside each other at a Y-Hive. For nomads travelling in a vehicle you usually sleep in, a YHA stay here and there offers a chance to refresh, reset, and swap tips with other travellers before you move on.
Words: Sarah Reid
Welcome to Y-Hive
Learn more about our co-working spaces for guests and locals.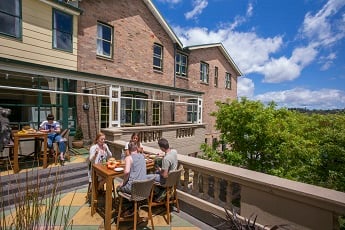 YHA Blue Mountains (Katoomba)
This historic lodge located right in the middle of Katoomba is as cosy as it is hospitable. Escape the city and make it your base for your next outdoor adventure.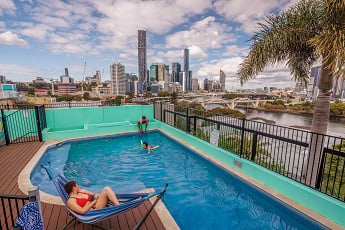 YHA Brisbane City
Nestled in Brisbane's traveller precinct and within walking distance of Suncorp Stadium, this buzzing, diverse inner-city YHA boasts a rooftop pool and bar.
Best places for digital nomads
Do your 'work from home' away from the desk or dining room table, and somewhere much more stimulating, inspiring or fun!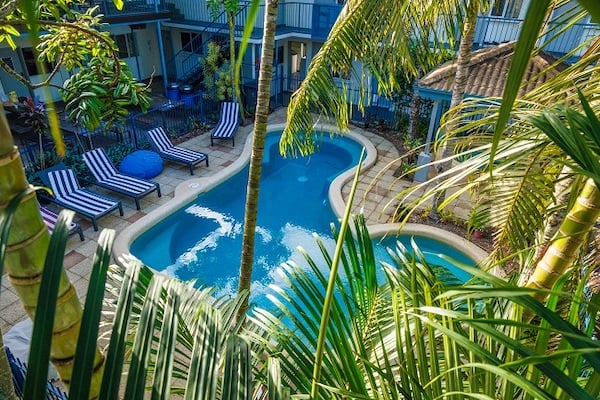 YHA Cairns Central
Centrally located in Cairns, this relaxed YHA offers a warm community feel, great outdoor living spaces and lush tropical surrounds.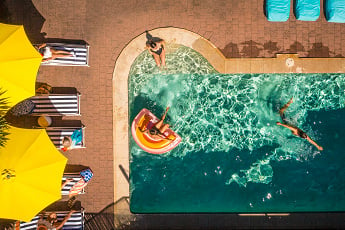 YHA Byron Bay
Relax in good company at this state-of-the-art, sustainable YHA in Byron Bay. With gorgeous communal spaces & a great social vibe, you'll never want to leave.