Beyond Melbourne: explore vibrant Victoria
Victoria is a perfect location for nature, wildlife and discovery. Here are five places to head for a uniquely Victorian break. By Tim Richards
Where to go in Victoria
Apollo Bay
This is the best time of year to visit the Great Ocean Road; without the summer crowds, you can be alone in nature and get served quickly in local cafés. Then head out on the Great Ocean Walk, a 104 kilometre walking trail with spectacular ocean views.
Outside the town is the Great Otway National Park, with its rainforests, woodlands and scenic waterfalls. Nearby is the Otway Fly treetop walk. Even more impressive is its zip line tour, a two and a half hour series of cable rides through the trees.
For a gentler activity, stroll to the Old Cable Station Museum on the town's edge, and learn about the many shipwrecks along this treacherous coast.
Phillip Island
Top choice on this holiday island is the Koala Conservation Centre, with its boardwalks which take you closer to the cute marsupials in the trees. The Penguin Parade is always popular, but consider shelling out for the Penguins Plus option which gets you down near the beach.
The Phillip Island Chocolate Factory has a museum featuring crazy chocolate artwork. Not far away is the Churchill Island Heritage Farm, run in 19th century style complete with whip-cracking demonstrations.
If you're a rev-head, you'll like the Australian Motorcycle Grand Prix in October. For sheer silly fun, however, you can't beat Amaze'N Things, a funhouse full of quirky puzzles and optical illusions, along with mini-golf and an outdoor maze.
Grampians
The big attraction of this region is the Grampians National Park. It's currently peak wildflower season here, with a profusion of native plants. There's a good chance of seeing wildlife too, from wedge-tailed eagles to kangaroos.
The Grampians have long been home to indigenous culture, and the Brambuk Cultural Centre in Halls Gap can direct you to the many Aboriginal art sites within the national park. They include Billimina, a massive rocky overhang covered with red ochre strokes.
If you feel like getting active, try climbing 230 metre-high Mount Arapiles; there are numerous alternative routes up through its craggy rock formations. For an easier option, drive or cycle to the top.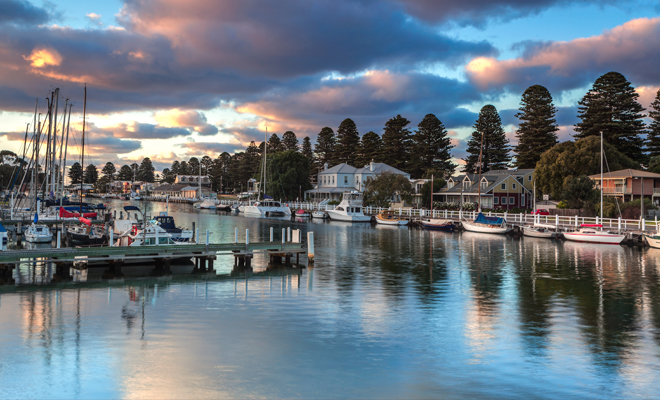 Port Fairy
At the end of the Great Ocean Road, this fishing town has a great mix of natural and historic attractions.
Cruises take visitors to Lady Julia Percy Island, home to a huge colony of Australian fur seals. You might also spot dolphins, fairy penguins and whales. Outside town, Tower Hill State Game Reserve within an extinct volcano is home to waterbirds, kangaroos, koalas and emus.
There are several galleries in Port Fairy, including the Eclectic Designs Glass Studio where you can watch artists at work.
When it comes time to get out of town, you might consider hiking or cycling the 37 kilometre recently opened Port Fairy to Warrnambool Rail Trail, which passes both farming country and coastal dunes.
Ballarat
The city's newest attraction is the Museum of Australian Democracy at Eureka (MADE), which opened in May 2013. Stifle that yawn – this place is packed with fascinating interactive exhibits. Browse a shelf of banned books, support the protesters of the world via music, and see famous speeches come to life onscreen.
Sovereign Hill is an ever-popular and atmospheric historical village. You can easily spend a whole day here, wandering the streets, going on an underground tour and seeing gold poured.
The Art Gallery of Ballarat is the best in the region, and to stretch the legs hit the Lake Wendouree Trail.
For fantasy fun, head to Kryal Castle outside the city. This mock-castle's recent big makeover focuses on a myth involving dragon eggs. There's also live jousting.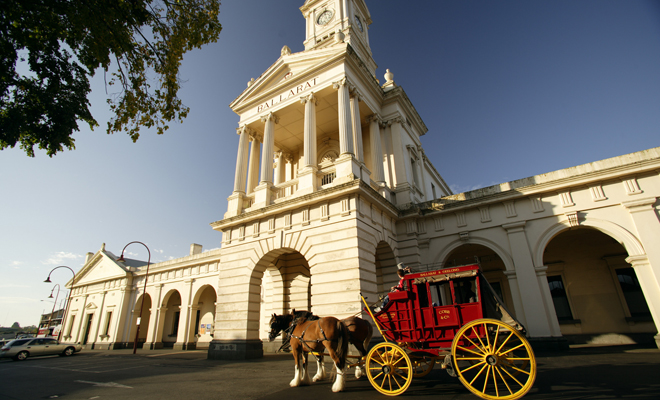 5 of the best country pubs in Victoria
Overlooking the gum trees of the Koala Conservation Centre, this modern pub brewery serves five in-house beers, including the medal-winning Koala Pale Ale; and the more quirky Caramelized Banana Wheat Beer and Dark Malt Burnt Toffee Ale.
A classic Aussie pub with bay and foreshore views from its beer garden. Its drinks list includes plenty of wine and beer choices from the region. Try the seafood paella.
In a city with plenty of pubs, the Mallow stands out with its friendly vibe and the cosy feel of a 'local'. It serves craft beers and ciders from across Victoria, with a dozen on tap.
Just south of the Grampians National Park, the tiny town of Dunkeld plays host to this impressive hotel which has been reinvented as an acclaimed restaurant. To save cash, sample the tasty snack menu at the public bar.
5. Caledonian Hotel, Port Fairy
This pub, nicknamed 'The Stump', is said to be the oldest continuously operating hotel in Victoria, first licensed in 1844. It's popular for serving freshly caught fish with a side of live music at weekends.
Top 5 events in Victoria
If folk music has a Victorian home, this is it. Each March the town is taken over by lovers of folk, though the program also extends beyond its Irish-accented origins to include roots, blues and world music.
Heading toward its third year, this popular celebration of the ale showcases craft beers from across Australia, along with live music. The January date means warm weather, a perfect match for beer tasting.
Participants in this May event held in Grampians National Park can run or walk either a six or 12 kilometre course, each passing through beautiful scenery. Profits help the establishment of more walking/cycling tracks in the area.
This is the biggest event in the coastal town, attracting thousands to both its ticketed and free events in April. The eclectic program ranges across jazz, blues, roots, classical, pop, rock, country and world music.
Held annually on Phillip Island, this February event sees expert riders racing tuned-up versions of motorcycles available to the general public. It's a fast-paced, noisy event with a lot of energy.