Victorian scene stealers
Janet McGarry makes a plan for making the best of 5 days in one of Australia's most magnificent destinations.
Arriving at the Grampians National Park
I was still puffing as we rounded the last cliff and saw the elevated promontory ahead. Walking the final steps out to the end, we were greeted by a magnificent one hundred and eighty degree vista that was nearly too much to take in – the beauty and vastness of the Grampians National Park opening up before us. The Pinnacles is one of the most popular viewing spots in the Grampians. The two hour round walk sorts out purely day trippers from those wanting more: the view more than justifies the effort. It's part of a great day trip route around the park highlights that was outlined in an information sheet by the staff at the YHA Grampians. They had heard that question before.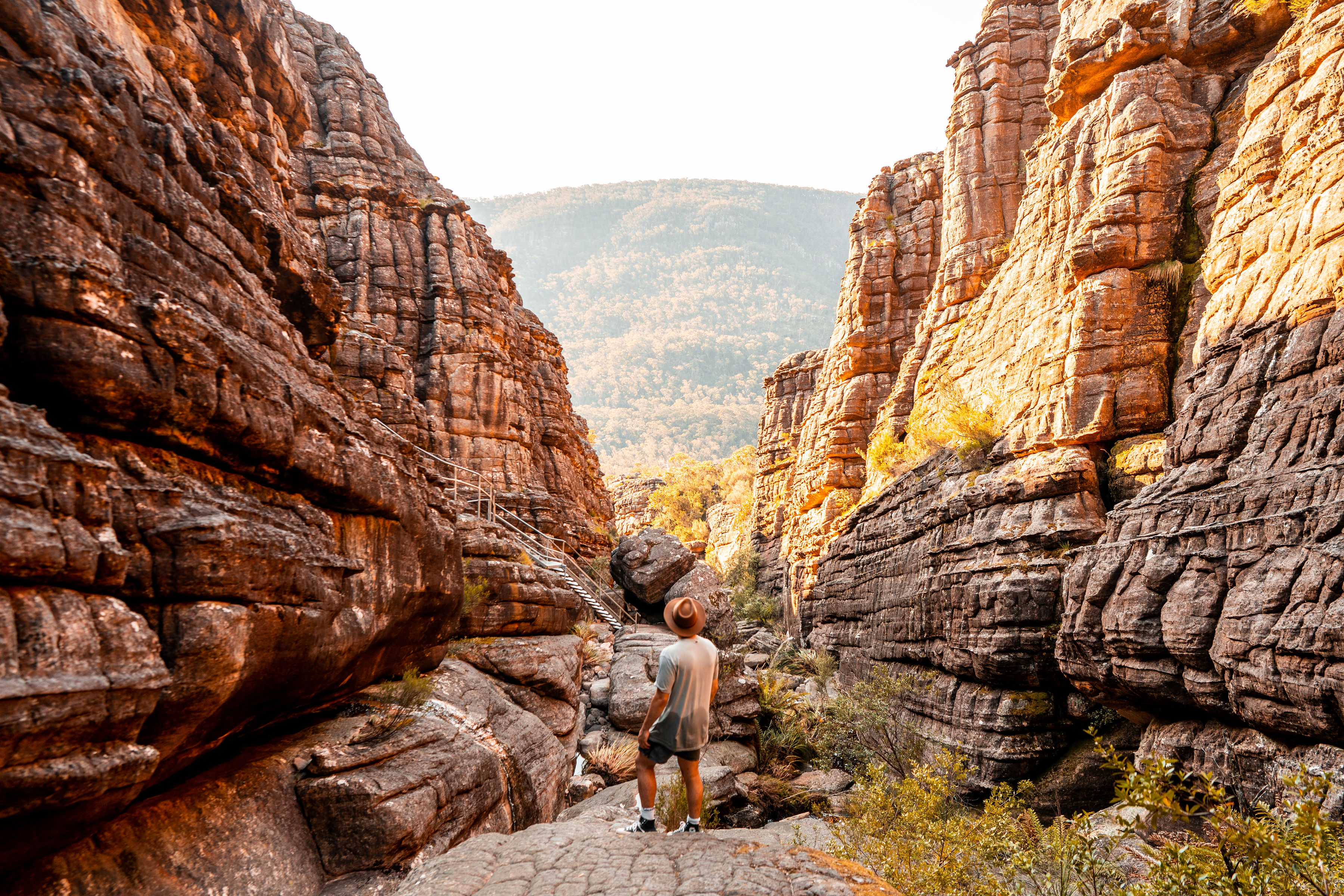 A coastal drive to remember
This trip to Western Victoria was a bit of a last minute decision. Five free days in late Autumn, and looking to escape the city, I picked up a car from Tullamarine and headed for the Great Ocean Road. On a strikingly clear blue afternoon, Aireys Inlet and Split Point Lighthouse gave us our first taste of the outstanding coastal views ahead. There is roughly 200 kilometres from Anglesea to Warrnambool along what they call the Surf and Shipwreck coast. Australia is not short of good coastal scenery but this is one of the finest with its sheer cliffs, long empty beaches, windswept points, winding roads – and lighthouses. Okay, I'm a sucker for lighthouses – I see one on a map and odds on, I'll drive there. Split Point was a good example – well maintained with that bright white look, easy to reach, good photo spots with a cute tea room. It was an excellent start to the trip. A lot has been written about the Great Ocean Road. The winding road hugs cliffs with sweeping sea views around every bend, interspersed with atmospheric little towns along the way. It is a great drive, best undertaken after lunch when all the day tour buses have trundled through. But it should never be the sole reason for visiting this region because there are many other little spots that offer more charm and less traffic.
Stay overnight in Apollo Bay
Apollo Bay is an ideal base or overnight spot - big enough to offer a bit of browsing, good food, essential supplies and a great YHA accommodation. YHA Apollo Bay Eco is a gem – one of those special places where the vibe is just right and you want to stay longer. At the property I eavesdrop on a conversation in the kitchen – two women are walking stretches of one of Australia's finest, and newest, long distance walks – The Great Ocean Walk. Stretching 104 kms from Apollo Bay to the 12 Apostles, it can be done as day walks or one long hike. The women were doing it with a company who drove their gear from stop to stop. A German guest though was about to set off for six days, carrying everything – it was the highlight of his Australian trip. I was quietly envious.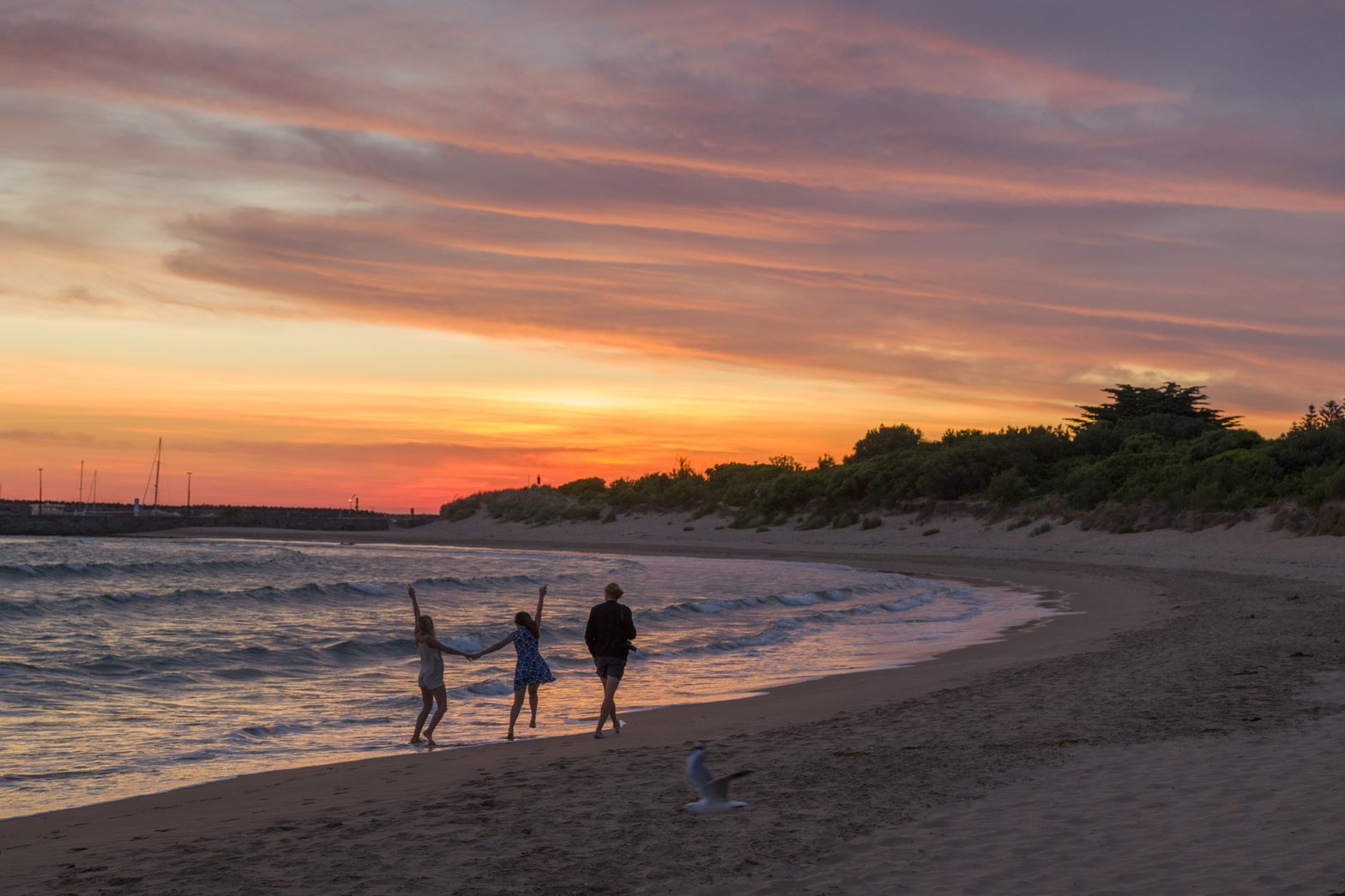 Cape Otway Lighthouse and the Otway Ranges
Two days isn't long enough, but it gives you a taste of the region. We did a loop on day two – along the Great Ocean Road, a rainforest walk at Maits Rest, then down to Cape Otway Lighthouse. You won't believe me when I say there are koalas literally falling out of trees along this road. Sitting munching and posing for endless photos. The Otway Ranges form the backdrop to this stretch of coast. A winding maze of forest roads snake their way through the highly forested region. But if you don't want to go on gravel tracks, there is a loop up behind Apollo Bay on a sealed road that gives you the flavor of this region. Soaring trees, arching views, stupendous trees ferns and lush vegetation. A break at the Otway Fly falls conveniently at midday. We opt for their elevated walk way rather than the zip-lining. Either is a great way to spend a couple of hours.
The sun is shining brightly on day three as we approach the 12 Apostles. I'm naturally a little bit wary of any iconic 'must-see' attraction. Too much hype can lead to disappointment. We were lucky to enjoy an amazing sunny day with outstanding views in both directions. Along the road we stopped into the picturesque fishing town, Port Fairy, then continued onto rural Victoria, farmland stretched on either side of the road. On the horizon a line of mountains gradually came closer and closer.
Halls Gap
As the afternoon light began to wane, we wound our way up into the Grampians National Park through the ancient rugged volcanic range. A region heavily battered by bushfires in the last decade, the park is now well on the mend. A roo hopped across the road in front of us as we approached Halls Gap – the park's only township in the northern part of the range. Nestled in a valley surrounding by craggy cliffs, Halls Gap is the perfect mountain town. The smell of wood stoves fills the air from mid afternoon, autumn leaves gave added colour and there was a bustle of people in the small shopping area. YHA Grampians was the first purpose-built eco accommodation and blends seamlessly with its surrounds.
The next day, I sat on a rock near the Pinnacles lookout munching an apple. There are times in most trips when everything aligns and you have a near-perfect moment. This was it. If I could have stopped the clock and sat there for hours soaking in the view I would have. There's no higher recommendation of a perfect short break.