15 reasons we love Melbourne
First of all, traveler, don't pronounce the 'r' in Melbourne, or you'll announce yourself as particularly un-hip. The cities in Australia place the emphasis on the first syllable and mumble the rest. "MELbun." "BRISbin." "CANbra." I tell you this because I care about your street rep, and as your partner in coolness I insist on mapping out the definitive ways that Melbourne is oh-so swank. World Nomads Travel Writing Scholarship Winner, Mackenzie Griffith, shares 15 Reasons why Melbourne is oh-so swank.
1. International city
With over 100 languages spoken and about half its residents born overseas, Melbourne is one of the most culturally diverse cities the world has to offer, with Australia's oldest Chinatown, the largest Greek-speaking population outside Europe, and Italian-influenced Lygon Street, which introduced the espresso machine to Melbourne and launched the city's love affair with coffee.
2. City of youth
Melbourne's median age is 28. Students and young professionals pave the way for change and provide a nightlife worth sampling. Everyone is out to learn something or start something new, and it creates a momentum worthy of the city's energy.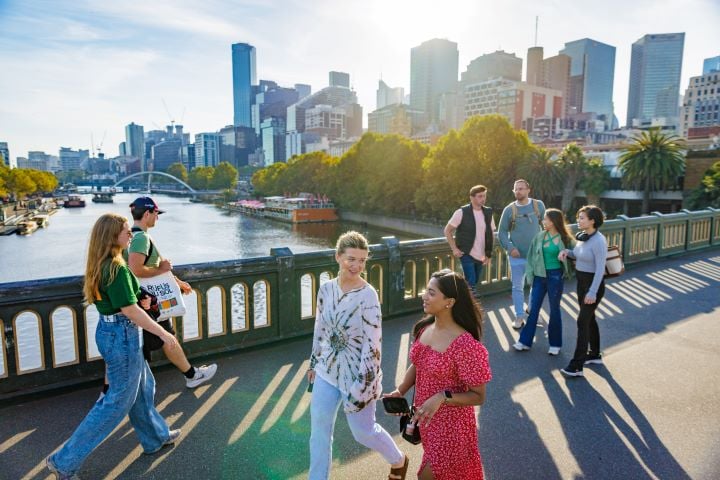 3. Coffee
While the Italians are to thank for the arrival of coffee to Melbourne, its popularity is boosted by the fact that much of it is roasted in the city. Pour overs, siphons, and cold brews from single origin, freshly roasted beans are found on nearly every corner.
4. Beer
Boutique breweries and craft beer make this city a godsend for the discerning beer drinker. Hop heads and brewmeisters saturate the city with dozens of mirco breweries, pubs, tap houses, brew houses - whatever your fancy, you'll find it here.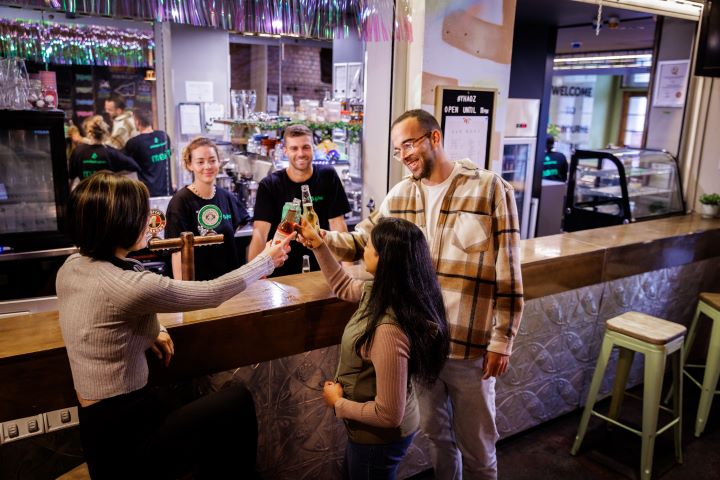 5. Four seasons in one day
Why have one season for four months when you can have all seasons in one day? Better layer up and bring an umbrella, because you never know what you'll get from Melbourne's notoriously unreliable weather.
6. Good eats
With the most restaurants and cafes (per capita) in the world, Melbourne has truly earned its title as a culinary capital. Over 5000 establishments cater to every kind of worldly craving your tongue can possibly dream up.
7. Tram it up
Melbourne's extensive tram network system is an icon for the city. It is the largest tram system in the world, covering 250km and 1781 stations.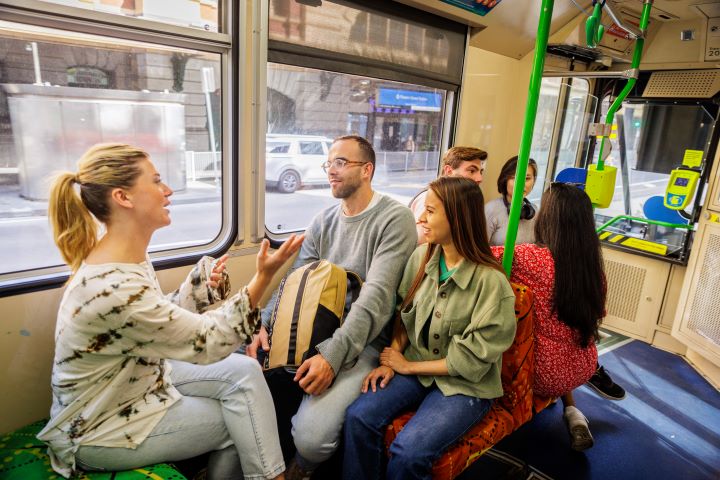 8. Here, queer and ready to celebrate
Celebrate the hard fought for right to be out and proud in one of Australia's most progressive cities. Melbourne provides a safe and flourishing gay scene for the community. It is home to the first gay and lesbian radio station in the world, Australia's largest LGBT film festival (Melbourne Queer Film Festival), a thriving Pride celebration, and several bars and clubs to attend.
9. World's most liveable city
And it has held that title for six consecutive years as of 2016. Scoring 97.5 out of 100 in the categories of healthcare, education, stability, culture, environment and infrastructure, Melbourne takes the cake for livability.
10. Street art and laneways
Melbourne is world famous for its painted urban landscape, with its tucked-away laneways covered in murals, stencil art, and paste-ups.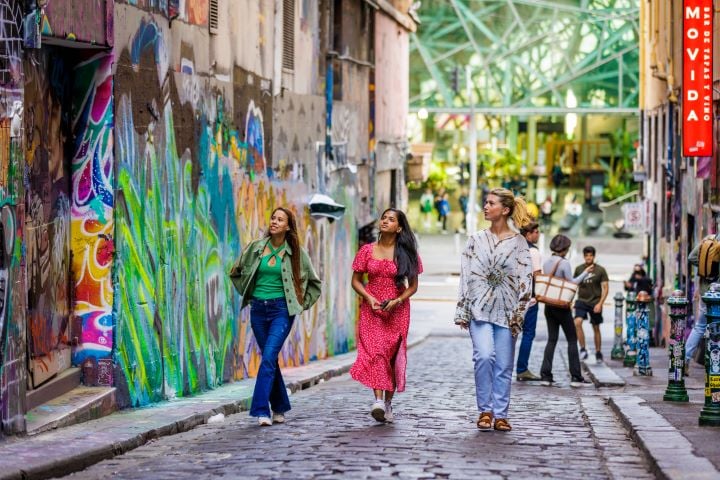 11. Queen Victoria Market
The largest open-air market in the southern hemisphere is stimulating for every sense. Over 600 traders hoc gourmet cheeses, wines, meats of every kind, fresh produce, and everything in between. Vic Market has been there for 130 years, but try not to linger on the fact that it used to be a cemetery and still stands above 9000 buried bodies.
12. Fitzroy and Collingwood neighborhoods
Alright cool kids, this is Cool Kid Home Base. Here you'll find the most inspiring street art, trendiest cafes and bars, and a host of tatted-up and alternative-styled people. Don't forget to hit up those famous boutiques and galleries - Fitzroy is where Melburnians do all the best shopping.
13. Federation square
Butted up against the Yarra river and covering an entire urban block, Fed Square is essentially a massive congregation space, complete with TV plaza for showing sporting events, galleries, cinemas, and a plethora of bars, cafes, and restaurants.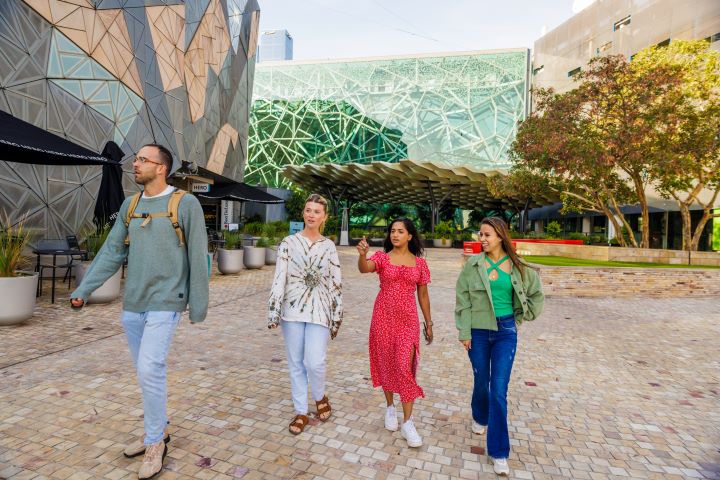 14. Parks and gardens
As Australia's "garden city", Melbourne provides almost 4000 acres of open green space for housing rare and indigenous plants, as well as stunning places to lounge for lunch. The Fitzroy Gardens and Royal Botanical Gardens are among the most historic in the city.
15. Aboriginal art
Learn about the Aboriginal people of Australia and view artwork both ancient and contemporary from the original people of the land. Melbourne is host to over a dozen galleries to educate and expand your cultural awareness.
Liked this article about 15 Reasons Melbourne is the Coolest City? Try:
50 Free Things To Do in Melbourne
10 Things To Do in Melbourne on a Rainy Day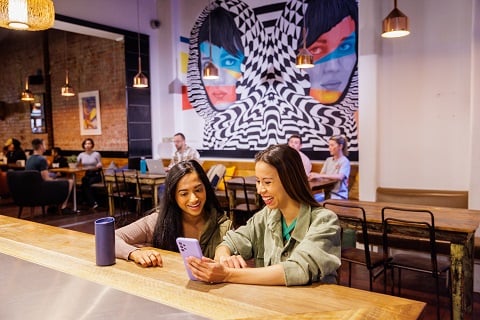 YHA Melbourne Central
Tucked between the downtown Melbourne highrises and with trams on its doorstep, this heritage-listed YHA is the perfect platform for exploring Australia's trendiest city.