11 awesome adrenaline rushes around Australia
Some people like taking it easy while travelling. Others like to tear it up with fast-paced adventures. Then there's the rest of us who like a bit of both for the sake of balance. Whatever type of traveller you are, these unforgettable experiences around Australia will give you something to talk about when you get home!
Feel the rush on a bungy jump in Cairns

Image: Tourism and Events Queensland
If you're brave enough to consider bungy jumping, then plan a trip to tropical Cairns because it's the only place in Australia with a bungy tower! Offering panoramic views of the rainforest and Cairns' coastline, be sure to take a moment to take it all in before leaping off the 50-metre structure.

Book Now: Cairns Bungy Jumping - Book Online | Experience Oz
Scale the stands of Adelaide Oval

Image: South Australian Tourism Commission
Most people head to the Adelaide Oval to watch the cricket or football, but you don't need to be a sports fan to appreciate the views at Adelaide Oval. With RoofClimb you can ascend to the very top of Adelaide Oval to take in bird's eye views of the playing field below as well as sweeping vistas of the city and beyond. Choose to book in for a climb during the day, night or twilight, or pay a little extra and take to the roof during a cricket match for the ultimate view (and bragging rights).

Book now: Adelaide Ovel Roof Climb – Book Online | Experience Oz
Swim with gentle giants in Exmouth

Image: Tourism Australia
Just off the coast of Exmouth, Western Australia's Ningaloo Reef is one of the few places in the world where you can swim with whale sharks. The largest living fish species on Earth, your heart is guaranteed to skip a few beats when you first see a one of these aquatic behemoths slowly gliding through the water. No doubt about it, this underwater adrenaline rush is a once-in-a-lifetime experience you'll rave about for years to come.

Book Now: Exmouth Ningaloo Whale Shark Swim & Cruise | Experience Oz
Mountain bike your way around the Margaret River

Image: Tourism Australia
The Margaret River may be Western Australia's premier wine region, but the coastal area home to forests of Jarrah, Karri and Paperbark trees is also an emerging mountain biking mecca. Home to the Cape to Cape MTB race, the region's mountain bike trails are celebrated by pros and beginners alike. Whether you bring your own bike, hire one or join a mountain biking tour with a local guide, getting some airtime while zipping around the Woodjitup Trails in Bramley National Park is a thrilling rush you won't soon forget.

Book Now: Cape to Cape MTB - Margaret River, Western Australia
Go river rafting in Tasmania

Image: Tourism Australia
Unafraid to get a bit wet? Then pick up a paddle and step aboard an inflatable raft for a memorable river journey in Tasmania. With some of the cleanest air and river systems in the world, rafting is a real treat in Tassie. Whether you head off on a week-long Franklin River packrafting odyssey or enjoy a fun rafting day trip along the Derwent River, nothing beats rumbling along the rapids surrounded by the sounds of the forest.

Book now: Franklin River Rafting, White Water Rafting Tours, Tasmania, Australia
Climb an architectural icon in Sydney

Image: Copyright 2021 Destination NSW
When you're travelling, sometimes you need to tick off a must-do and in Sydney that must-do is undoubtedly the BridgeClimb. Over its 24 years of operation, more than four million people have made the climb (including a super fit 100-year-old)! Add your name to the list and scale the reinforced steel and concrete wonder to be treated to the ultimate views of the city's famed harbour. This is Sydney at its absolute finest.
Book Now: BridgeClimb - Sydney, New South Wales
Take to the air on a ballooning adventure in the Outback

Image: Tourism Australia
Not an early riser? When you're visiting Alice Springs, make an exception for a hot air balloon ride over the stunning MacDonell Ranges (or Tjoritja in Arrernte language). Your valiant effort of getting up before dawn will be repaid with sublime views of Central Australia's austere landscapes. Gently gliding over the dusty, red earth is a rare variety of adrenaline rush: slow, silent and accompanied by a glass of sparkling wine.
Book Now: Alice Springs 30 Minute Hot Air Balloon Flight - Book Now | Experience Oz
Get your thrills on an airboat ride in Darwin

Image: Tourism Australia
Sure, you could do a leisurely twilight cruise while you're in the Top End, but you could also kickstart your heart on an airboat adventure. Unlike other boats with motors, airboats are propelled with a huge fan. Once the fan's propellers get going, you'll fly along the water with great speed. Creating a superfast yet smooth ride experience, airboats are seriously good fun.
Book now: Darwin Jet Boat and Airboat Adventure - 60 Minutes | Experience Oz
Abseil in the heart of Brisbane

Image: Tourism and Events Queensland
Have your breath taken away by incredible city views while abseiling down the Kangaroo Point cliffs in Brisbane's CBD. Never abseiled before? No worries! The qualified guides will take you through everything you need to know before you make your way down the cliff in your safety harness. If you're looking for a special experience to celebrate your Brisbane trip, this abseiling adventure is a top way to cap off your stay.
Book now: Brisbane Abseiling Adventures - Book Online | Experience Oz
Live on the edge in Melbourne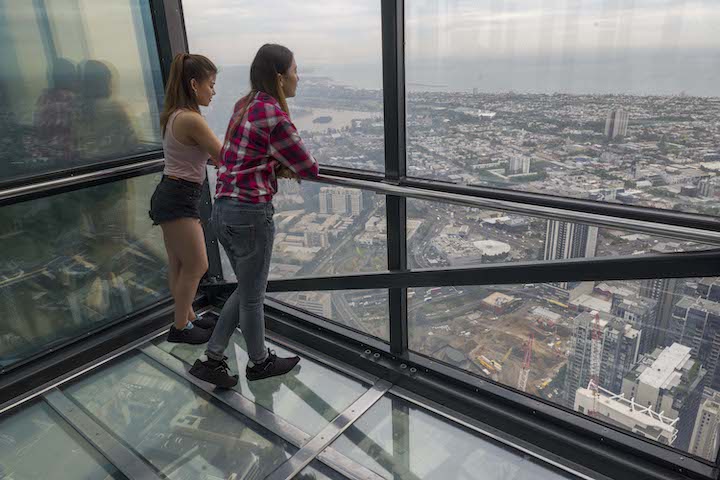 Thrill seekers don't need to travel out of the city to get their kicks in Victoria's cool capital. Just head to Melbourne Skydeck and book in for a session at the Edge, a transparent glass cube that juts out from the side of the building. Sitting 300 metres above the streets below, your stomach will drop as you face your fears and step into the cube to spend some time seeing Melbourne from a new (slightly nerve-wracking) perspective.
Book Now: Melbourne Skydeck Adventurer Package - Buy Now | Experience Oz
Try skydiving at Rottnest Island, Perth

Image: Skydive Geronimo
Australia has many epic skydiving spots, but Rottnest Island is one the coolest. Just 19km off the coast of Fremantle, Rottnest Island is a quick ferry ride from the mainland. Framed by the deep blue sea, the island looks incredible from above. Launching out of a small plane from 14,000ft, you'll experience 60 seconds of breathtaking free fall as you hurtle towards the earth below, reaching speeds of 200km an hour. Once your chute opens, you'll be able to catch your breath and admire awe-inspiring views before landing on the soft sand.
Book now: Rottnest Island Tandem Sky Diving 14,000ft | Experience Oz
Words: Jo Stewart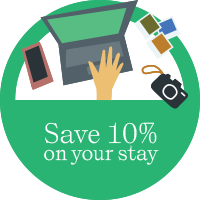 Book direct and save
By booking direct with MyYHA you'll receive our exclusive discounted rates. Sign up or login to get 10% off at select properties.