9 reasons to visit Byron Bay
Here are nine great reasons why you need to get to Byron Bay and explore one of Australia's best beach towns.

1. Beaches
Located on the Far North Coast of New South Wales – 772km north of Sydney and 165km south of Brisbane on Australia's sandy East Coast – Byron Bay is home to some of the most gorgeous beaches you have ever seen.
Main Beach always attracts big crowds. It's great for surfers as well as swimmers, and is patrolled by lifesavers. You can also see the iconic Cape Byron Lighthouse in the distance.
Clarkes Beach is at the eastern end of Main Beach, and it's popular with body-boarders, windsurfers and paragliders, with some good snorkelling areas, too.
Next door is the Pass – a hotspot for surfers, and one of the most famous surf breaks on the coast.
Just around the headland is Wategos, perhaps the most beautiful beach in Byron Bay.
There's also Tallows Beach, a huge stretch of sand with choppier conditions.

2. Cape Byron Lighthouse
The most famous landmark in Byron Bay is the Cape Byron Lighthouse (built in 1901), which represents the most easterly point on mainland Australia.
One of the best things to do in Byron Bay is to stroll along the walking track around the lighthouse for spectacular views along the coastline, across the vast Pacific Ocean and back over the town of Byron Bay itself.
The lighthouse attracts around half a million visitors every year, and is also a great spot for whale watching during winter, when thousands of humpback whales make their annual migration from Antarctica to the warmer waters of Australia's East Coast.

3. Nightlife
Put on your party pants and hit up the local clubs, pubs and bars. Byron's most famous pub is the Beach Hotel, overlooking the sand of Main Beach. You'll be able to spend hours relaxing in the shade of the towering pine trees watching the world go by, tucking into some tasty pub grub, sipping on a quiet drink or enjoying some live entertainment, with a bumper line-up of gigs.

4. Surfing
Learning to surf is one of the best things to do in Byron Bay. Organise a surf lesson with a local surf school in Byron Bay with qualified instructors helping groups of learners with every wave they catch. Not only will you stand up and surf during your lesson, you'll also learn about surf safety and ocean awareness.

5. Hippie vibes
You only need to look at all the dreadlocks, drum circles and hemp fisherman pants to realise that Byron Bay is the hippie Mecca of Australia's East Coast. Stroll down Main Beach at sunset and join in one of the drum circles, or stroll a couple of blocks through town and enjoy all the buskers and street performers.
Byron Bay is also a yoga hotspot – with stacks of studios all throughout town – plus there's the brand new solar train that's kind on the environment and one of the best things to do in Byron Bay after opening in December 2017.
The nearby towns of Murwillumbah and Mullumbimby are also beloved by bohemians. The chilled, laidback vibe is one of the reasons why Byron Bay is such a popular place to visit.

6. Food and drink
Plenty of cafes, restaurants and bars pride themselves on sourcing high-grade locally grown produce, as well as utilising raw and organic ingredients.

7. Festivals
Byron Bay is a hub of festivals 12 months a year, and the biggest festival on the calendar is Splendour in the Grass. In fact, Splendour attracts 30,000 spectators every year, making it the biggest midyear music festival anywhere in Australia. Splendour in the Grass has been held in Byron Bay since 2001, attracting huge line-ups of Australian and international acts as well as consistently huge crowds.
Bluesfest, the Byron Bay Writers Festival, Byron Bay International Film Festival and Falls Festival pumping out tunes over New Year (on hold in 2023) are some of the other huge events that keep a steady stream of visitors flocking to Byron Bay throughout the year.

8. Celeb-spotting
All of these things have attracted a number of celebrities to both visit and live in Byron Bay, with its most famous resident being Chris Hemsworthy.
9. Staying with YHA
Enjoy the relaxed beachside atmosphere with YHA in the middle of town. With two properties to choose from it's easily the favourite of travellers road-tripping up the East Coast of Australia.
Both YHA Byron Bay & YHA Cape Byron have inviting common areas including a pool and barbecue area, which makes it easy to meet fellow travellers.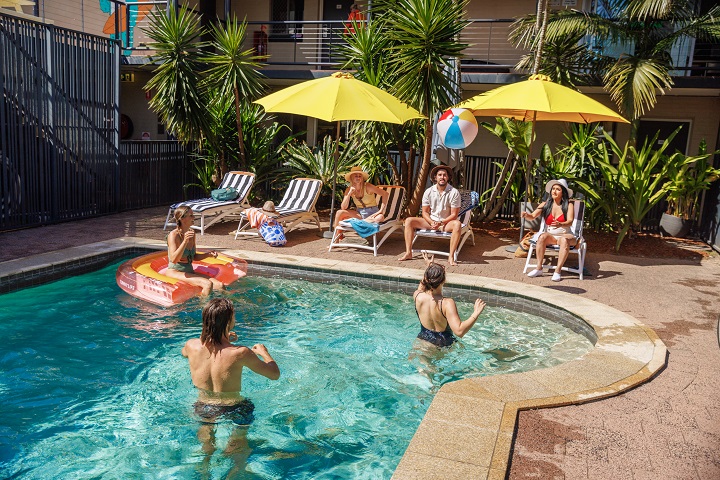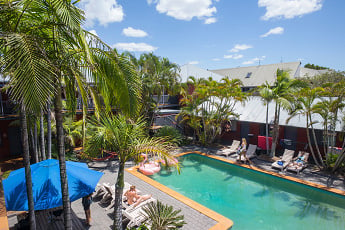 YHA Cape Byron (Byron Bay)
Just blocks from the beach, this laid-back oasis attracts a diverse crowd of global backpackers. Come for the surf, stay for the warm and welcoming atmosphere.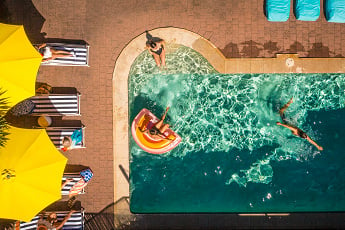 YHA Byron Bay
Relax in good company at this state-of-the-art, sustainable YHA in Byron Bay. With gorgeous communal spaces & a great social vibe, you'll never want to leave.