The Great Ocean Road-trip
Travel writer Chloe Grayling head out on the Great Ocean Road from Adelaide to discover the beauty of the Southern Coastline.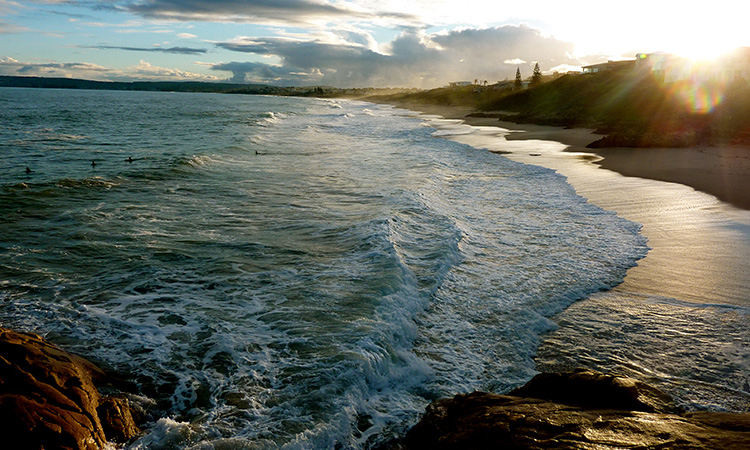 I honestly believe that every South Australian over the age of about nineteen has, at least once, uttered the words 'I really have to do the Great Ocean Road one day'. Honestly, for a lot of my friends (and until a couple of weeks ago, myself!), that's about where it fizzles.
It all becomes a little bit hard - Where do you go? What do you see? Are there really twelve of the apostles? Will you have to sleep in your car with the seat down and your flippers and snorkel mask poking you in the small of your back? Is it even worth the hassle? (Everywhere, everything you possibly can, no, no and hell yes it is)! As part of #thelivealittlesummer, I did what I promised my sweet readers I'd do, teamed up with YHA Australia, got off of my bum and out there into the big wide world, and did the heck out of the Great Ocean Road.
Port Elliot
Perfect for: refreshing, detoxing, breathing in, breathing out, and remembering what's important.
Sleepaway: The YHA Port Elliot. A dreamy refurbished mansion which has lived a dozen lives and has found its destiny as an escape for youth, families, experienced travellers, overseas backpackers and those of us passing through alike.
Best bits:
Steve, the property manager, and his gorgeous and friendly dog Neddy (these two know the little town like the back of their hands, and the Steve will tell you all you need to know about perfect sunset-viewing spots, photography opportunities, the local open mic night, Port Elliot's history and the best place to get some quality fish and chips before you even have to open Google up).
The 270 degree views of the ocean from the YHA property on Port Elliot's 'Millionaire's Row'.
Watching the sun set from the rocks, with a bit of music, a bottle of wine and some freshly-cooked fish and chips.
Walking the Harbourmaster's trail and feeling far too accomplished when you're done, and feeling like a new human being after all of the sea-air you'll breathe in during said walk.
Adelaide
Perfect for: feeling like you're a world away from home, getting amongst the little city buzz, discovering cool bars and groovy cafes, exploring why we were recently named the fifth most liveable city in the world.
Sleepaway: YHA Adelaide Central. Multi-storied and bustling with things to do from ping pong competitions, pub nights and walking tours to BBQ dinners, meals and free pancake weekly.
Best Bits:
Grabbing a free-to-hire bike from one of the outlets dotted around nearby and exploring the streets via pedal.
Waking up, seizing a coffee and diving into the all the Central Market has to offer- pure sensory bliss!
Meeting the people that surround you in the YHA property - not just saying g'day, actually taking the opportunity to discover more about culture and ideas and dreams. Crossing the line that we forget how to the second we become real-and-serious-adults, and making wonderful fleeting friends by doing so.
Halls Gap
Perfect for: finding your adventurous spark, getting seriously up-close with wildlife, smashing goals, incredible views.
Sleepaway: YHA Grampians Eco. Tucked just steps away from mountains and hiking trails and run by Stuart and Rebecca, who know all you need to know about getting the most out of your Grampians experience.
Best Bits:
Testing just how unfit you really are by hiking to the Balconies and taking in the view (you might just surprise yourself!), following a path and checking out all that the Australian mountainscape has to offer, or carefully heading off the beaten track for some spectacular views and only a couple of other life enthusiasts keeping you company.
Heading to Boroka Lookout and seeing the town of Halls Gap and its surrounding mountains, valleys, lakes and farm land spread out beneath you.
Waking up to the sound of kookaburras laughing at one another and stepping out onto the dewy grass to be greeted by a couple of inquisitive kangaroos.
Port Fairy
Perfect for: insanely clear water, costal-town charm, pretty nature hikes, taking it slow.
Sleepaway: YHA Port Fairy. An old heritage-listed building with adorable sleeping options like the barn, the coachman's room and the hay loft (which we scored!)
Best Bits:
Doing the Tower Hill drive at dusk, when all of the wildlife comes out. I'm talking kangaroos, then emus, then a koala or two and if you're really lucky a wombat, all within of a couple of minutes of parking and standing a few meters from the car.
A lap of the little island off the coast, to the lighthouse and back. Save this for early morning, when the inlet water is sparkling like crazy, and grab a coffee to drink on the way from one of the many sweet cafes dotted along the main street.
The touristy-drive things, which are between here and Apollo Bay- the twelve apostles (super busy, head here early or late), the Bay of Islands (completely underrated), the Grotto (strangely magical) and any others that you might have on your list to take photos of and send home to Mum.
Apollo Bay
Perfect for: incredible rainforests, cool eateries, stunning beaches, more incredible rainforests, and waterfalls galore.
Sleepaway: YHA Apollo Bay Eco. Modern and sleek, this property's vibe emulates the balance of laid-back and busy-busy that the Great Ocean Road captures perfectly.
Best Bits:
Triplet Falls; a walking trail pretty close to town that seems utterly otherworldly, and leads to lookouts overlooking (or if you're very experienced and also a bit naughty straight into) beautiful waterfalls. If you don't have a couple of hours, Mait's Rest rainforest is close and just as magical, minus the waterfall. There are some paid walking options nearby, save them for families, tie those hiking shoes up and get stuck into the slipperier stuff.
Soaking up any and all of the beaches surrounding Apollo Bay. The way that the town is situated means that it is almost entirely surrounded by ocean, which in turn means that no matter which way the wind is blowing there's sure to be at least one glassy-clear surface to swim in or paddleboard on!
A quick trip to Lorne for some pizza at dinner time. Pizza Pizza, down the end of Lorne's main strip, is worth the drive, and the sunset views on the way back to Apollo Bay are worth their weight in gold Honestly though the pizza is insane, the BYO wine dealio is budget-friendly and Lorne itself is also a bunch of fun to explore (once your tummy has settled down from the twisty-twosty roads on the way!)
Melbourne
Perfect for: Big city vibes, insane skyline sunsets, bars that are beyond any cool you're used to, world-class food.
Sleepaway: YHA Melbourne Central. An absolute hub, this YHA is full to the brim with people from every corner of the globe getting to know Australia. The bar is cheap, the walls lined with job and travel opportunities add to the backpacker atmosphere, and the location works perfectly with the city's free public transport route.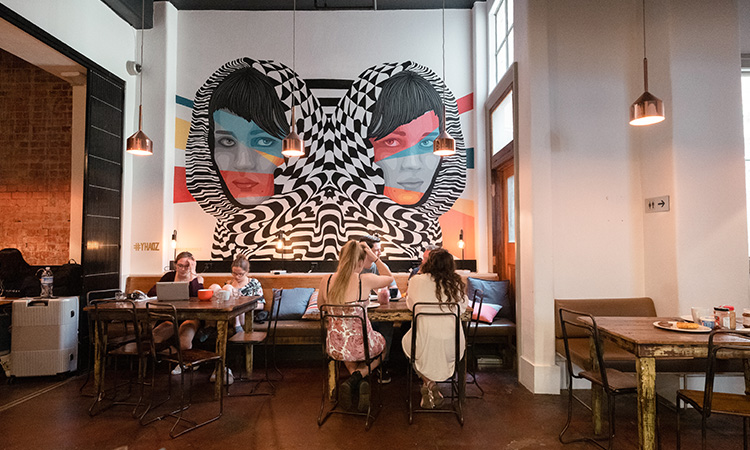 Best Bits:
Dinner at Fonda- a little modern mexican joint that never ever lets you down- and drinks at a nearby speakeasy. You'll have to find it yourself (it's part of the fun), but once you find the nondescript door and duck inside you're in a whole new world of moody luxe and glamour (and seriously, insanely good cocktails made by the city and country's best!)
Shopping your little heart out in Emporium or Melbourne Central. Even if the only cash you have to splash is on doughnuts to eat while you window shop, it's a must-do experience. Round out all of the opulence with a tour of nearby Hosier Lane and suss some cool streetart.
Sunset from the Eureka Skydeck. I'll rationalise with you- it's not that expensive (more affordable still with a student card), all of the other stuff on this list has practically been free, and it's priceless to see the skies over the city turn a flowing gold, then a dusty pink, and to see the stars rise above the skyline. There are other places to see this happen, but there's a reason that this is the most popular, and it's the perfect way to end a beautiful trip.
This post originally appeared on Chloe Jane Creative. Thanks to Chloe for sharing your story with us! Follow Chloe's adventures on her website or get a major dose of travel inspo on Instagram.
Liked this article about The Great Ocean Road(trip)? Try: