The very best mountain biking tracks and trails in Australia
Ever wondered where to find the best mountain biking in Australia? We've broken down the best mountain bike routes, trail networks and dedicated parks in EVERY STATE, plus some beginner tips, to make sure you've got everything you need for your next MTB adventure!

Image: Destination NSW
Mountain biking is one of the most popular and accessible extreme sports in the world – an exhilarating, white knuckle test of physical endurance, skill and balance that comes in a huge number of varieties and can be enjoyed by anyone who's graduated from training wheels.

For the hardcore heads, there's a ton of specialised disciplines you can launch into with the right expertise, including freestyle, dirt jumping, trials and stomach-turning downhill. For the average joe who owns a modest mountain bike's, is not as keen on risking broken bones and enjoys the occasional once-a-month weekend ride, there's plenty of enjoyment in the more low-key cross country (XC) category of riding, featuring longer, winding trails and utilising the natural terrain.
While some of the rides in the XC category are little more than family-friendly dirt paths or meandering fire trails over flat ground – don't be mistaken: The hardest among these will test the skills, and bravery, of even the most experienced riders.

Whatever your poison, state-by-state, we've put together a list of the very best mountain biking routes, trail networks and dedicated parks in Australia for you to pedal, hop and wheelie your way through – plus some bonus tips for beginner riders. So pump up your tires, oil your chain and get stuck in!
The best mountain biking trails by state:



Image: Ride High Country


Beginner tips

Brand new to mountain biking? Here's a few pointers:
Take your time. Unless you're competing in some capacity, you should take every obstacle you encounter at your own pace and always put safety first. Remember – there's no shame in getting off your bike at a particularly gnarly stretch to continue on riding on the other side.
Sometimes faster is safer. On the flip side to our previous point, and contrary to the natural beginner's intuition to slow down when things get more hairy, momentum is often your best friend while mountain biking. As you gain in confidence, try experimenting with holding your momentum between obstacles and stringing bends together.
Keep your eyes on the trail ahead. It can be tempting to look down at the ground, but you'll find yourself gliding over much rougher and steeper obstacles than you expect if you keep looking forward and planning your line a good few seconds in advance.
Stay relaxed on the bike. When riding over rough terrain at speed, and particularly on downhills, you should stand in the pedals with your knees half bent to act as additional shock absorbers to absorb the bumps and changes in terrain. Overall, keep your stance loose and aim to get into a fluid flow state.
Know the ins and outs of caring for your bike. Make sure you know how to tweak your seat, handlebars etc, and make basic repairs to your machine. Always bring a pump and mini repair kit so you don't get stranded.
Always have a plan B. Bring plenty of food and water, as well as some emergency cash. You might end up riding out of mobile coverage, so make sure you have what you need to take care of yourself.
Keep the locals in mind. You're in Australia – don't let it put you off, but there's a good chance you'll encounter snakes somewhere in the bushland you'll be riding in – you're probably encroaching on their home, after all. Know the types to look out for in the area, and make sure you have an evacuation plan just in case!


Useful Links

Trailforks is an absolute goldmine for finding places to ride anywhere in Australia, with community reviews and condition reports.

Bicycle Network is a good starting point for beginner cyclists of all types, and has useful articles on bike maintenance, among others

Check out our other articles on the best outdoor adventures Down Under!


Words: A. Hill-Lees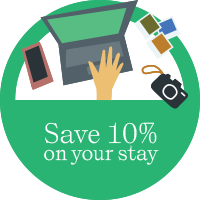 Book direct and save
By booking direct with MyYHA you'll receive our exclusive discounted rates. Sign up or login to get 10% off at select properties.