Where to Travel Based on Your Drink Order
When deciding where to travel in Australia next, there's no need to throw a dart at a wall map when your answer lies in your choice of beverage! Whether only the sweetest fruitiest cocktails will wet your whistle or you prefer the refreshing simplicity of an ice cold beer, there's an Aussie destination perfect for your vibe. Here is your ultimate guide on where to visit next, based on your drink order!
VB - Alice Springs, Northern Territory

You're an unapologetically true blue Aussie (at least you drink like one), so head to the most unapologetically Aussie place! Somewhere in the centre of Australia lies Alice Springs – known as the capital of the Outback, Alice Springs is what people from overseas think of when they think of Australia - red send, dusty roads and hard yakka in abundance. Only the hardiest live in this kind of place, and Alice is very proud of its reputation. Some must-sees include the Alice Springs Desert Park, the historical Telegraph Station and, at the right time of year, the spectacular festival of Parrtjima. Whether you're soaring over the land in a hot air balloon, riding camels through the desert or visiting sacred Indigenous ochre paintings, there's plenty of unique and wonderful things to do. Plus - when you're ready and hydrated, begin the epic odyssey into the desert that is a trip to to Uluru (a place every Australian must visit at least once), a 5 hour drive in your Land Cruiser. So next time you're itching for a deeply Australian getaway, make the trip to Alice Springs, book your stay at Alice Springs YHA, crack open a cold one and revel in the desert vibes.
Whisky - Hobart, Tasmania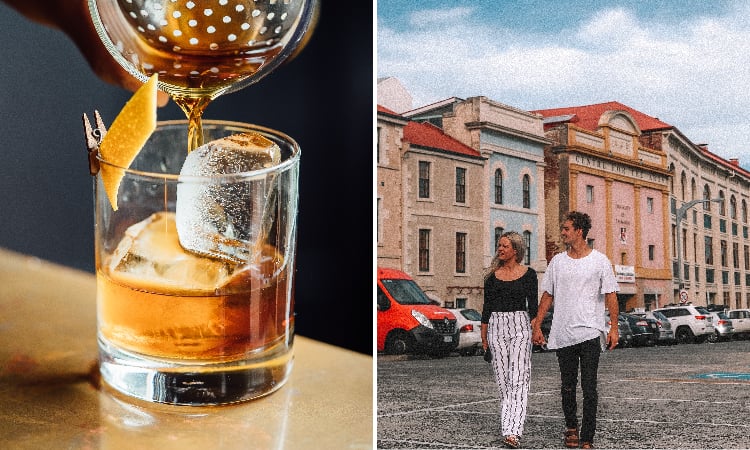 You live for the sweet burn of whisky, so the home of Tasmanian Whisky Week is the place for you to be. The Whisky Week festivities occur in August every year, but there's something for whisky lovers all year round. Tasmania is home to Old Kempton Distillery, one of only two "paddock to bottle" single malt whisky distilleries in the world, with the other one in Scotland. Just 42 minutes' drive from Hobart Central YHA, you can take a tour of the distillery and enjoy the exquisite whisky, as well as delicious food and the gorgeous grounds. Closer to home, check out Lark Distillery in Hobart – located on the beautiful waterfront, you can enjoy a selection of over 250 whiskies, along with some beers, wines and other spirits. Why is Tasmania so big on whisky? Because the state of Tasmania enjoys some incredibly pure water, that helps to produce some of the world's greatest spirits, including vodka and gin. So if you're a whisky connoisseur or are interested in becoming one, hightail it to the Apple Isle any time of year to talk all things barrels, barley and bourbon.
Sauvignon Blanc - Margaret River, Western Australia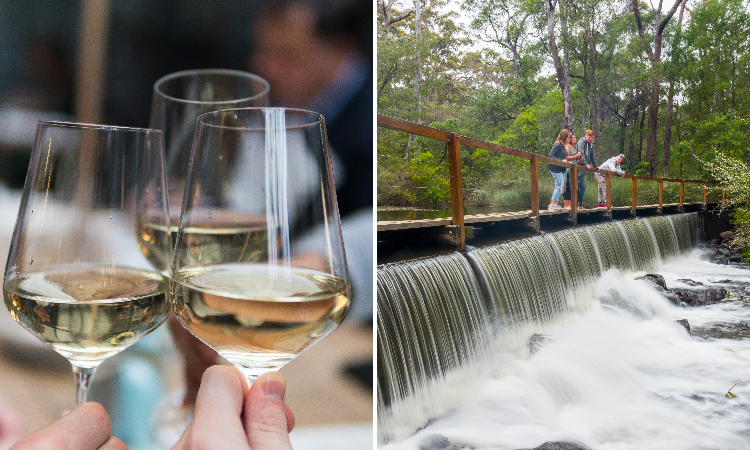 If you won't accept anything less than the finest, crispest white, you need to book a trip to Margaret River stat! Margaret River wines make up 2 per cent of Australia's total wine production, yet over 20 per cent of Australia's premium wines, so you know they're bloody good - with sauvignon blanc as a specialty. You can sample all the Savvy-Bs and more when you visit any of the countless wineries in the area, such as Leeuwin Estate, Voyager Estate, Stella Bella and Evans & Tate. But believe it or not, Margaret River has even more to offer than just its world class wines. When you're all rosy-cheeked and wrapped in the warm embrace of tipsiness, enjoy the one-of-a-kind sunset over the Indian Ocean at Surfers Point in Prevelly. If you're having a day off the bottle, enjoy bottomless adventures such surfing, wandering native forests and exploring limestone caves. Be sure to stay at Margaret River YHA, located right in the centre of town. Just leave room in your luggage for all the wines you'll accumulate!
Shiraz - Adelaide, South Australia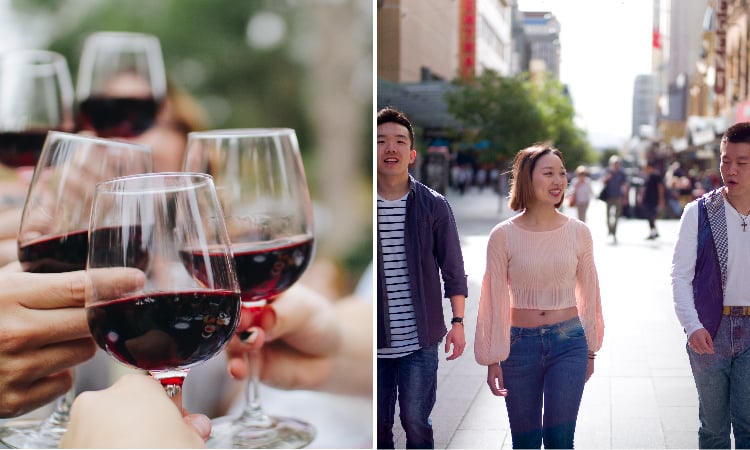 If you can appreciate the charms of sauvignon blanc but it's the robust red life for you, make a beeline for the Barossa Valley, located just a 50-minute drive from Adelaide Central YHA. Arguably the best wine region in the country, visiting the Barossa is a must-do experience for everyone who claims to be a wine lover. As the birthplace of Penfolds Grange, Australia's most famous shiraz, it's no surprise that the red wines of the Barossa are its main drawcard. But with 150 wineries and 80 cellar doors surrounded by quaint villages, stone churches and lush hills, you'll enjoy an incredible day (or two, or more) flitting from cellar door to cellar door, tasting everything you possibly can. You'll be needing some mouth-watering food to soak up the vino, so every Saturday morning, you can't miss the Barossa Farmers Market, boasting the freshest produce in South Australia. When you're wined and dined out, explore national parks such as Hale Conservation Park and Sandy Creek Conservation Park, for incredible bushwalking trails and animal-spotting. The entire Barossa experience is as warming and relaxing as those full-bodied reds you love so much!
Mai Tai - Broome, Western Australia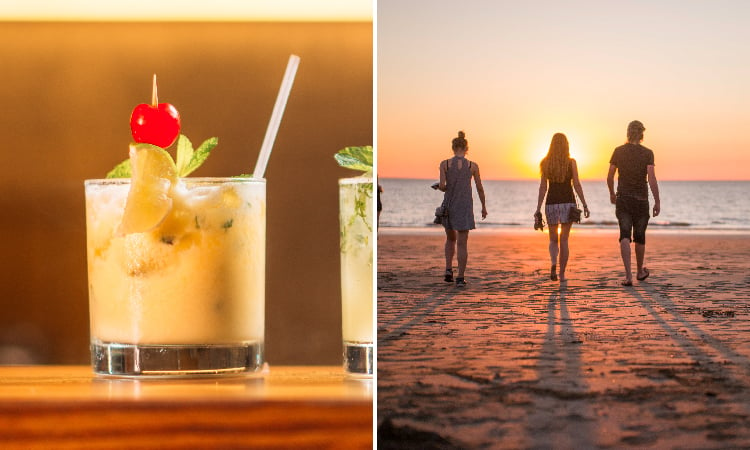 Only the chillest tropical vibes will wet your whistle, so there's only one place for you to go: the wild West! Broome is located right near the equator, so enjoys a tropical climate all year round. In Broome, you're in prime position to access some of Australia's natural wonders, from rainforests, deserts, and the stairway to the moon if you plan your visit right! Witness an unforgettable Western sunset over the famous beach. Stay at Broome YHA to be right amongst the action, and the end result is a tropical getaway as tasty as your favourite rum cocktail!
Long Island Iced Tea - Cairns, Queensland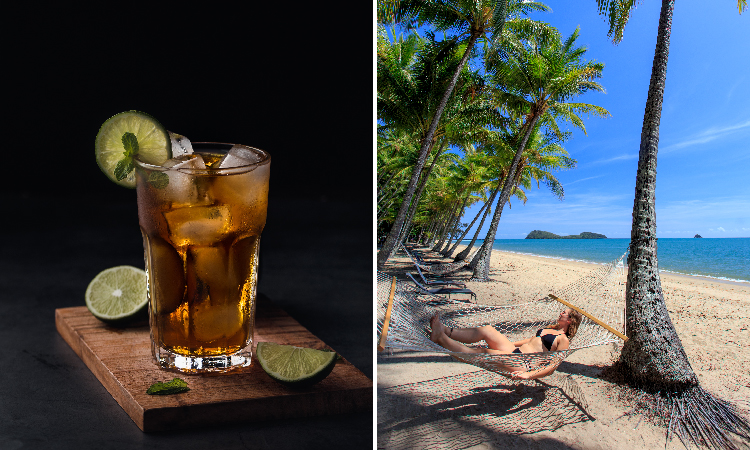 So you like your tropical bevs strong and bitey huh?! The crowning jewel of Tropical North Queensland is the place to go, with its heady mix of sunkissed beach days and balmy, memorable nights on the town. Cairns is one of the best possible access points to visit the Great Barrier Reef – spend the day underwater flitting amongst tropical fish and coral, feasting your eyes on a dazzling array of vibrant colours. If you've seen the reef but still want to get your water fix, you can chase the endless waterfalls in the Cairns surrounds areas, such as Stoney Creek and the Crystal Cascades. By night, get amongst the action with the plethora of bars and clubs around the Esplanade area. But don't go too hard and miss the opportunity to day-trip to the mountain village of Kuranda, via one of the world's most incredible railway rides. It gets better - Cairns Central YHA has free pancakes every single day to help you soak up all those long island iced teas, and experience every day to the full with a full tummy!
Spiked Hot Chocolate - Thredbo, New South Wales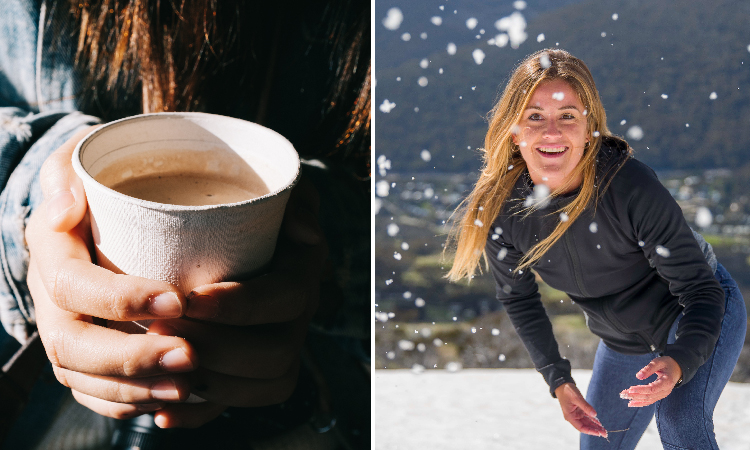 You like spiked hot chocolate because it makes you feel like you're warming up by the fire after a day on the slopes, so why not do it for real?! Thredbo is the place to ski without leaving Australia, attracting thousands of snow enthusiasts from all across the country during June and July. The ski runs and snowfall are unrivalled, and of course, you're spoilt for choice with apres-ski options! Thredbo YHA is the best accommodation option in town, right at the foot of the mountain - you can assess ski conditions every morning from the balcony while you sip a hot chocolate (though spiking not recommended before skiing!) Even if you visit in the summer, the Snowy Mountains is home to scenic hiking and biking trails, making Thredbo an unforgettable destination all year round. So whether you're a skier, snowboarder, snowman builder or slacker – sipping a spiked hot choc at Thredbo is a must-do experience.
Mulled Wine - Grampians, Victoria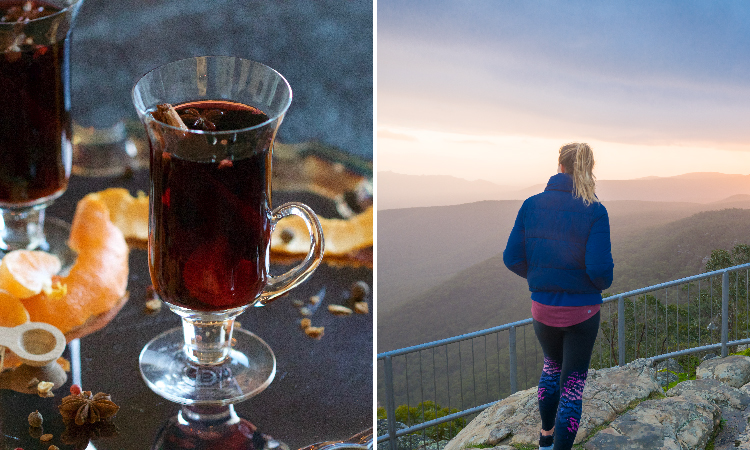 Sweet and warming, mulled wine makes you dream of a relaxing getaway in a secluded lodge, so visiting the Grampians is a must! Grampians National Park is a breathtaking nature experience that is incredible all year round, but particularly magical during the winter. You can hike and bike without the heat, enjoy less crowds at the jaw-dropping lookouts and watch as the winter fog slowly clears and reveals an awe-inspiring view. You can visit the waterfalls and rivers that run rampant with the extra rain and fall in love with the foliage as it becomes even greener. A little-known fact about the Grampians is its excellent wine scene, with the region home to some of the world's oldest vines. When you visit Wimmera Hills Winery just an hour's drive from Grampians Eco YHA, you can even learn how to make the perfect mulled wine for yourself! Test out your new skills as you settle in for the night at Grampians YHA, and sip your creation by the outdoor fire pit or indoor wood fire heater. Pure bliss.