Why you should start your Australia trip in Adelaide
Planning a trip to Australia? You're probably already eyeing up Sydney or the Gold Coast… But wait! Not so fast... What if we told you there was a city in Australia that was more authentic, less expensive, packed with great things to do and all that without missing any of what makes those other places so great for international visitors? Well, there is, and its name is Adelaide.

Image:

Michael Waterhouse Photography
Adelaide, an introduction
Adelaide is the capital of South Australia, and the fifth largest city in Australia. At 1.3 million people, its population is a fair bit smaller than Sydney or Melbourne (with about 5 million each), but still large and diverse enough to support a lively, international feel.
Adelaide has a mediterranean climate – think warm, dry summers and mild, wet winters; as a result, it's generally pleasant for most of the year barring the odd scorcher in January. Unlike many other Australian cities, Adelaide's first European inhabitants were working class immigrants, not convicts (read into that what you will), and despite being nicknamed the City of Churches, it's actually one of the more secular cities in Australia. It's relatively well known that Adelaide consistently ranks among the 10 most liveable cities in the world, but as a travel destination, it's far too often overlooked. We're here to change that. Here's just a few of the reasons Adelaide isn't just a great place to visit, but we think it should be at the very top of anyone's itinerary...
Why Adelaide is the best place to start your Australia trip
It's more laid back.

Image:

South Australian Tourism Commission
First and foremost, Adelaide is generally friendlier than the other major cities. With a slower pace of life, Adelaideans are usually less stressed, more laid back and in many ways, more quintessentially Australian than the edgy urbanites of Sydney or Melbourne. The city itself exudes something similar: wide, attractive boulevards, historical architecture and an abundance of green spaces make Adelaide quite easy on the eye, while affording everyone more room to breathe than its more densely-populated counterparts. Relatively light traffic and a solid public transport system make it a breeze to get around, too, and you'll also find most of the city very accommodating to exploring on foot, bike, or e-scooter (which we recommend). The city even has one of the lowest crime rates in a country that's already one of the safest in the world. All told, Adelaide serves up a whole lot less of the high rise hustle, and a whole lot more time to enjoy yourself.
It's more affordable.

Image:

South Australian Tourism Commission
It's a sad but undeniable fact that outside the walls of your favourite YHA, Australia is not a particularly cheap country to travel in. There's good news, though – Adelaide is, by many measures, the least expensive of the major cities, and meals, experiences, transport and parking are all likely to set you back significantly less than in any of the other state capitals, save perhaps Darwin. It's worth considering that flights to Adelaide from overseas are generally a bit costlier than those to Sydney or Perth, but you'll likely make that difference back within a week in the City of Churches. Thanks to its greater affordability, you'll ultimately be left with more funds to either extend your trip, or splash out more on things like meals – which is a great idea, because...
It's a gourmet's heaven.

Image: Duy Dash
With its high-quality produce and large, diverse immigrant populations, Australia's foodie scene is top-notch and has a distinct global flavour. For an ever-increasing number of reasons, Adelaide is right up there with Melbourne as the torch-bearers of this culinary excellence. Adelaide's most obvious drawcard is the abdundance of world-class wine regions you can easily tour from the city, including the Barossa Valley, McLaren Vale and Clare Valley. Here you'll find amazing Shiraz, Cabernet Sauvignons and Riselings, as well as delicious cheeses, vege products and more. This also directly feeds Adelaide's many produce markets, where locally produced goods are sold fresh from the source. In the city proper, an impressive selection of 'hatted' restaurants, artisan cafes and street food vendors cater to a whole spectrum of gustatory enthusiasts, while trendy bars, microbreweries and distilleries have a lot to offer those with a less wine-centric palette. Adelaide's passion for all things gourmet is celebrated annually with the excellent Tasting Australia festival in April/May, an event worth timing your trip to experience.
It's rich with culture.

Image: Jack Fenby
For such a relatively small and quiet city, Adelaide is positively bursting with arts and culture. In the centre of town, you'll find an ton of galleries, arts institutions, museums and theatres (we recommend the Art Gallery of South Australia and South Australian Museum at a minimum), as well as a thriving live music scene headlined by WOMADelaide, one of Australia's biggest international music festivals. In fact, Adelaide has put a lot of work into becoming the 'Festival City', with an impressive calendar of events across the year including the Adelaide Festival, Festival of Ideas, Illuminate Adelaide, FEAST, Adelaide Fringe and Tasting Australia (trust us – the list goes on!). On the sporting side, Adelaide is overwhelmingly AFL and motorsport mad, but also has basketball, cricket and soccer (football) teams competing nationally and hosts the Tour Downunder, the biggest cycling event outside of Europe. International communities thrive here, too, with Asian and continental European (such as Italian, Greek and German) diaspora lending the city a unique mix of cultural influences.

Worth doing: Adelaide Oval rooftop climb
It's located on the doorstep of some jaw-dropping nature.

Image: Ben Goode
Adelaide is exceptionally blessed when it comes to the natural beauty on its doorstep. Though not traditionally thought of as a 'beachy' city, the sprawl of its metropolitan area extends to a windswept coastline lined with beautiful, quiet beaches and cerulean water. A short ferry ride across said water will take you to Kangaroo Island, home to some of the most breathtaking areas of wilderness in the whole of Australia and inhabited by thousands of wild kangaroos, koalas and penguins. Heading the other way from the city, the bushland of the Mt Lofty Ranges is dotted with waterfalls and features gorgeous hiking and biking trails snaking throughout. It's the fertile lowlands between and beyond the Ranges that you'll find the various aforementioned wine regions, which are wonderfully picteuresque places to while away a summer day. Looking further afield, the Fleurieu Peninsula to the south is an extensive landmass of exquisite natural beauty that's worthy of an article all on its own, and if you want to experience the more sunburnt side of Australia, a road trip east to the Murray River or north into the deserts of the Red Centre are highly recommended.

Also check out: Monarto Safari Park, Adelaide swim with dolphins cruise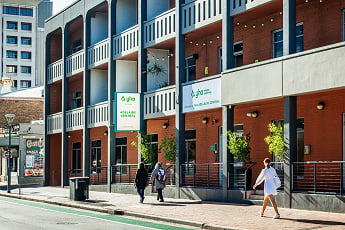 YHA Adelaide Central
Located in the heart of Adelaide, the chilled-out YHA Adelaide Central boasts spacious communal spaces & easy access to all the hotspots & events of South Australia's capital.