14 best beaches in Australia
Our laid-back and chilled way of life has a lot to do with the fact that we're a huge island, and there's not a lot of places that are too far from the white sand and turquoise waters of your dreams. As hard as it was to choose just 14, here are the beaches in our fair country you need to see before you die.
Whitehaven Beach, Whitsunday Island, Queensland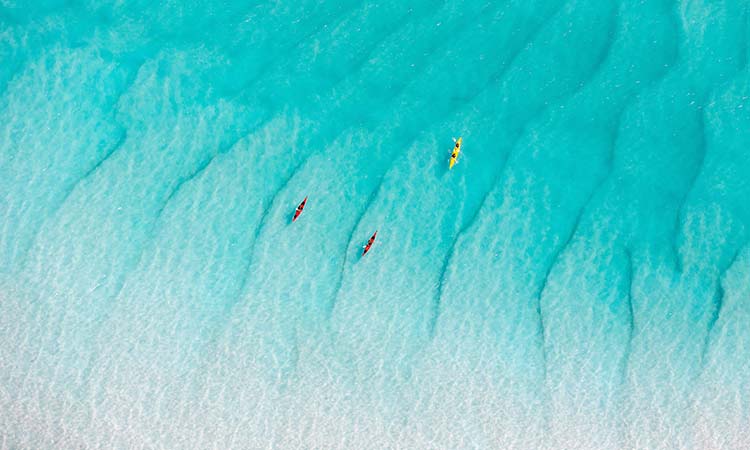 Photo: Tourism Whitsundays
No filter necessary – Whitehaven Beach is everything you've been dreaming of and more! This magical spot is famous for its pure and pristine environment, remaining unspoiled even in the face of its worldwide popularity. Prepare to be dazzled by clear, turquoise waters as far as the eye can see, as well as the beach's iconic white sand. Seriously, the sand! It is made of 98% crystal white silica, which not only gives it its luminous white colour, but means it does not retain heat, making it comfortable to walk on barefoot. To get your prime Insta shot, head to Tongue Point lookout – go at low tide for the best colour explosion. On the beach, keep an eye out for turtles, dolphins and other curious marine life that call this paradise home. Crowned Australia's best beach time and time again, it's definitely time you went and experienced the magic for yourself. With sand this nice, you won't be sorry to take half the beach home with you.
Turquoise Bay, Exmouth, Western Australia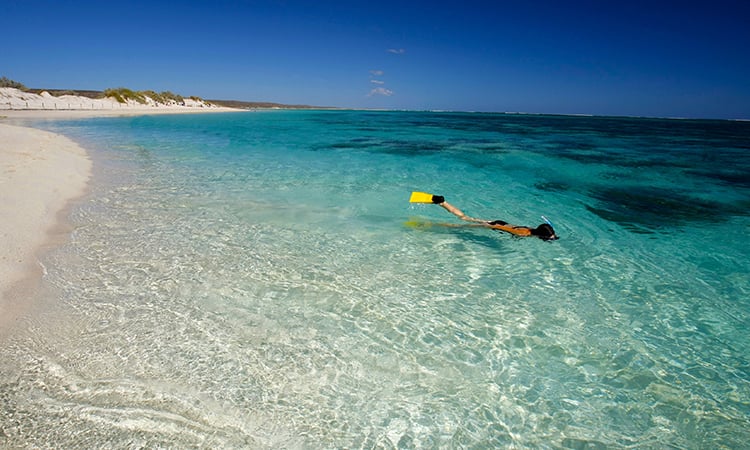 Photo: Australia's Coral Coast
Western Australia's answer to Whitehaven Beach, Turquoise Bay is located in Cape Range National Park and is consistently named amongst Australia's best beaches. The name says it all – Turquoise Bay is simply stunning to behold, looking like a bright blue swimming pool, but 100% au naturel. Step into the pristine waters and you're within a few metres of the famous Ningaloo Reef, and Turquoise Bay is one of the best spots to experience its majesty. A paradise for snorkelers, there's plenty to see no matter how strong a swimmer you are. If you're a decent swimmer, head to Turquoise Bay South and try your hand at drift snorkelling. Let the current carry you along as you spot coral, turtles, squid and tropical fish – every colour of the rainbow in the form of stunning marine life. If you're not as confident a snorkeller, you can still see plenty of beauty in Turquoise Bay itself, or by the Oyster Stacks to spot some weird and wonderful fish!
Where to stay?
Less than an hour's drive away, with the friendly folks at Exmouth YHA!
Wineglass Bay, Freycinet National Park, Tasmania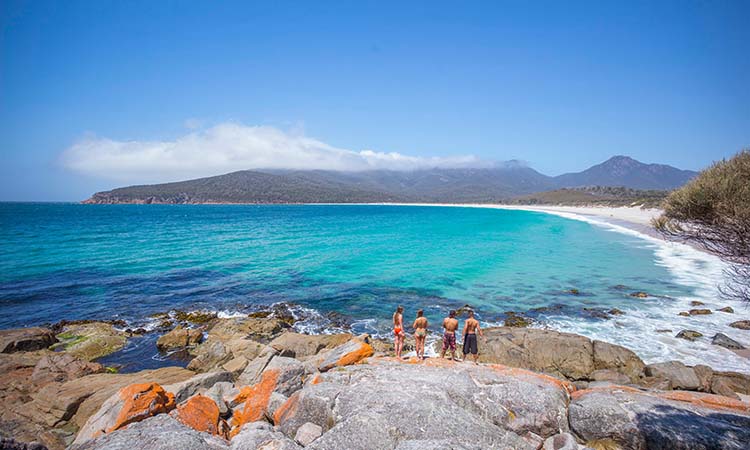 You can't do Tassie without seeing Freycinet National Park, an enchanting wonderland of pink granite peaks, wildlife and secluded white sand beaches. The most breathtaking of these is Wineglass Bay, where the reality matches the images of glassy, turquoise waters and heavenly looking sand. Take the hour-long scenic hike from the National Park to the Wineglass Bay lookout and snap your new most-liked Insta post. Then, head down a downhill bush track through a stunning eucalypt forest to the bay itself. You'll find yourself falling instantly under the spell of this otherworldly place, a hidden paradise of blue-green ocean and pure serenity. Wineglass Bay is just the tip of the iceberg – you can lose yourself enjoying all the incredible natural wonders and experiences the Park has to offer. Locals and travellers agree – there is something special about Wineglass Bay that is so alluring and memorable, something you can't experience anywhere else. Don't think about leaving Tassie without seeing the magic for yourself.
Where to stay?
Day-trip it from Hobart Central YHA!
Main Beach, Byron Bay, New South Wales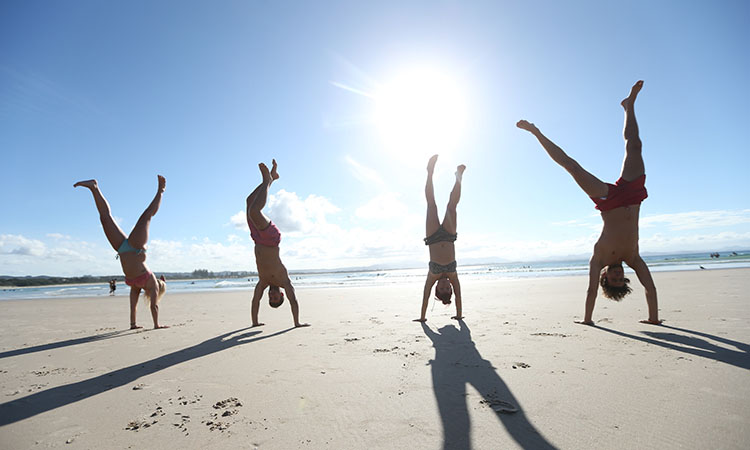 Not much point visiting the super-cool surfie mecca that is Byron Bay without checking out its most popular beach! Serving up stunning views of distant mountains and passing whales and dolphins (if you're lucky!), Main Beach is where it all happens. Boasting soft white sand and bright blue waters, this is the perfect spot to learn how to surf if you're just starting out, where the swell is moderate and safe. In the distant headland, you can spot the iconic Cape Byron lighthouse keeping watch – and walking up to see the view from there is a must. As Main Beach is right amongst all the action, there's plenty to keep you entertained when you need a break from the sun, with a plethora of pubs, restaurants and shops along the shore to check out. Patrolled by lifesavers all year round, you can be guaranteed a safe and happy swimming experience, whether the waves are rockin' or non-existent.
Where to stay?
Meet your new best friends at Byron Bay YHA or Cape Byron YHA.
Cable Beach, Broome, Western Australia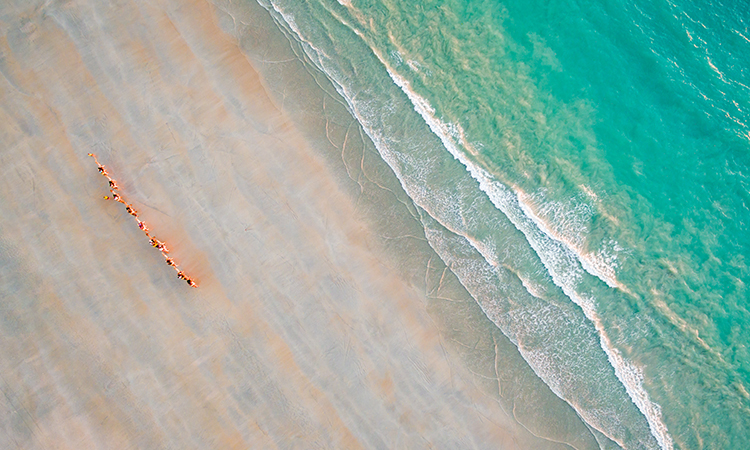 Photo: Shutterstock
Take 22 kilometres of gorgeous white sand, frame it with the dazzling turquoise of the Indian Ocean and you've got Cable Beach – the crowning jewel of the Kimberley. Surrounded by sand dunes and ochre red cliffs, there is so much to see and do along this unforgettable strip. You can swim, fish, kayak and surf to your heart's content, experience a famous camel ride, go on a 4WD drive trip or simply find a lovely patch of sand to stretch out on – which you will always be able to find, even in Broome's busiest season. Venture out to Gantheaume Point to spot dolphins, and check out some 130 million year old dinosaur footprints in the rocks. The one thing you can't leave without doing? Catching a spectacular ocean sunset and letting your senses be wowed by electric purples, golds and reds. With nothing in Broome more than a 15-minute drive away from Cable Beach, you would be hard-pressed to avoid it during your visit to this unforgettable resort town.
Where to stay?
None other than Broome YHA.
Main Beach, Noosa, Queensland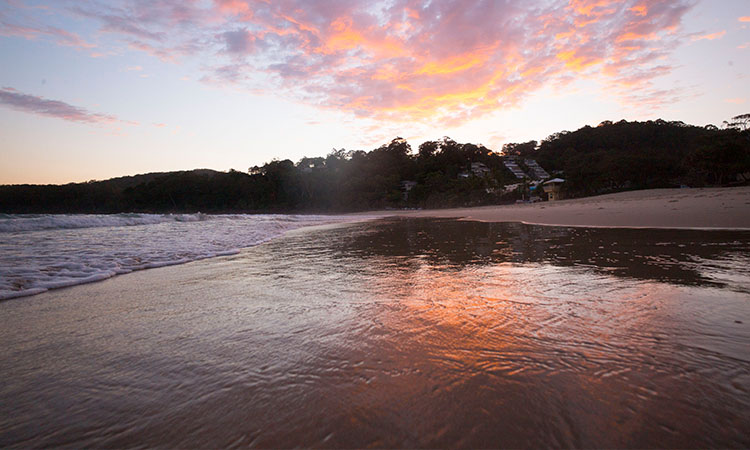 Checking out Main Beach is an absolute must-do when visiting the stunning Sunshine Coast. One of the few beaches along Australia's coastline that faces north, this beautiful spot has something for everyone. Main Beach is a great spot to learn to surf or enjoy a swim in warm, gentle waves, due to it being protected by the headland. It makes our list mainly because of its absolute prime location - just a few steps away from bustling Hastings Street, where you'll find the best shops and cutest cafes in Noosa. At the end of Main Beach, you have an access point to Noosa National Park – if you're feeling adventurous, you can make the trek to experience the magic of the famous Fairy Pools. If not, you can simply grab a bite to eat on Hastings St and perch on the boardwalk, enjoying people-watching and a stunning view of the beach. There's nothing like a family-friendly and long-loved spot for a swim – so get yourself down to Main Beach stat!
Where to stay?
Lucky you - Main Beach is only a seven minute walk away from award-winning Noosa YHA!
Almonta Beach, Coffin Bay National Park, South Australia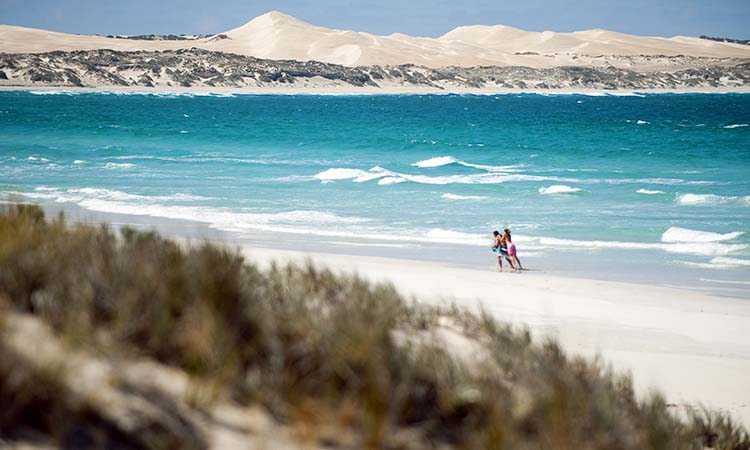 Photo: South Australian Tourism Commission
The South Coast has an abundance of gorgeous beaches, but the standout has got to be Almonta Beach, located in Coffin Bay National Park in the charming town of Coffin Bay. Like pretty much every other beach on this list, Almonta Beach is a postcard of the bluest of blue waters and the whitest of white sand. A secluded paradise, you may just have the beach all to yourself, so you can truly get lost in a daydream as you float on the crystal clear water. You're also free to kayak, fish, windsurf, snorkel and do anything your water baby heart desires. The beach is also home to a colourful array of wildlife, including kangaroos, emus, goannas and endless species of birds. The wonders don't stop there – throughout the stunning Park, a whole world of secluded paradises await you, such as Seven Mile Beach and Avoid Bay. You can only get around the Park by car, but it's well worth the experience – just watch out for kangas and emus on the road!
Where to stay?
An hour's drive away at your new home away from home, YHA Adelaide Central.
Collaroy Beach, Sydney, New South Wales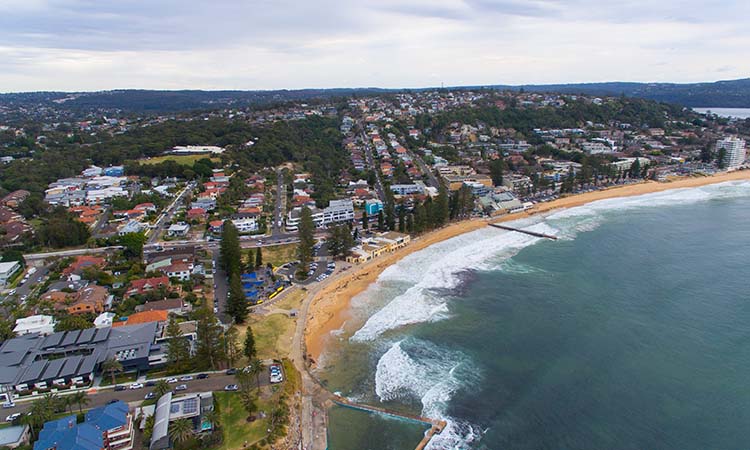 We're all about hidden gems here at YHA, and Collaroy Beach is definitely one of them. Lively, much-loved, comfortable and friendly – Collaroy is an excellent spot to mingle with fellow backpackers and get to know the locals. A prime beach for beginner surfers or swimming, you'll love the relaxed vibe of "The Roy", as it is known by locals – worlds away, yet only a from the bustling Sydney CBD. You can even try your hand at windsurfing in north-easterly or south-easterly winds. Once you're done, take a stroll down the beach to Narrabeen and enjoy boutique surf shops and funky cafes. You'll definitely want to spend all day here, so you can catch a magical sunset on the ocean. Itching for more? Collaroy is just one of Sydney's many stunning Northern Beaches. Once you've experienced all that Collaroy has to offer, check out Dee Why, Manly and Palm Beach. You'll be a seasoned Northern Beaches local in no time!
Where to stay?
YHA Sydney Harbour, right across the water from Manly, the Southernmost of the Northern Beaches
Cottesloe Beach, Perth, Western Australia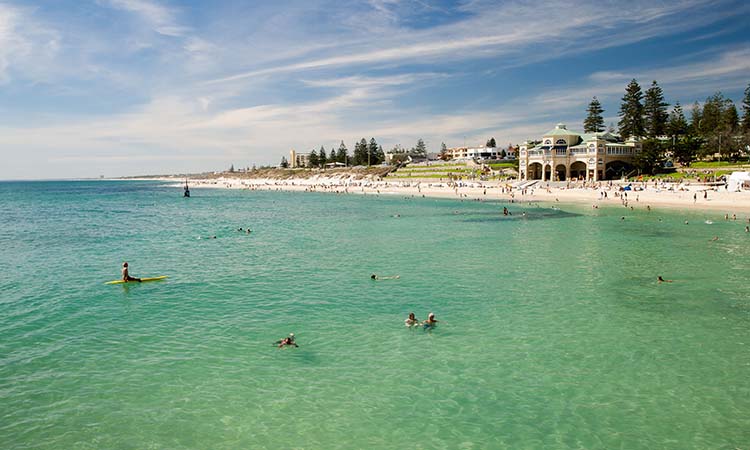 Photo: Shutterstock
If you want to experience a stunning white and blue beach but don't like travelling far from the big city, Cottesloe Beach was made for you! The favourite seaside destination for Perth locals for more than 100 years, Cottesloe is a slice of heaven right in the heart of the action, somewhere in between Perth and Fremantle. The beach is divided into three areas: the main beach is perfect for swimming and walking, Peters Pool is your prime snorkelling spot and South Cottesloe is where you go to surf, windsurf and kitesurf! When you're all burnt out, there's a whole array of fantastic eateries to choose from along Marine Parade – watch the sunset as you enjoy a glass of wine and some fine food. In March, you can enjoy the annual Sculpture by the Sea exhibition, turning the beach into an open-air art gallery. Whatever you decide to do, you're guaranteed a fantastic time at Cottesloe – don't miss it!
Where to stay?
With the good people at YHA Fremantle Prison.
Park Beach, Coffs Harbour, New South Wales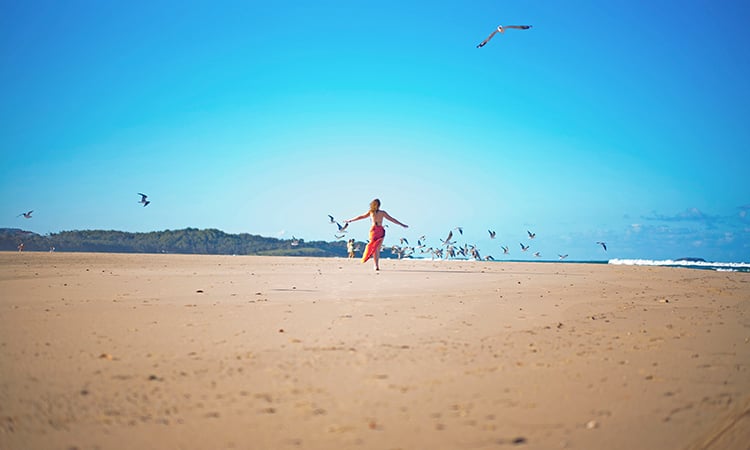 Coffs Harbour is a hidden gem halfway between Sydney and Brisbane, and Park Beach, the area's most popular surf beach, perfectly encapsulates everything there is to love about this relaxed, friendly and memorable town. A lively hub of water sports, surfing and swimming, you're guaranteed to find something to your liking when you visit this iconic spot. The beach is long and lovely, making it an excellent spot for a seaside walk with that special someone, or just spending some quality time with yourself! When you're done, explore the lovely suburb of Park Beach where locals and backpackers from all across the world gather. You'll love the charming and memorable vibe of this much-loved hotspot – you would be hard-pressed to avoid it during your visit to Coffs Harbour.
Four Mile Beach, Port Douglas, Queensland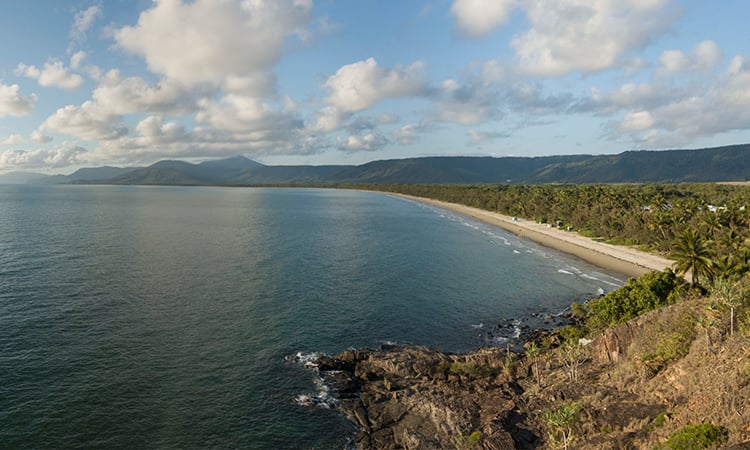 Endless golden sand, crystal clear water and palm trees swaying in the breeze – Four Mile Beach was a shoo-in for our list. Only one piece of the tropical paradise that is Port Douglas, Four Mile Beach is a much-loved spot by both locals escaping from the daily grind and backpackers looking to experience a quintessential Aussie beach. You can lose track of time as you swim and sunbake, and before you know it you'll be treated with a magical sunset on the water. Here, you can try your hand at kite surfing – the best time is when the late southeast winds blow from April to October. This is also the best time to swim, as during the summer months most of the water is closed off due to peak box jellyfish season. For the best views, take the scenic walk that lies at the northern tip of the beach by the rocks, stretching and winding around stunning greenery. Unspoilt, uncrowded and beautiful, Four Mile Beach is a must visit during your visit to Port Douglas. Even though it's just a short walk from town, you won't find any high rises or bustling shopping districts nearby – just peace, quiet and beauty.
Where to stay?
YHA Cairns Central - your gateway to the Far North Queensland region!
Apollo Bay Beach, Great Ocean Road, Victoria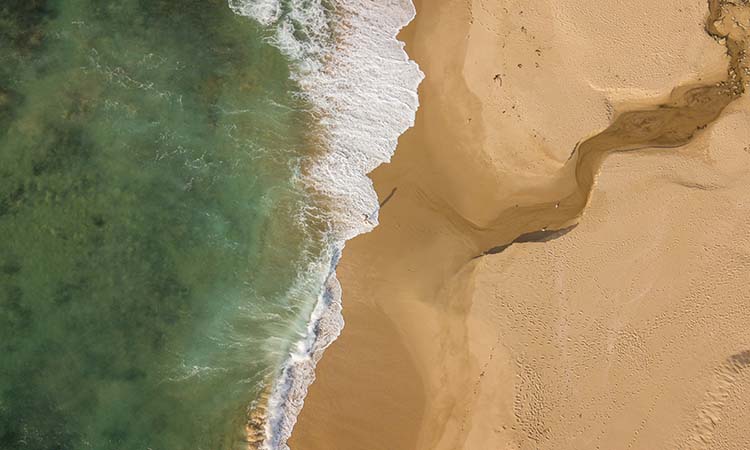 Voted one of Australia's top 20 beaches in 2017, Apollo Bay is a hidden gem that you can't miss when travelling along the Great Ocean Road. It is shaped like a wide smile, which incidentally is what you won't be able to keep off your face as you relax on the shore. Made up of 3km of clean white sand, Apollo Bay Beach has a friendly vibe and gentle atmosphere, attracting all kinds of locals and travellers. Safe for swimming but also good for surfing, there is something for everyone here. There is a generous grassy green foreshore when you can set up camp for the day, people-watching and taking it all in. Keen for more adventure? Apollo Bay Beach is the main entry point for the Otway Ranges, where you can soar above treetops and lose yourself in the natural beauty of Apollo Bay. You'll be famished after a day of adventure, so don't forget to recharge with some fresh local seafood and wine. Apollo Bay is known as paradise by the sea – come and see it for yourself!
Where to stay?
Nice and close at our eco-friendly hostel, YHA Apollo Bay.
Kirra Beach, Gold Coast, Queensland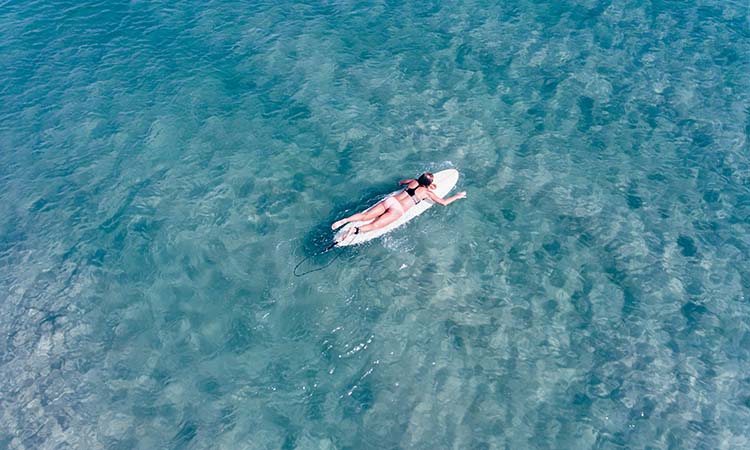 Jump off the plane and jump into the water! In Coolangatta, you'll find the best surfing beaches on the Gold Coast, where you may find yourself sharing the waves with a dolphin or two if you're lucky! The best surfing is at Kirra Beach – a north-facing beach boasting clear, aquamarine water, and free from stinging jellyfish all year round. Once the stomping ground of Aussie surfing star Mick Fanning, you'll love the character and friendly vibe of this laid-back beach – hit the surf or laze around in the sun people-watching. Feeling peckish? Grab a bite to eat at Kirramisu Café and Restaurant, with sweeping views of Kirra Beach. Hungry for more adventure? Do the 3km walk from North Kirra to Snapper Rocks Boardwalk, for some of the most majestic coastal views you'll ever see. Coolangatta sums up everything that's special about the Gold Coast and Kirra Beach is a lil' slice of heaven – don't miss it!
Where to stay?
Right on the beach at YHA Coolangatta
Bondi Beach, Sydney, New South Wales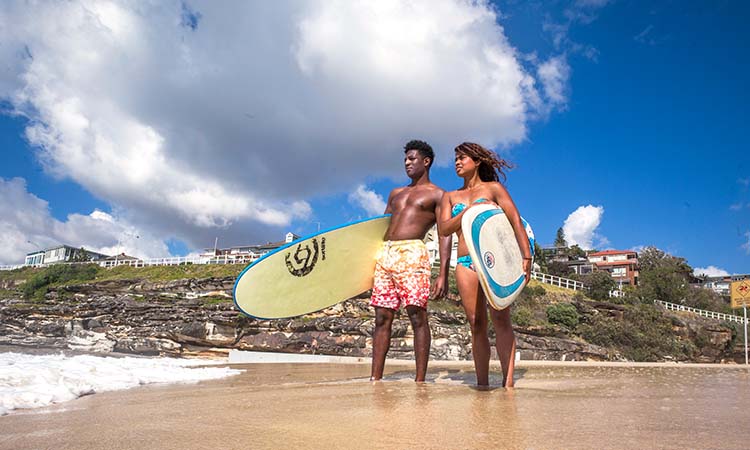 Okay, not really a hidden gem, but it would be un-Australian of us not to include this iconic beach on our top 14. It's the most popular beach in Australia, so naturally it can be super crowded, but you'll always manage to find a lovely patch of white sand to relax on. Busy beaches also make for great people-watching – sit back and soak up the vibrant atmosphere as energetic backpackers and hip locals converge to enjoy the sunshine. When you're feeling like a wander, there's a huge range of surf boutiques and super cool eateries along the shore to choose from – take your pick and then enjoy your delicious meal with views of the ocean. If you're more of a pool person, check out Bondi Icebergs, one of Australia's oldest swimming clubs. Fallen in love with the views? Of course you have! Enjoy them from the best possible vantage point while doing the iconic Bondi to Coogee coastal walk. Bondi is one of the coolest communities in Australia and is buzzing with action from dusk to dawn. When the sun goes down – the iconic nightlife begins. Checking out Bondi at all times of day should be at the top of your Sydney bucket list…what are you waiting for?
Where to stay?
You can't go wrong with the fine folks at YHA Sydney Central