Australia's best coastal walks
If you're a lover of long walks over dunes, along windswept cliffs or with the tide lapping at your ankles, you may have come to the right place. In this article, we've dug up some of the best coastal and beach walks across Australia. We've tried not to get too granular, but there's quite a lot of ground to cover, so grab a hat and sunscreen and let's go get some sand between our toes!
Great Ocean Walk
Great Ocean Road (VIC)

Image: Visit Victoria
Let's start off strong, with one of the most iconic spots in the whole of Australia. We're sure you've heard of the Great Ocean Road, but the Great Ocean Walk is far-and-away the better way to take in the dramatic coastline of Victoria's south west. The route of the Great Ocean Walk takes you from Apollo Bay, around Cape Otway and into Port Campbell National Park to see check out the Twelve Apostles (and much more) up close. It'll take several days to complete in full, but there are various shorter sections for those whose boots weren't made for walking...

Where to stay: YHA Apollo Bay Eco
Mornington Peninsula Coastal Walk
Mornington Peninsula (VIC)
Image: Derek Rose/Visit Victoria
Wending along the south western edge of the Mornington Peninsula, this 30km trail offers a variety of rugged terrain that should satisfy most serious walkers. You'll pass crumbling cliffs and scrubby vegetation in between long stretches of wind-blown beach, all the while taking in impressive views of the Bass Strait. Only the very experienced (and rapid) walkers will be able to complete the whole thing in a day, but there are again shorter sections that can be done as standalone walks if you're not game for the whole thing.
Where to stay: YHA Melbourne Central | YHA Phillip Island
Bondi to Coogee Walk
Sydney (NSW)

Not everyone has heard of Coogee Beach, but everyone has heard of Bondi, and the paved cliffside walk along the headlands and bays between the two takes you past some of the very best Sydney has to offer. Though only 6km long, you should allow half a day to navigate it due in part to the crowds, and in part to allow for frequent stops to take in the stunning views. We also highly recommend timing your visit for when the Sculpture By the Sea exhibition is on, when part of the walk becomes adorned with all sorts of interesting outdoor artwork.

Where to stay: YHA Sydney Harbour | YHA Sydney Central
Brunswick Heads to Byron Beach Walk
Byron Shire (NSW)
Image: Visit Victoria
For the purists, who like their seaside strolls consisting of nothing but sand underfoot, Australia has some pretty excellent options. One of the very best is found in northern NSW, where the walk from the chilled out little town of Brunswick Heads to Byron Bay offers a staggering 10km of uninterrupted beach that you can traverse at any speed; from a leisurely amble all the way to a brisk jog. Either way, if you're wearing shoes, you're doing it wrong.
Where to stay: YHA Byron Bay | YHA Cape Byron
Bathers Way
Newcastle (NSW)

Newcastle is one of NSW's quintessential coastal hubs, with a massive surf culture and a populace that live for the beach despite the area's rapid urbanisation. The 6km-long Bathers Way gives you the perfect snapshot of everything the place is about, taking you from Nobbys Beach to Merewether Ocean Baths (or vice versa), stringing together a number of important local landmarks, picturesque lookouts and military relics. The path is wide and mostly paved, meaning this is a great choice for younger walkers.
Where to stay: YHA Newcastle Beach
Freycinet Peninsula Circuit
Freycinet National Park (TAS)

Okay, so, we've cheated a bit here. We're not suggesting everyone go and undertake the entire 3-day epic loop around the coast of the stunning Freycinet National Park, but we are suggesting that everyone, at the very least, pick a favourite section and give it a crack. Whether it be wandering along the sand of Hazards Beach, recoinnoitring beautiful Wineglass bay, or taking a detour up Mt Amos to one of the most iconic photo spots in Australia, you'll find some truly breathtaking coastal beauty in this corner of Tasmania.
Where to stay: YHA Hobart Central
Southern Ocean Walk
Fleurieu Peninsula (SA)
Image: Ben Edmonds
This is another large-scale, multi-day affair, that we nevertheless recommend you try to experience at least part of. With the trail beginning in Cape Jervis and ending in Encounter Bay (pictured), there's a solid 50km of newly upgraded path to tackle along the southern edge of the Fleurieu Peninsula, though you can also choose to join the trail at various points along its journey. This route also forms part of the unbelievably long Heysen Trail, which continues all the way past Adelaide and on to the Flinders Ranges. Maybe skip that one if you just came for the pretty ocean views.
Where to stay: YHA Port Elliot
Cape Naturaliste to Sugerloaf Rock
Leeuwin-Naturaliste National Park (WA)

Finally, something a little more laid back! The path from Cape Naturaliste to Sugarloaf Rock along the Leeuwin-Naturaliste Ridge is a wheelchair accessible gem of bitumen and boardwalk that clocks in at around 3.5km in length. Sugarloaf Rock is a beautiful place to see at sunset, and during winter, you might get lucky and spot some whales, or even Orca. There is also the option of continuing another 120km along the Cape to Cape track (which could have made this list on its own) if you're feeling VERY energetic, though the wheelchair access doesn't continue.
Where to stay: YHA Dunsborough
Karlinyah Bidi
Rottnest Island (WA)
Image: Tourism Western Australia
Rottnest Island is often known for one thing, and it's usually not its walking trails. But for those with a penchant for coastal capers, the former colonial prison island has much more to offer than just Quokkas. The Karlinyah Bidi, as this route is known, follows the north shore of island from Narrow Neck to Little Armstrong Bay, taking you via some of the most gorgeous beaches you'll find this side of Esperance. It's about 6km in length, so easily done in a morning, and yes, there's a decent chance you'll spot a grinning marsupial lounging out in the sun, too!
Where to stay: YHA Fremantle Prison
Cooloola Great Walk
Great Sandy National Park (QLD)

Image: Tourism & Events Queensland
The Cooloola Recreation Area makes up the southern end of Great Sandy National Park, the northern end of which is K'Gari, the world's largest sand island. Unsurprisingly, Cooloola is also a sand-fest, and the landscapes on offer along the 100(ish)km length of the Great Walk as it heads north from Noosa North Shore to Rainbow Beach are unlike anything else you'll find on this list. Immense sand dunes, natural resevoirs and coastal rainforest abound, though if you can't see yourself doing the full 5 day walk, there's plenty of shorter stretches that'll bring you lots of joy. Definitely aim to go in the cooler months.
Where to stay: YHA Noosa Heads | YHA Noosa Everglades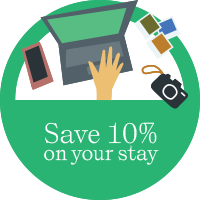 Book direct and save
By booking direct with MyYHA you'll receive our exclusive discounted rates. Sign up or login to get 10% off at select properties.