Great Australian walks
From short strolls to hard core hikes, Australia has it all. There's nothing like seeing some of the best scenery in Australia by foot. Better still, you can use some great YHA properties as a base for your next exploration.
Always be sure to keep yourself well informed of forecasted weather conditions (especially regarding fires & floods) when venturing out. A lovely sunny calm morning can switch very quickly to dangerous conditions. Also, always remember to notify someone of your plans and route before you set out and have sufficient supplies of food & water.
Walks in New South Wales
Journey to the summit of Mount Kosciuszko, Australia's highest peak (2,228m), for a real sense of achievement. OK, the walk itself may be relatively undemanding (approximately 6 hours from Thredbo), but the crystal clear streams, rock formations, twisted gum trees, alpine tundra, and distant valley peaks make it a must. Get a head start up Crackenback on the chairlift to the start of the 6.5km track to the summit. A few clicks further will take you to the country's second-highest peak, the arguably more beautiful Mount Townsend, crowned in rocky tors. As you'd expect of NSW's largest National Park, there are plenty more walks here to tempt you.
Stay at YHA Thredbo, for the best views and beds in town.
The Blue Mountains World Heritage Area's iconic landmarks, showy caves and waterfalls, and dramatic sandstone cliffs and canyons have attracted nature lovers for years. Tackle some of the country's best walks from one hour rambles to challenging hikes lasting several days, retracing the steps of the pioneers.
Stay at centrally-located YHA Blue Mountains in Katoomba. Most adventure activities can be booked at the YHA and offer savings for YHA members.
Walks in Queensland
Exploring Queensland's "natural gem", Fraser Island, by foot is the perfect way to absorb the dazzling white shores of freshwater lakes, towering rainforest, and famous sites such as Lake McKenzie and Central Station. But if the thought of a week walking the 90km Fraser Island Great Walk has you sweating already, the track can be broken down into many shorter, more manageable sections.
This is just one of 10 Great Walks of Queensland, which include four World Heritage listed areas. The Whitsunday Great Walk in the rugged Conway Range behind Airlie Beach, rewards you with lush rainforest, colourful and noisy wildlife, and breathtaking views of the Whitsundays. While the Gold Coast Hinterland Great Walk provides a tranquil retreat of palm-filled valleys, waterfalls, crystal clear rivers and mist covered mountain tops, after the excitement of the Gold Coast's beaches and fun parks.
Stay at Gold Coast's YHA Coolangatta, and relax after your Fraser Island walk at YHA Noosa Heads.
Walks in Victoria
The Great Ocean Walk stretches 104km from the idyllic resort town of Apollo Bay along Victoria's wildly beautiful west coast, to within sight of the magnificent 12 Apostles. Step on and off the trail of natural wonders, shipwrecks, deserted beaches, wildflower heathlands, historic lighthouses and awesome lookouts.
The Balconies, The Pinnacle, Bridal Veil Falls... it's not just the names in Grampians National Park that are picturesque. Here you'll find a variety of panoramas from short, easy walks to the more challenging climb up 1,167m Mt William, where stunted eucalyptus trees give way to fantastic views of the mountain ranges and open plains.
Stay at YHA Apollo Bay Eco or YHA Grampians Eco.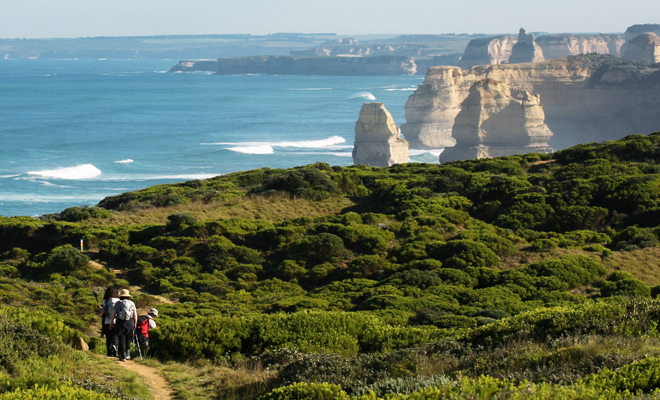 Walks in Northern Territory
The 223km Larapinta Trail, along the backbone of the Western McDonnell Ranges in Central Australia, starts at the Old Alice Springs Telegraph Station. With 12 sections of graded track, it's easy to walk just a part of the ancient landscape full of gorges and weathered ranges, stunning vistas and spectacular sunsets over the red rock and earth.
The majesty of Uluru is best seen from the 9.4km Uluru Base Walk. If you're after bird's-eye views of the Red Centre, Kata Tjuta's Valley of the Winds weaves through iconic domes to two lookout points, while the Kings Canyon's Rim Walk gives you vertigo-inducing views over the sheer red rock walls to the canyon floor 300 metres below.
Stay at YHA Alice Springs.
Walks in South Australia
The Heysen Trail traverses a variety of great South Australian landscapes from spectacular coasts and sea cliffs to outback gorges and rangelands. Extending from Cape Jervis on the south coast of the Fleurieu Peninsula, to Parachilna Gorge in the Flinders Ranges, the trail covers 1,200km. There are loads of scenic walks along the Fleurieu Peninsula and through the Flinders Ranges, but for convenience, you can't go past the patchwork of trails and teeming wildlife of the Adelaide Hills.
Stay at YHA Adelaide Central or YHA Port Elliot.
Walks in Tasmania
The iconic Cradle Mountain is a good starting point for any Tasmanian wilderness adventure. From the shorter Dove Lake circuit to the multi-day Overland Track, "Cradle" offers a wonderland of ancient rainforest, mossy beach trees, buttongrass, icy tea tree stained lakes, jagged rocks, and awesome views.
Closer to the capital, the mild turquoise waters, white sands and red rock knuckles of much-photographed Freycinet National Park's Wineglass Bay and Hazards couldn't be more different.
Stay at YHA Hobart Central.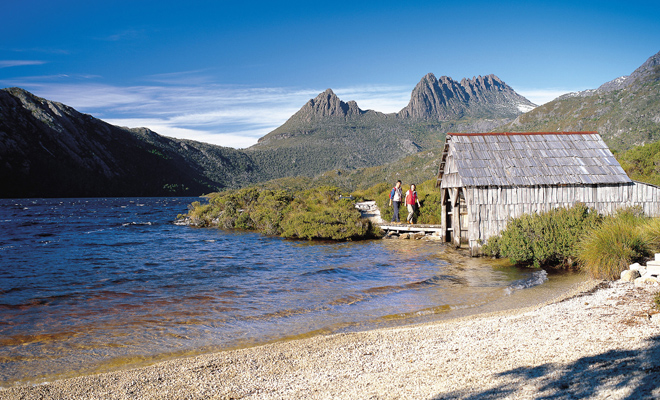 Walks in Western Australia
One of the most recognised walks in Australia, the famous Bibbulmun Track, stretches nearly 1,000km between the Perth Hills and Albany. This quintessential Aussie bush experience treats you to outstanding scenery and views, including the south west's towering karri and tingle forrests, coastal heathlands and squeaky white beaches, accessible in manageable chunks for all fitness levels.
Stay at YHA Fremantle Prison, YHA Denmark or YHA Albany.
Looking for some inspiration? Check out the Australian Hiker podcast (and website) for an experienced look at hikes in Australia and overseas.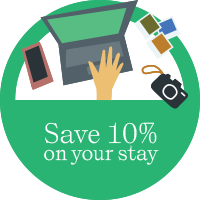 Book direct and save
By booking direct with MyYHA you'll receive our exclusive discounted rates. Sign up or login to get 10% off at select properties.