Unusual Aussie animals and where to find them
Animal lovers, take note: Kangaroos and koalas aren't the only quirky creatures Down Under. Australia is home to a whole menagerie of weird and wonderful critters you may never have even heard of. From a carnivorous marsupial to an underwater dragon, here are some of the most unusual Aussie animals and where you can find them in the wild.
Tree kangaroo

Image: FNQ Nature Tours
If you thought kangaroos were strictly ground-dwellers, think again. Meet the tree kangaroo. Uniquely adapted to arboreal life, tree kangaroos have strong, muscular forelimbs and a long tail, making them expert climbers.

Australia's two different species of tree kangaroos are found in Tropical North Queensland. Lumholtz's tree kangaroo lives mainly in the lush rainforests around the Atherton Tablelands, and the rare and larger Bennett's tree kangaroo lives between Cooktown and the Daintree River. Look for their long black tails dangling from the canopy.

Fun fact: Tree kangaroos have been known to leap nine metres from one tree to another.
Spotted-tailed quoll

Image:

Tourism Australia
Tasmania is home to one of Australia's most elusive predators—the spotted-tailed quoll, also known as the tiger quoll. Resembling a mix between a cat and a raccoon, only with big white spots, these nocturnal, carnivorous marsupials are top-notch hunters.

Australia hosts six species of quolls, but the best place to see the spotted-tailed variety is in Tasmania's cool temperate rainforests and coastal scrub along the northern and western coasts, including Arthur-Pieman Conservation Area, Central Plateau Conservation Area and Narawntapu National Park.

Fun fact: In September 2023, a farmer found a spotted-tailed quoll in South Australia — the first documented in the state for 130 years!
Bilby

Image:

Roberto Dani/Shutterstock.com
The sweet bilby reigns as the desert's digging dynamo. With its rabbit-like ears and slender snout, these endearing marsupials have an important job: They burrow deep in the desert soil looking for ants and simultaneously dispersing seeds.

Bilbies were once common throughout the arid and semi-arid regions of the Australian mainland, but their populations have dwindled due to cats, foxes and rabbits. Today, they are only found in patchy areas, including the Tanami and Great Sandy Deserts and south-western Queensland.

Fun fact: Bilbies are an adorable Aussie alternative to the Easter bunny. You can help save this endangered species by purchasing Easter Bilby chocolates; a portion of the proceeds goes to the Save the Bilby Fund.
Thorny devil

Image: Tourism Australia
Found deep in the heart of Australia's desert regions, the thorny devil looks like it belongs in a fantasy novel. Covered in thorny scales and equipped with a false head on the back of its neck to confuse predators, these dragons of the desert are masters of survival.

To see these bizarre Aussie animals in the wild, you'll have to scour the arid desert sands of Western Australia, the Northern Territory and South Australia.

Fun facts: Thorny devils absorb water from the soil through tiny grooves in their feet, and they have been recorded running up to 60 kilometres an hour!
Common spotted cuscus

Image: Andrea Izzotti

/Shutterstock.com
Not to be confused with the pasta-like dish, couscous, the common spotted cuscus is an adorable tree-dwelling marsupial found in some of Queensland's tropical rainforests. Imagine a fuzzy sloth-like creature, with spotted, white or light grey fur, a long tail and a round head with wide eyes that can melt your heart. This is the cuscus, and it's actually related to the possum.

Elusive and slow-moving, the cuscus is difficult to spot, but your best chance is in the rainforest canopies of Cape York, particularly in the Kutini-Payamu (Iron Range) National Park.

Fun fact: Common spotted cuscuses have been observed plucking palm fronds to conceal themselves while they sleep.
Leafy sea dragon

Image: Scott Portelli
Snorkel or dive the cool waters off the coast of southern Australia, and you might spot one of the country's strangest sea creatures: the mesmerizing leafy sea dragon. This aquatic wonder is a distant cousin of the seahorse, with intricate, leaf-like appendages that mimic seaweed.

To witness the leafy sea dragon's graceful dance, dive into the blue waters off the Fleurieu Peninsula, Yorke Peninsula, Eyre Peninsula or Kangaroo Island. Snorkeling and diving tours with expert guides are your best bet to see this Aussie anomaly in the wild.

Fun fact: Leafy sea dragons make great dads — they dutifully incubate and carry the female's eggs right up until they hatch.
Numbat

Image: Tourism Australia
The sweet, shy little numbat has an unlikely relative: they're actually related to tigers — Tasmanian tigers! Once, numbats roamed across much of southern Australia, from the west coast to Victoria and New South Wales. Today, they're endangered, with fewar than 1,000 left in the wild. But the good news is that rewilding projects are helping boost populations.

If you're lucky, you can still see these banded beauties in their natural habitat. Head to Dryandra Woodland and Tone/Perup Nature Reserve in Western Australia, where the best place to look is around hollow logs in powderbark or jarrah forest.

Fun fact: In Aussie slang, the word "numbat" refers to a dim-witted person, but numbats are smart enough to detect termites deep underground, slurping up to 20,000 a day with their long tongues.
Goliath stick insect

Image:

Steve Barze/Shutterstock.com
Chances are you've wandered past Goliath stick insects countless times and not even noticed they were there. Skilled at disguise, this giant insect is often mistaken for a stick or a twig on a eucalyptus tree. It's widely distributed in New South Wales and southern Queensland, but you'll have to have a keen eye to spot these living twigs.

Fun fact: When the wind blows, Goliath stick insects sway with the leaves to maximise their camouflage.
Superb lyrebird

Image:

Echidna Walkabout Nature Tours
The superb lyrebird truly lives up to its name. Known for its remarkable ability to mimic natural and artificial sounds, lyrebirds are the maestros of the forest.

Superb lyrebirds inhabit the woodlands of Southeast Australia and southern Tasmania. A popular place to see these extraordinary birds is Sherbrooke Forest in Victoria's Dandenong Ranges. Listen for their extraordinary vocal performances, and if you're lucky, you might also witness the male's impressive lyre-shaped tail feathers fanning out during its mating ritual.

Fun fact: Lyrebirds don't just copy other birds, they have also been recorded mimicking other sounds, including chainsaws, dogs barking and car engines!
Pademelon

Image:

Tourism Tasmania & Rob Burnett
Resembling a pint-sized wallaby, the cute-as-pie pademelon is a herbivorous marsupial found in the lush rainforests and woodlands of eastern Australia.

Pademelons are widespread across Tasmania and easy to see. You can also see them in Lamington National Park in Queensland and on the subtropical rainforest walk at Mary Cairncross Scenic Reserve in South East Queensland. As you wander the forest trails, look for them silently grazing in the underbrush.

Fun Fact: Pademelons stomp their feet when startled to alert other members of their group.
Honourable Mentions

Image:

Ash Thomson Photography
While we've covered some lesser-known Aussie animals, a few more deserve an honourable mention. These critters may be more famous, but they're still very unusual in their own right:
Platypus
Equipped with a duck-like bill and webbed feet, the platypus is also a monotreme. They are found in eastern Australia, particularly in freshwater rivers and streams.
Sugar glider
Able to fly more than 45 metres from tree to tree, these nocturnal gliding marsupials are found throughout Australia's eastern regions.
Echidna
Often called spiny anteaters, these monotremes (egg-laying mammals) live in various habitats across Australia, from woodlands to deserts.
Cassowary
Topping out at up to 1.8 metres tall, the shy, flightless cassowary resides in the rainforests of northern Queensland.
Tasmanian Devil
As the name suggests, you'll find these feisty marsupials on their namesake island.
Quokka
Often dubbed the world's happiest animals due to their perpetual grinning expressions, quokkas are best spotted on WA's Rottnest Island.


Words: K. Hastings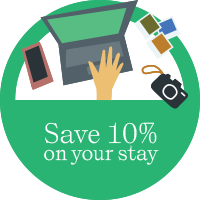 Book direct and save
By booking direct with MyYHA you'll receive our exclusive discounted rates. Sign up or login to get 10% off at select properties.