20 Aussie slang phrases you need to know
Keen to hit the ground running on your next trip to Australia? Learn the local lingo and you'll be talking like an Aussie in no time. Here's 20 must-know phrases to add to your Down Under vernacular.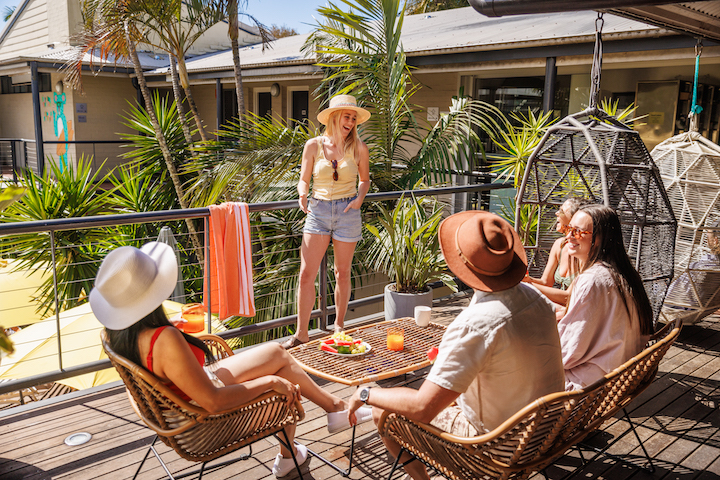 Decoding Aussie slang can be tricky, especially when you first arrive. In general, Australian English is very informal, and often peppered with swear words and phrases that some visitors find quite vulgar. So don't be surprised to hear some eyebrow-raising language you've never heard before – swearing is a hallmark of the Australian language and is mostly not said to offend or shock others.

Before you travel Down Under, get to know these common phrases and you'll make plenty of friends at Australia's pubs, beaches and beyond.
As mad as a cut snake

Describes someone who is wild or out of control.
Example:
"Stay away from that guy. He's as mad as a cut snake!"

Charges like a wounded bull

No, you aren't being warned about an angry, injured bovine on the loose. Instead, this common Aussie phrase will alert you to a business with high price tags.
Example:
"I wouldn't go to that barber down the road, he charges like a wounded bull."

Chucking a sickie

In Australia, taking a day off work when you're not unwell is colloquially referred to as "chucking a sickie".
Example:
"I couldn't miss the cricket on Friday, so I chucked a sickie."

Couldn't organise a p*ss up in a brewery

Unsurprisingly, beer features in many Australian sayings. This phrase is commonly used to describe someone with terrible organisational skills. A "p*ss up" means getting drunk with friends (as "p*ss" is another term used for alcohol, especially beer). So, the logic goes that if someone couldn't organise a drinking session in a brewery, then they're pretty bad at organising!
Example:
"Don't let Damo be team captain, he couldn't organise a p*ss up in a brewery!"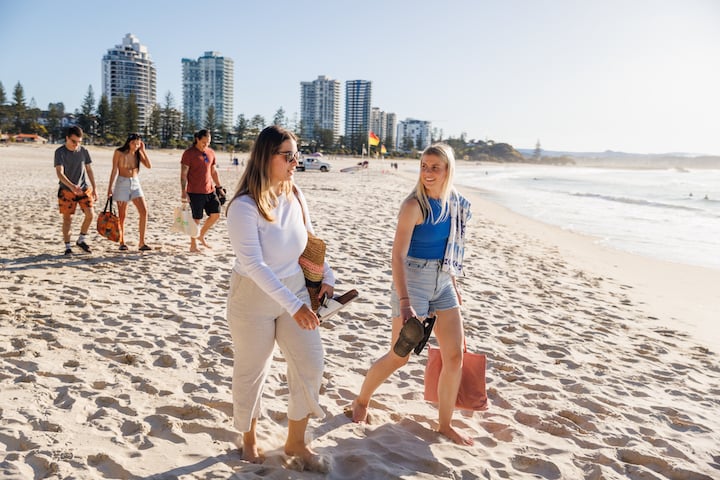 Coolangatta, on Australia's Gold Coast, has some of the best beaches in the country.
Crossing the ditch

If someone mentions they're "crossing the ditch", they mean they're flying from Australia to New Zealand (or vice versa), with the ditch being the Tasman Sea that separates the countries.
Example:
"I'm crossing the ditch next week to visit my Kiwi mate."

Doesn't pass the pub test

Actions that aren't quite ethical are often referred to as not passing "the pub test", which conjures up images of asking an average group of pub-goers what they think about an issue or situation. For example, a politician giving a cushy role to his brother may not be illegal, but it probably wouldn't pass the pub test either!
Example:
"What do you reckon about that?"
"Hmm – doesn't pass the pub test."

Doing a shoey

Perhaps made most famous by Formula One driver Daniel Ricciardo, the act of downing a celebratory drink out of a shoe is known as "doing a shoey" in Australia. If you're at a beer garden or music festival and someone encourages you to "do a shoey" think hard before saying yes.
Example:
"Tracey's doing a shoey to celebrate!"

Spit the dummy

Likening someone to a baby, spitting the dummy means having a tantrum. If someone says "don't spit the dummy" it means you need to calm down and stop overreacting.
Example:
"Don't spit the dummy, Bruce, it's nearly your turn to bat."

Going to the Big Smoke

People who live in rural areas sometimes refer to the city as "the Big Smoke". So if you're travelling from the country to a big city like Sydney, Brisbane or Melbourne, you're "going to the Big Smoke".
Example:
"I used to live in the big smoke, but I moved out to the Grampians for the fresh air."

Good onya

Another way of saying "good for you", "good onya" (or "onya" for short) is a phrase you'll likely hear in Australia. Mostly, it's a genuine expression of approval, support or appreciation, but at other times it might be used sarcastically to light-heartedly to rub in that you've made a mistake.
Example: You triumphantly return from the bar with a round of beers
(approvingly) "Good onya mate!"
Example: You catastrophically drop the beers on the way back from the bar
(sarcastically) "Oh, good onya mate..."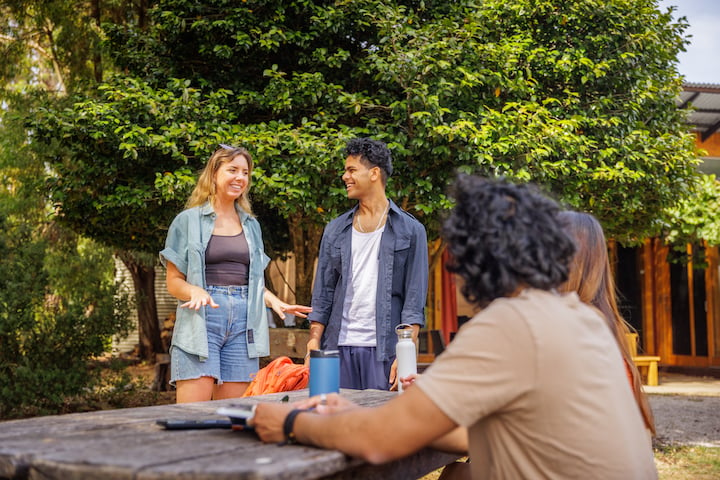 Aussies love outdoor areas for barbecues ('barbies') – YHA Grampians Eco has one of the best.
Having a yarn

Generally, Aussies tend to be a chatty bunch of people. If you're talking with someone, you're "having a yarn" or "yarning" for short.
Example:
"I was having a yarn with Mick the other week – did you know he's from Cairns?"

Having a squiz

In Australia, if you're looking at something or checking something out, then you're "having a squiz".
Example:
"I'll go up to the counter and have a squiz at the menu."

Having a sticky beak

Similar to the above phrase, "having a sticky beak" means having a close look at something.
Example:
"The neighbour left their back gate open, so I had a sticky beak at their garden."

Being a "sticky beak" can sometimes have negative connotations, as it's a bit like being a nosy neighbour.
Example:
"My grandparents keep asking me if I'm seeing anyone, so I told them they're being sticky beaks."

Looks like a dog's breakfast

If something is really messy or disordered, then it looks like a dog's breakfast.
Example:
"We should tidy up the bathroom a bit, it looks like a dog's breakfast!"

Mate's rates

Ask for "mate's rates" in a shop and you're requesting a discount for knowing the owner.
Example:
"I've started doing surf lessons every weekend. I know the owner of the surf shop, so he gave me mate's rates."

No worries

An Australian classic, "no worries" is often said instead of "that's alright" or "it was no trouble". Similarly, you might hear "no dramas", which means the same thing. If you thank someone for helping you and they say "no worries" or "no dramas" it means it was no problem for them to assist you.
Example:
"Thanks mate!"
"No worries mate."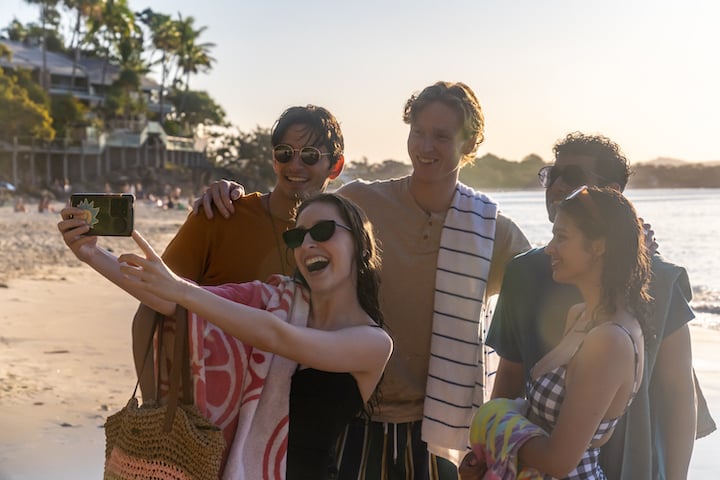 Nothing beats a day at the beach in gorgeous subtropical Noosa.
On a good wicket

Borrowing terminology from the cricket world, if you find yourself in a beneficial situation or environment, then you're "on a good wicket".
Example:
"I was on a good wicket with my catering job – wish I hadn't quit so soon!"

Pulling a swifty

No, "pulling a swifty" has nothing to do with attracting a Taylor Swift fan. The Australian slang phrase is used to describe the act of deceiving or misleading someone.
Example:
"I loaned her some money once, but she pulled a swifty and never paid me back."

She'll be right

A phrase that often confuses newcomers, "she'll be right" is slang for "it will be okay". In this case, "she" isn't a person, but a situation.
Example: Car has broken down
"She'll be right once the mechanic arrives."
Example: Worried about missing your train
"She'll be right, there's another one coming in 5 minutes."

Yeah nah*

Another versatile phrase that often perplexes people, "yeah nah", is used in conversation either when someone agrees with your negative stance on something, or conversely, they follow your train of thought but don't really agree with what you're saying.
Example:
"I always find winter pretty nippy in Melbourne"
"Yeah nah, it's definitely too cold for me"
Example:
"I can't wait to try the oysters in Tasmania!"
"Yeah, nah... That's not really my cup of tea. Looking forward to the cider, though."

It's also often heard in reverse, with "nah yeah" indicating that someone is coming around to your point of view but might need a little more convincing.
Example:
"Perth is a great city – it's got a much more laid back vibe than Sydney"
"Nah yeah – that's a great point. I should definitely give it a visit."

*Note: This phrase is also commonly used in New Zealand

Words: Jo Stewart

Loving the slang? Round out your Aussie dictionary with 20 Aussie slang words you need to know
Want to learn more about this weird and wonderful continent? Read answers to the most commonly asked questions about Australia or check out our top travel tips for visitors!