6 great mountains to hike in Australia
Love that summiting feeling? Australia might not be home to the world's highest peaks, but we sure have an incredible variety of mountains worth hiking, from the steamy rainforests of Queensland to the ancient alpine wilderness of Tasmania. Better yet, many of the nation's top mountain hikes take less than a day to conquer. Here are just six of the spectacular summits to bag across the country and make it back to ground level in time for dinner.
Best for bragging rights: Mount Kosciuszko, NSW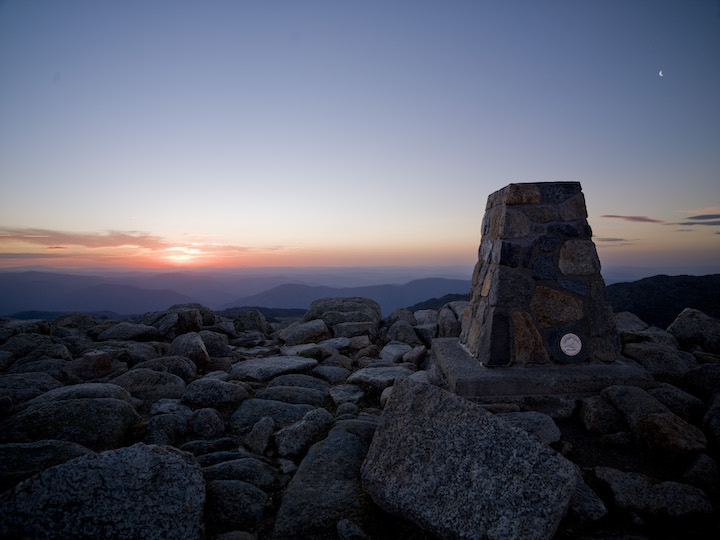 Bask in the achievement of scaling the continent's highest peak as you soak up the vast views from the summit of Mount Kosciuszko (2228m). From the alpine village of Thredbo, under six hours' drive southwest from Sydney, the Kosciuszko Express Chairlift whisks you up 560 vertical metres to the start of the stunning walkway to the summit, lined by colourful bursts of wildflowers in spring. Factor on the moderately challenging 13km journey taking four to five hours. For a longer walk, hike up the roof of Australia from the alpine village of Charlotte Pass, a feat that will see you clock 18.6km in around six-to-eight hours. Snowbound in winter, this is a hike best planned between November and April.

Not keen on Koscuiszko? The Blue Mountains are closer to Sydney and feature great hikes for all skill levels.
Best for alpine drama: Cradle Mountain, TAS

Image: Luke Tscharke
It might not be Tasmania's highest mountain (that'd be Mount Ossa, 1617m) but Cradle Mountain-Lake St Clair National Park's eponymous peak is easily the most iconic, surrounded by an epic wilderness of glacial lakes and ancient alpine forest. The 12.8km moderate to challenging day hike to the summit, which sits 1545m above sea level, takes around eight hours to complete, ascending from the Dove Lake (or Ronny Creek) car park up to the jagged granite spires of the summit. The final scramble can be a bit hairy at the best of times, but no special climbing equipment is required (in summer, at least). Back at the base, retrace your steps to the carpark or follow the loop trail for another set of incredible views. The northern entrance to the national park is two hours from Launceston, or 4.5 hours from Hobart.

Looking for more Tassie peaks to conquer? Check out Southwest National Park, or Hobart's kunanyi/Mount Wellington.
Best for sunrise splendour: Bluff Knoll/Pualaar Miial, WA

Image: Tourism Australia
The crown jewel in Stirling Range National Park, a 4.5-hour drive southwest from Perth, Bluff Knoll is a tough but rewarding climb, popularly summited at sunrise when the misty mountain range surrounding the 1095m summit takes on ethereal golden glow. The 6.8km summit trail starts at around 500m above sea level, climbing through eucalypt forest, heathlands and rocky outcrops to the dramatic summit with panoramic views across the Stirling Range and, on a clear day, all way to coastal Albany. One of the only places in Western Australia that receives semi-regular snow in the depths of winter, the summit is still known to be bone-chillingly cold during summer, so be sure to pack extra layers and a rain jacket – the weather can change quickly on this climb.

For something completely different but still in Western Australia, consider Mount Bruce/Punurrunha in Karijini National Park
Best for rainforest immersion: Mount Sorrow, QLD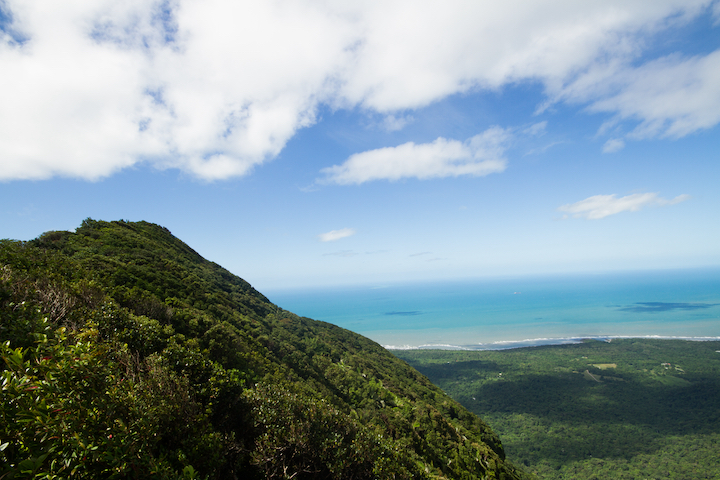 If you love a challenge just as much as a tropical rainforest, Tropical North Queensland's Mount Sorrow is your mountain. Climbing from the lowlands of Cape Tribulation, a three-hour drive north of Cairns, up the rainforest-clad ridge of Mount Sorrow, this 7km-return trail immerses you in the World Heritage-listed Daintree National Park for around five seriously sweaty hours. Super steep, usually muddy and criss-crossed by twisted tropical tree roots from top to bottom, it's a trail best suited to experienced hikers with the right gear (that'd be sturdy hiking shoes, at least three litres of water and protection from insects, stinging plants, rain and sun). But don't forget to look up, with prehistoric-looking Boyd's forest dragons known to perch on trees close to the trail. At the top, gaze out across the glittering Coral Sea from a platform at an elevation of 680m, or scramble a little higher up to perch on the rocks right at the top.

Not high enough? Head south to Mount Bartle Frere in Wooroonooran National Park
Best for an easy excursion from the city: Flinders Peak Walk, VIC

Image: Visit Victoria
Just an hour's drive southwest of Melbourne, the 3.2km Flinders Peak Walk in the You Yangs Regional Park is one of the most accessible mountain climbs from an Australian state capital. And it's a beauty, taking you up to the highest point of the You Yangs, a series of granite peaks rising above the Werribee Plain south of the city, to enjoy 360-degree views across the countryside. While the summit sits just 326m above sea level, the 450 steps leading to the top are guaranteed to get your blood pumping. And if you love hiking with your fur baby, you're in luck, as the year-round trail is also dog-friendly.

Want to really stretch your legs? Head to Gariwerd/Grampians National Park or the Victorian Alps
Best for otherworldly views: Mount Gower, Lord Howe Island, NSW

Image: tom-archer.com
Shooting up from the southern end of World Heritage-listed Lord Howe Island, some 600km off the coast of New South Wales, Mount Gower is a hike well worth the spendy flight from Sydney. The guided, eight-hour return slog to the 875m-high summit is not for the faint of heart, including a cliffside traverse and the use of fixed ropes to help you scramble up steep sections towards the top. As you ascend through lush kentia palm forest into the magical cloud forest that hugs the peak, however, the effort feels worth it. And that's before you arrive at the summit viewpoint offering a mesmerising view across the island and its aquamarine lagoon. Between March and November, thousands of migratory providence petrels fly overhead, enchanting hikers with their primeval call.
Words: Sarah Reid