Hike the Bibbulmun Track and stay with YHA!
Whether you're an experienced hiker up for an eight week trek or think a one day hike will be enough for you, the Bibbulmun Track has something for everyone.
What is the Bibbulmun Track?

The Bibbulmun Track is one of the world's best long distance walk trails. It stretches 1000km from Kalamunda, a suburb in the hills on the outskirts of Perth, to the historic town of Albany on the south coast.
The track passes through the heart of the scenic south west of Western Australia and takes you through towering karri and tingle forests, down mist-shrouded valleys, over giant granite boulders and along breathtaking coastal heathlands. It offers a wide range of experiences, from a day hike to an epic eight week adventure. Those that walk every step of the way can be registered as formal End-To-Enders!
Towns on the track
The Bibbulmun Track passes through many of the most beautiful national parks of the south west forests and coastline, and through the towns Dwellingup, Collie, Balingup, Donnelly River Village, Pemberton, Northcliffe, Walpole, Peaceful Bay and Denmark before it finishes in Albany.
You can make your day or extended walking holiday a wilderness experience by camping out, joining a guided tour or doing it in comfort by staying in the towns along the track.
YHA Budget Accommodation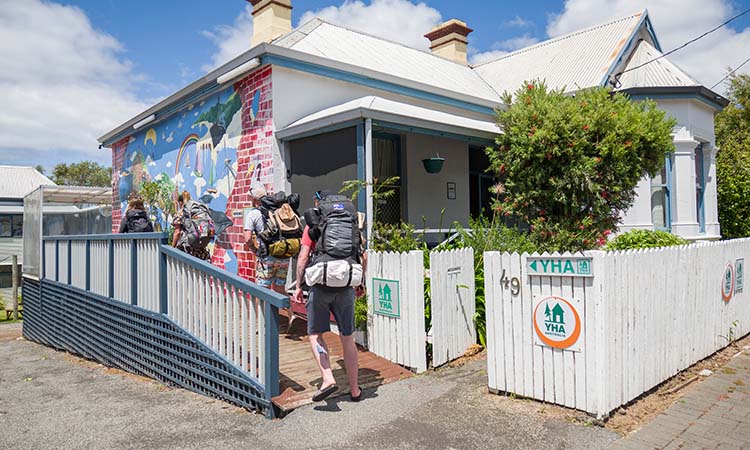 Albany YHA
Many of the track tows are accessible by public transport and in two of the towns along the Bibbulmun Track you'll find YHA accommodation: Denmark and Albany.
Denmark YHA is cute and cosy in a great little town where atmosphere and community comes first. Albany YHA dates back to the 1800s and is located in the historical part of town where old world charm cheerfully blends with modern amenities. Prepare for magnificent views over Princess Royal Harbour from the top storey!
Pre and post track YHA Accommodation
Thinking of doing a multiple day hike on the Bibbulmun Track? Fremantle Prison YHA is your perfect pre and post track accommodation. Private, ensuited rooms are available as well as shared dorms.
When to walk?
The best times to walk the track are in autumn (April to May), winter (June to August) and spring (September to mid-November), our wildflower season. On cooler days walking during summer is possible, but should be restricted to the karri forest around Pemberton.
The Nyoongar People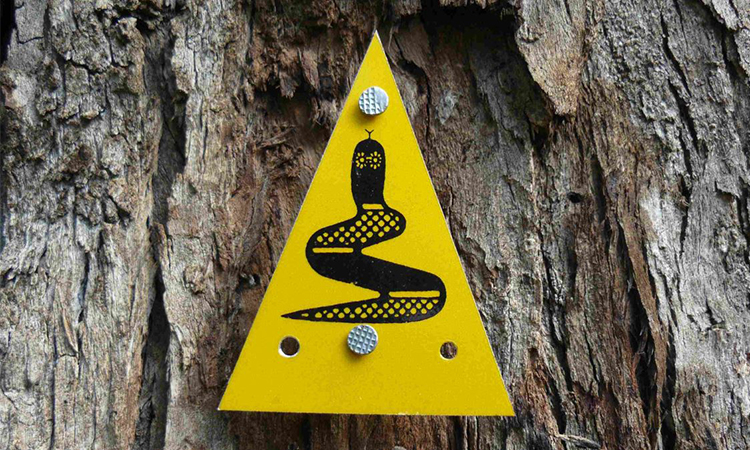 The Bibbulmun Track is for walkers only and is signposted with yellow triangular markers symbolising the Waugal, the rainbow serpent of the Aboriginal Dreaming. Aboriginal Nyoongar people are known and acknowledged as the traditional owners and custodians of the land and waters over which the Bibbulmun Track passes. Nyoongar people have a deep spiritual, emotional, social and physical connection to "country" (Boodja). Nyoongar people ask you to please respect the Boodja when you walk the Bibbulmun Track to ensure its natural and cultural values are preserved for all future generations!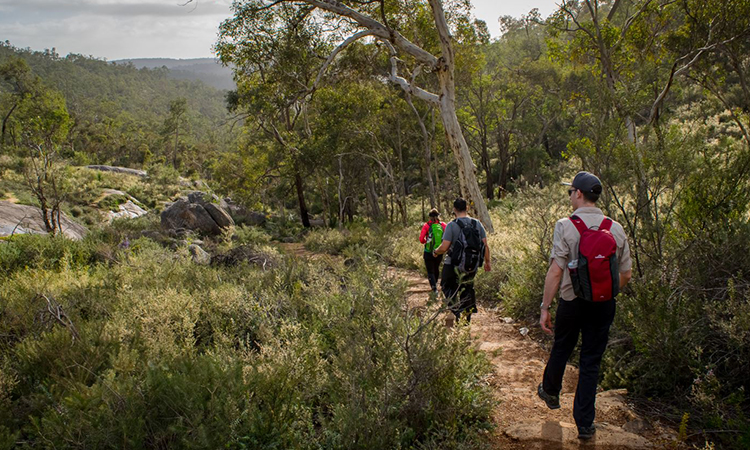 Want to experience the best of the Bibbulmun Track but don't know where to begin?
Check out the Bibbulmun Walking Break itineraries. Ranging from one to six days, each itinerary includes suggestions for day-walks on the Track, as well as interesting sights and attractions to visit in and around the track towns. Pick one itinerary or join several together to create your own epic, customised Bibbulmun Track adventure.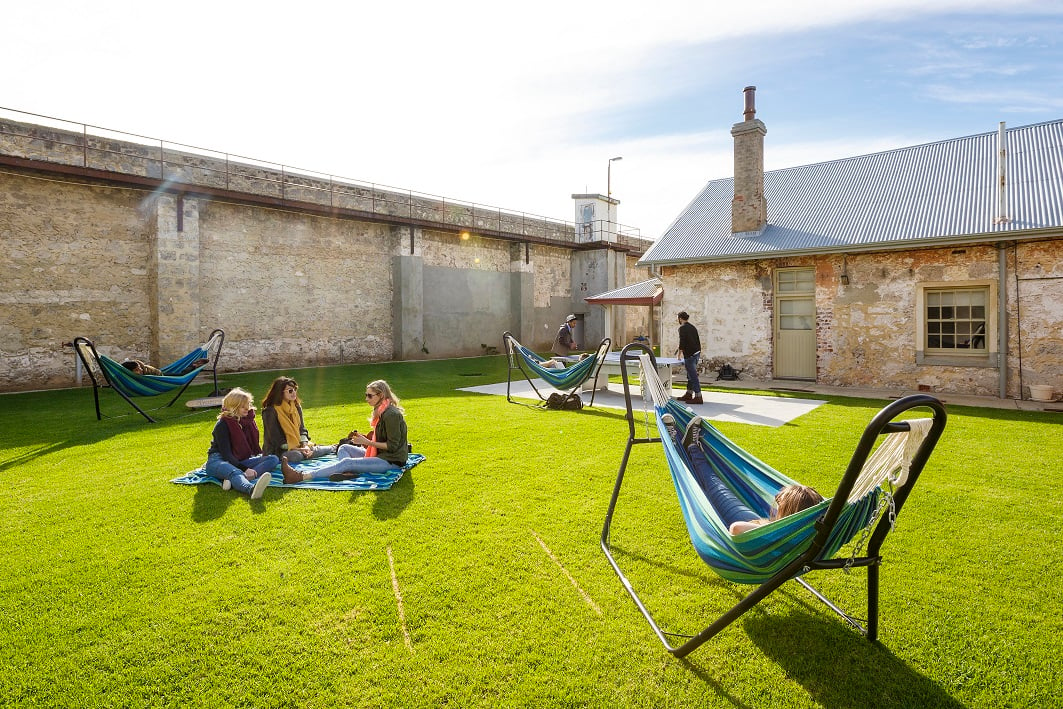 YHA Fremantle Prison
Part experience, part accommodation, spend a night behind bars at the UNESCO-listed YHA Fremantle Prison – a one-of-a-kind piece of convict history.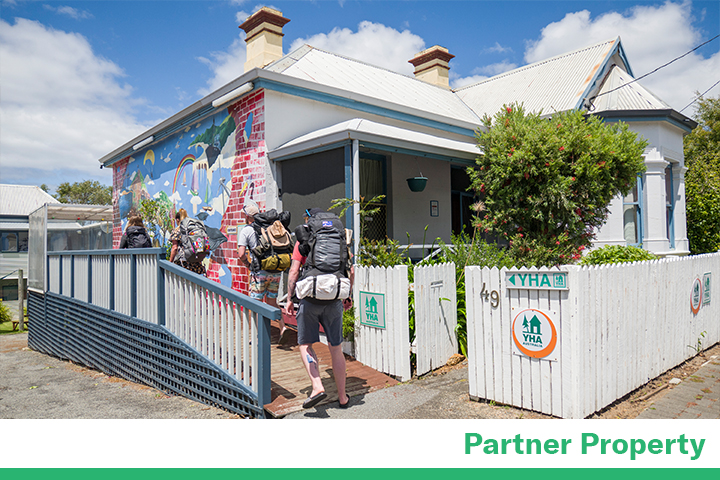 Albany Bayview Lodge
Located in the historical part of Albany, the hostel dates back to the 1800's. Old world charm cheerfully blends with modern amenities to create a relaxed atmosphere.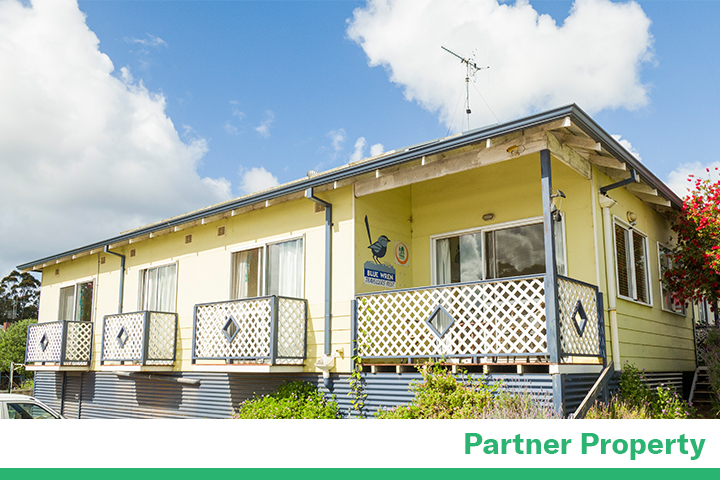 Blue Wren Lodge (Denmark)
For those that like a cosy place with an intimate feel. Blue Wren Lodge (Denmark) is a great little property in a great little town, where atmosphere and community comes first.