Everything you need to know about Sydney New Year's Eve
Sydney's New Year's celebrations are among the best in the world, and we reveal the top tips and tricks to make the most of it!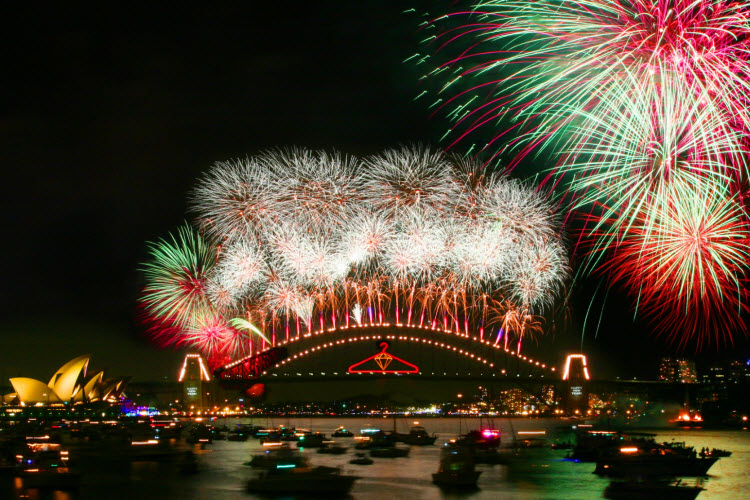 Sydney's New Year's Eve fireworks are watched by more than one million people around the harbour, plus another one billion people on television around the globe. The annual fireworks show began in 1976 and has blossomed into one of the biggest New Year's Eve celebrations on the planet, attracting tens of thousands of visitors Australia and abroad to this must-see live Sydney event.
The Sydney New Year's Eve Party is one of the largest and most advanced fireworks display anywhere on earth, and typically spends a budget of $7 million on around eight tonnes of fireworks. The show is truly massive – it takes 15 months of planning and 18 shipping containers packed to the brim with pyrotechnic equipment – as Sydney enters the New Year in a haze of explosions.
The New Year celebration in Sydney usually includes two spectacular firework displays: the 'family fireworks' at 9pm, and the big show at midnight, which typically goes for longer and is even more impressive. Fireworks are detonated off a series of barges either side of the Sydney Harbour Bridge, which is the centrepiece of the celebration.
There is a different theme for Sydney New Year every year, including a different symbol lighting up the middle of the Sydney Harbour Bridge. Sydney welcomed the new millennium with the city's symbolic "Eternity" message, 2003 was a "celebration in unity" with the dove of peace, 2012 was "time to dream" with a thought bubble, in 2015 we were "inspired" by a glowing lightbulb, and 2019's was "The pulse of Sydney." And trust us - the pulse of Sydney pumps away furiously on this night of nights.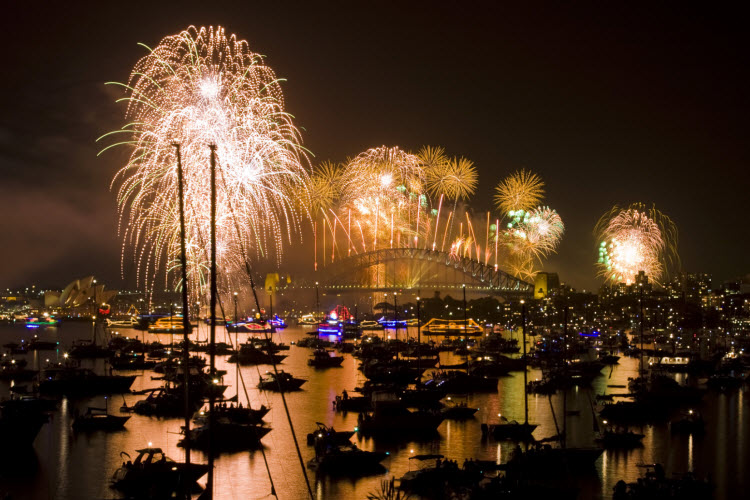 Where to see the Sydney New Year's Eve fireworks
The pyrotechnics explode from a series of seven barges floating either side of the Sydney Harbour Bridge, which is the heart of the action. That means there's dozens of vantage points along the waterfront to witness this epic party. Viewing locations are dotted all along the north and south edges of the harbour, including a mixture of free spots as well as ticketed events. Those free, non-ticketed locations are extremely busy – people camp out for more than 24 hours to secure their favourite place. Most of them are family friendly and alcohol free, too – police and security guard these venues carefully.
The biggest and most popular vantage points are, of course, right next to the Sydney Harbour Bridge on either side of the water. On the north side of the Harbour, Bradfield Park in Milsons Point (capacity of 35,000) and Blues Point Reserve in McMahons Point (15,000) both routinely reach their limit hours before the midnight fireworks. On the south side of the Harbour Bridge, the Rocks (40,000), family-friendly Darling Harbour (40,000) and Mrs Macquaries Point (15,000) are similarly popular. Circular Quay is the busiest spot of all – it usually reaches its 32,000-person capacity five or six hours before midnight.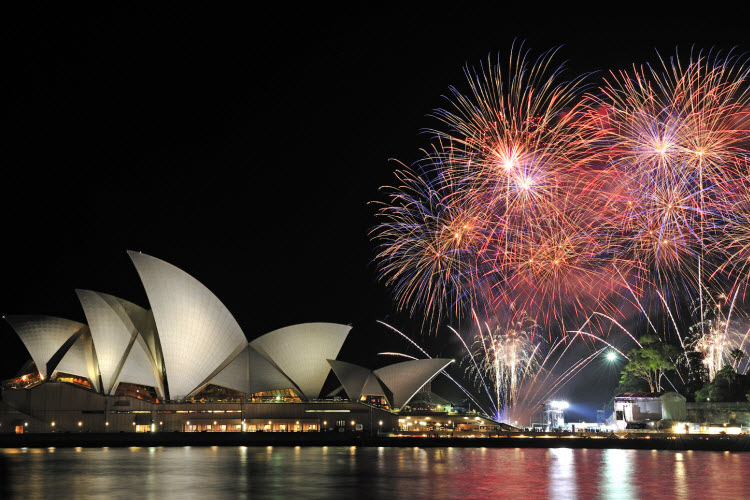 How to plan your Sydney New Year's Eve party
More than a million people make their way into the city for Sydney's New Year's Eve celebrations so a little planning is needed to have an awesome night. Inner-city roads are closed from the early afternoon so driving is not an option, and Ubers and taxis are also difficult. Public transport is certainly the best way to travel into the city – make sure you leave plenty of time to get there.
It's even more difficult to make your way home after the midnight fireworks, when more than one million people are on the move following this epic live Sydney event. Thousands of extra trains and buses operate, but it's still a long wait for public transport – if you're happy to wait around, wait until after 1.00am to allow the crowds to clear. Don't even think about a car – taxis are extremely rare and Ubers surge through the roof at midnight.
You can secure yourself a good view of the fireworks on a harbour cruise or a ticketed event, but you'll still face transport headaches on the way home. Make sure you only trust reputable companies with a history of positive reviews – party-goers are often disappointed with these expensive waterfront events. Long queues and less-than-impressive views might not match the $300-plus price tag.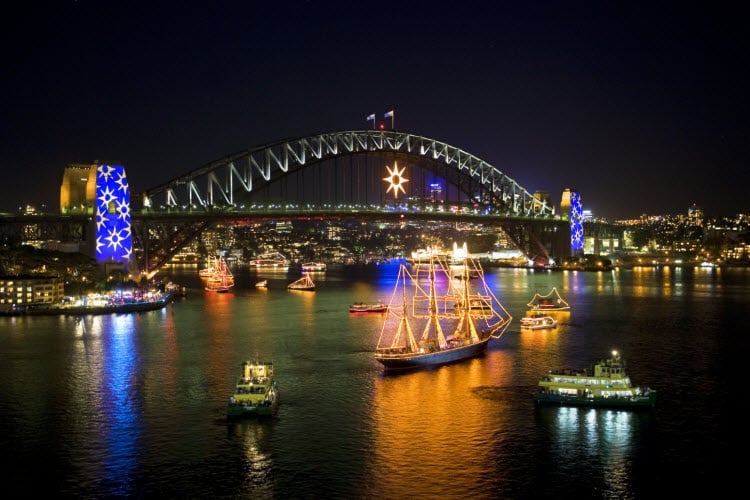 Where to spend Sydney New Year's Eve 2023
YHA Sydney Harbour hosts a Sydney New Year's Eve event that you will never forget. The view from the property's spacious rooftop terrace overlooks Sydney Harbour, giving you a front-row seat to this spectacular live Sydney show. YHA's Sydney New Year's Eve 2023 event is great value for money compared to other venues with similarly panoramic views, and you know you can look forward to YHA's trademark reliability and quality.
The best bit about YHA Sydney Harbour's NYE event? It's at your acommodation! YHA's stay-and-party package bundles your stay with access to the rooftop for an evening of colourful festivities you'll never forget. You can relax on the rooftop for the midnight fireworks with a drink in hand, then just pop down the stairs at the end of the night for a good night's sleep in this comfortable, modern property.
YHA Sydney Harbour is located in the heart of Sydney's historic Rocks precinct next door to the Sydney Harbour Bridge. Soak up the buzz that absorbs Sydney in the lead-up to the big show then sit back and enjoy the best budget vantage point in town for a New Year's Eve celebration for the ages.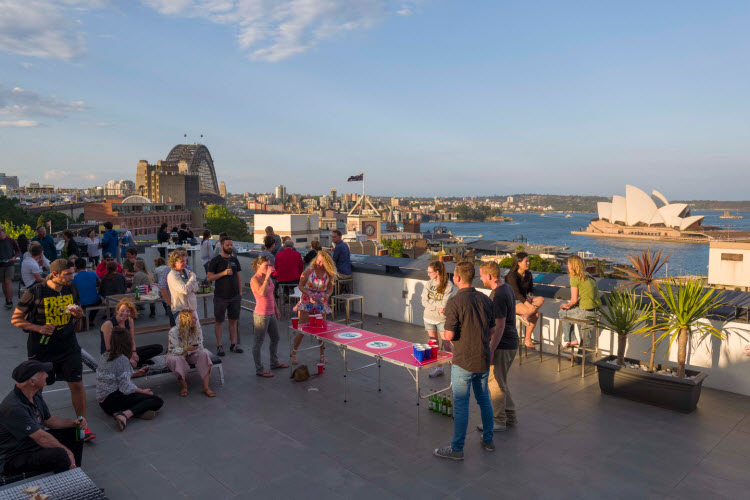 Eight tips to make the most of your Sydney New Year's Eve party
Don't try to beat the crowds at midnight. There are huge queues for buses and trains as soon as the smoke clears after the midnight fireworks, but you can avoid the crush by waiting until 1.00am or so – just hang around and have a dance or plan your New Year's resolutions to pass the time!
Prepare for the weather. If you're spending hours outside in the build-up to the fireworks, pack a hat and sunscreen to protect yourself from the sun, as well as an umbrella if it's cloudy.
Make friends with people around you! Aussies are famously friendly so say "G'day!" and it will make your Sydney New Year's Eve even better.
Be prepared to walk. Lace up your walking shoes because it might be quicker to walk rather than wait for public transport. Or you could book a bed at Sydney Harbour YHA and save your legs for dancing!
Take your own food and drink. The vantage points around the harbour are absolutely packed, and it's very difficult to just pop out to the shops, so bring your picnic blanket and some snacks for dinner.
Snap some photos during the 9.00pm family fireworks. Grab that perfect Instagram during the smaller show earlier in the evening so you can enjoy the midnight display with your own eyes, soaking it up rather than stressing about capturing a perfect picture.
Don't even think about getting in a car. Taxis are rarer than unicorns on the streets of Sydney on New Year's Eve, and prices on Uber surge out of sight. Plus, road closures and enormous crowds make traffic an absolute nightmare.
Spend NYE at YHA Sydney Harbour! Book your tickets for our special New Year's Eve 2023 event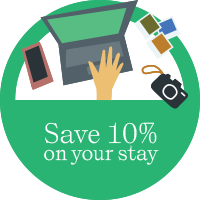 Book direct and save
By booking direct with MyYHA you'll receive our exclusive discounted rates. Sign up or login to get 10% off at select properties.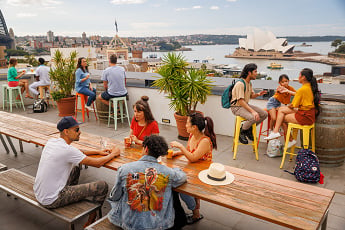 YHA Sydney Harbour
This modern, sustainable property in The Rocks draws an international crowd with its world-class harbour views of the Sydney Harbour Bridge and Opera House.