Where to skydive in Australia
Some folk travel for stunning vistas, others for scrumptious food and wine, others to throw themselves out of a plane at 15,000ft. If you're the latter, this is for you. We've sussed all the best spots to get high 'round the country!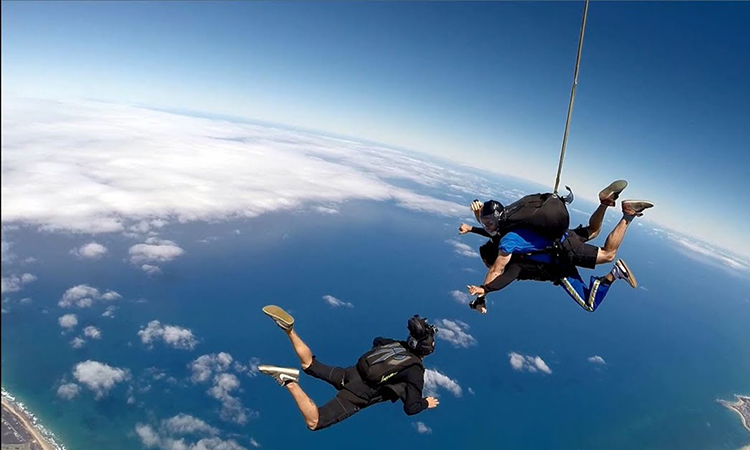 Image credit: Skydive Australia
So, you're keen to book yourself in for the best 60 seconds of your life. We'd love to say the decision is the hardest part, but come back to us once you've dangled from an experienced jumper's chest 4.5km above the planet and you may think a little differently! But, fear not!
We here at YHA know that ya'll don't travel based on hostels, you travel based on sights, smells and sensations the place offers. So, we make it our mission to partner with the very best tour operators to make sure you have the sickest, and safest, experiences possible; and boy oh boy skydiving is no exception!
Skydiving Australia are at the top of their game (and the world) and we're stoked to offer exclusive packages for each of their dive sites. From inner-city concrete jungles to soaring over wineries to soft-landing on white sandy beaches; they've got the perfect location for your skydive, and we've got the best beds to stay in when your feet finally reach the ground.
Where to skydive in New South Wales
Byron Bay
The promise of rolling hinterland and pristine beaches dragged you to Byron, so make sure you immerse yourself in every facet by seeing her beauty from above. Once the 60 seconds of freefall is complete, you'll float back to earth for 5-7 minutes, taking in the truly stunning Byron Bay surrounds. Once you're done, head back to town to knock the froth off a few Stone & Woods at Beach Road Hotel – you've bloody earned it!
Newcastle
Down where the city meets the sea, Newcastle is a wonderfully laid-back city hub about 2 hours north of Sydney. Boasting beautiful beaches, quirky nightlife and game-changing coffee; which you'll float above for the duration of your 10 minute jump. With views that stretch over Lake Macquarie and beyond, you'll be wowed by turquoise waters and tonnes of little towns.
Wollongong
This is the very first, original jump site for Skydive Australia; and for good reason! Just an hour south of Sydney (with free return bus transfers every day of the week), Wollongong kisses the CBD sky-scrapers goodbye to make way for unspoiled, rugged coastlines and vibrant, rolling hills and farmland. Once you've free-falled for 60 seconds, you'll feel like you're in that scene in Wizard of Oz when everything turns coloured – these are views you'll never, ever forget.
Since the fine folk at Skydive Australia offer free bus transfers to and from Sydney, you may as well stay in the big smoke and tick off the bucket-list items there, too. Two birds, one skydive.
Where to skydive in Queensland
Airlie Beach
You booked a visit to the Whitsundays to experience that bluer-than-blue water and whiter-than-white sand, and there's nowhere better to take in that breathtaking site than from 4.5km above the land! When skydiving in Airlie Beach your jump spot is in the very heart of the Whitsundays, giving you bragging rights for life – ain't nobody seen it like you've seen it!
Brisbane
The beauty of Brisbane is the proximity from CBD to beach – hint, it's short. A mere 30 minutes from the city hustle and bustle lies your jump spot, where you'll take in the sprawling, magic views of nearby Moreton Bay and Bribie Island before making a life-affirming soft-landing on Redcliffe Beach. Wind in your hair, sand between your toes – this is what life is about!
Cairns
Scuba diving ain't the only way to see the Reef! If waters just not your thing, or you want to experience all the highs and lows this life has to offer, you simply must book yourself into a jump over the glorious, world-heritage Great Barrier Reef. Land in Cairns before a good nights' sleep, then head under sea level if you just can't get enough!
Mission Beach
Mission Beach's jump spot is smack-bang in the middle of the town allows for 14km of uninterrupted views of lush rainforest, tropical coastline and The Reef while you float down to earth from 15,000ft above. A soft beach landing is just what you need after the best 60 seconds of your life – then into town to celebrate with a bevvy or 10. You just survived throwing yourself out of a plane, after all!
Noosa
Start your Noosa trip off with a high-octane bang! The jump site for Noosa is located right next to the Sunshine Coast airport, giving you sprawling views of gorgeous beaches and stunning lush greenery as you spin your way back down to the ground (having free fallen for 60 seconds, of course!). Spend the next few days allowing your feet to hit the ground and your blood pressure to stabilise by getting to know one of Australia's crowning jewels – either eat and drink 'til your hearts content, or keep the action going with SUP lessons, surf lessons, Everglades Safaris and sunset cruises. Dreamy.
Where to skydive in Victoria
Melbourne
Melbs may well be Australia's coffee capital, but you ain't going to need a caffeine high on this trip! The adrenaline pumping through your veins will be enough to keep you motoring for a few days, at least! The St Kilda jump spot gives you killer birds-eye views of the buzzing CBD, curvaceous beachfronts and the sparkling Port Phillip Bay, and once you land you're so close to all the Melburnian city action!
Great Ocean Road
With the word 'ocean' in the title there's no points for guessing what you'll see from 15,000ft in the sky – blue on blue on blue on blue! Take in a birds-eye view of where you've just driven as well as beachy Tourquay during your descent back to earth, that is once you've recovered from your 60 second freefall!
Where to skydive in Western australia
Perth
The East Coast ain't the only place with life-changing beaches and sprawling city views! Choose to jump Perth and be rewarded with world-class views of Penguin Island, Rottnest Island and the wild, wild west of Australia. Once your feet hit the deck, it's a cruisy 40 minute trip back to the CBD and time for you to enjoy all the unique things the Western capital has to offer!
Time to get high?
Head here for all the terms and conditions and FAQs and be sure to book with YHA Australia for exclusive discounts on dives. And really comfy beds. And killer rooftop pools and bars.