Eco-friendly travel guide to seeing Australia's icons
Ever wanted to see Uluru, Sydney Harbour and the Great Barrier Reef, but balk at the environmental impacts your travel might have? Don't sweat it, YHA has the answer! Not only is shared accommodation inherently greener than hotels, but our properties are consciously designed to be as sustainable as possible. What's more, in this article, we've researched detailed ways you can minimise your footprint while visiting the top destinations in the country. Ready? Good! Let's get into it.
Getting there and around
We need to talk about aeroplanes
It's been estimated that tourism produces about 8% of the world's total emissions, with three quarters of that coming from our modes of transport. As a result, the biggest way to reduce the impact of your own travel, is to cut down the greenhouse gases produced while you're getting to your destination.

First and foremost, if you're deadly serious about low-carbon travel and you have other options available to you, flying domestically is out. Yes, that means MUCH longer trips, but jet fuel is the most environmentally harmful fossil fuel by a large margin – both for its huge CO2 output, and the fact it releases it directly into the atmosphere (potentially twice as bad as at sea level). The reality, of course, is that if you live in some of the more remote areas of Australia, or you're arriving from overseas, you're going to be spending some time on a plane. In that case, just do your best to minimise your air travel, always fly direct and choose large, fully booked flights. The take away, though, is that flying = bad, and we won't be recommending it as a mode of transport in this article.
But what about your car? Doesn't that spew out carbon too?
Yep. Driving long-distance with a car to yourself can give your trip a comparable per-person carbon footprint to flying on a fully booked flight. Even if you half that with two people in the vehicle, you'll still be burning a LOT of fossil fuel (depending greatly on the type of car). Your best bet is to share the carbon emissions across a larger number of people by bringing the whole gang in one car (ideally a hybrid or electric car), or even better, taking a bus or train, which are both magntitudes better from an ecological perspective.

With that all cleared up, let's get into the specifics of how you can see the most iconic sights in Australia in a more sustainable way.
Sydney Harbour Bridge & Opera House

Image: Destination NSW

The silhouettes of these two Sydney Harbour wonder structures are burned into the brain of every Australian, and a signficant chunk of the world as well. Thankfully, they both live up to their hefty reputation and are pretty awe-inspiring to see in person – and there's even tons of eco-conscious things to do around Sydney Harbour while you admire the iconic duo from all angles.

Getting there: There's long-distance train and bus routes to Sydney from Brisbane, Canberra, Melbourne and Adelaide, some of which will be quite pricey, but all of which will be allow you to soak up the countryside on your way while minimising your footprint. Once in Sydney, a train to Circular Quay will take you right to where you want to be.

Activities: The Royal Botanic Garden boasts gorgeous views of both the Opera House and Harbour Bridge in tandem, and offers tons of conservation-focused activities and tours. Taronga Zoo on the other side of the harbour (a short ferry ride) is not-for-profit and an important force in the protection of endangered species. Also check out Barangaroo Aboriginal Cultural Tours for some insight into the area's Indigenous history.

Accommodation: Stay at YHA Sydney Harbour for its awesome sustainability features and stunning views of the harbour (including both the Opera House and Bridge!).
Uluru

Image: Tourism Australia

The quintessentially Aussie experience, travelling to the heartland of this sunburnt continent to see the sacred stone monolith that is Uluru is something everyone should experience at least once. It's not just about the Rock, though – visiting the Red Centre is a fantastic opportunity to learn about local Indigenous cultures and the incredible ecosystem the region supports.

Getting there: Uluru is pretty far from pretty much everywhere, so you can expect to output some carbon on your journey. Outside of a flight, the best realistic option is probably a long-distance Greyhound coach to Alice Springs via Adelaide or Tennant Creek), then joining a tour from Alice to Uluru. The Ghan train from Adelaide is also a pretty spectacular (if expensive) way to get to Alice. Aside from being greener than flying, these options also give you a lot more time to truly experience the desert and watch the landscape change as you travel, something you'd otherwise be missing out on.

If you insist on driving, pick a hybrid if possible, preferrably sharing with several people. NOTE: Electric cars are not really viable in the outback yet due to limited charging stations and the importance of not running out of juice in the middle of the desert!

Activities: Joining an Indigenous guide on a tour of Uluru is an excellent way to learn about the Rock from its Traditional Owners, as well as solve your transport issues. While passing through Alice, be sure to visit the ECO-certified Alice Springs Reptile Centre to see some of the Territory's scaliest residents (YHA members get $3 off entry!), and Alice Springs Desert Park, a part wildlife reserve, part research centre that is also ECO acredited.

Accommodation: Stay at YHA Alice Springs on your way into the Red Centre, a charming, repurposed building with a number of sustainability-focused upgrades.
The Three Sisters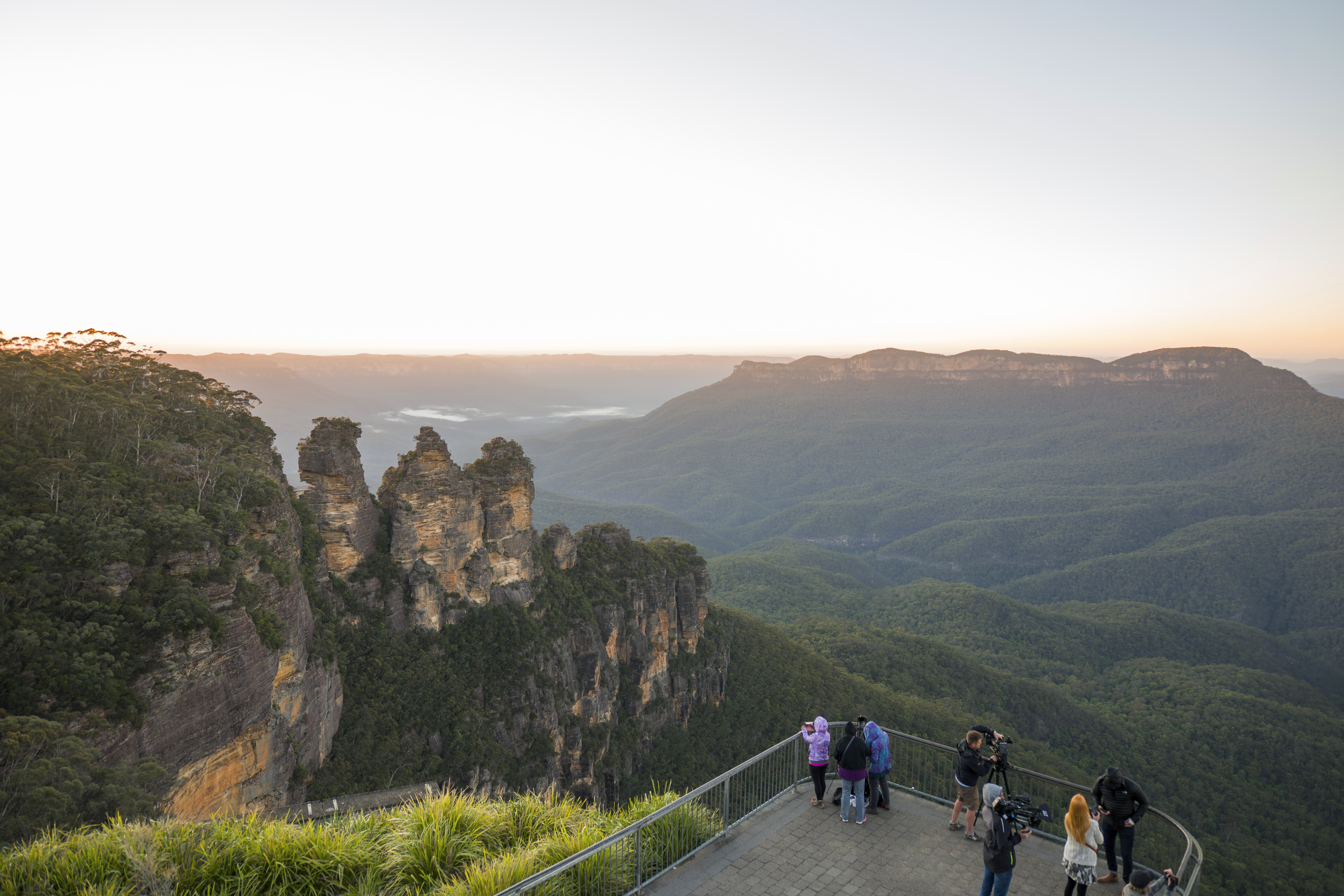 Located in Katoomba, in the craggy interior of NSW's Blue Mountains, the Three Sisters are a trio of rock spires set against the backdrop of the awe-inspiring Jamison Valley. The area is dense with other things to do, too, so you won't be bored once you've seen the main attraction.

Getting there: Head to Sydney via your preferred method, then take a train direct to Katoomba station (it only takes 2 hours – a little longer than driving). Cycling from the city is also very rewarding, though only recommended for experienced cyclists who don't mind serious climbs. If you're coming from Adelaide or Perth, the Indian Pacific train stops right at Katoomba on the way to Sydney.

Activities: The Blue Mountains are absolutely riddled with bushwalks, ranging from beginner-friendly strolls to long and gruelling hikes. The views are second to none, though, and everything is extremely well signposted and maintained. Tread Lightly Eco Tours are one of several sustainability-focused walking tour providers, while ECO-certified Scenic World runs cable cars that are an especially non-invasive way to see the valley below (great for those not keen on trudging up and down steps all day). While in Katoomba, also stop by the Blue Mountains Cultural Centre and browse some of the quirky local boutiques and galleries.

Accommodation: Stay at YHA Blue Mountains – right in the heart of Katoomba and within walking distance of the Three Sisters and many of the best hiking trails and lookouts.
Parliament House

Image: VisitCanberra

Canberra's Parliament House is one of the most significant buildings in Australia, both architecturally, and for what goes on within. It's also a bit of a museum for relics and treasures significant to the country and its history. The public are allowed access for free tours most days and it's huge, so don't worry – there's quite a lot more than just stuffy politics to see.

Getting there: Various comfy long distance bus/train options exist to get to Canberra from Sydney, Melbourne or Adelaide, all of which beat flying or driving in terms of carbon footprint. Once in Canberra, a bike (or e-scooter) is a fantastic option for exploring, and you'll find the city is one of the most cycle-friendly in Australia with its flatness and abundance of paths. What's more, more or less everywhere, including Parliament House, has bike racks.

Activities: While at Parliament House, have a wander of the nine hectates of native gardens and inside, see the historic official Apology Letter to Australia's Indigenous peoples. Closer to Civic, the National Museum and National Gallery provide great cultural and historical insight into Australia as a continent, and the Australian National Botanic Gardens has guided Aboriginal plant use tours and houses an eco spa. Also consider an eco-friendly electric boat ride on Lake Burley Griffin.

Accommodation: YHA no longer operates a property in Canberra, and the city doesn't have a lot of affordable options for eco-conscious travellers – so our recommendation is to go old school with a tent or camper van.
The Twelve Apostles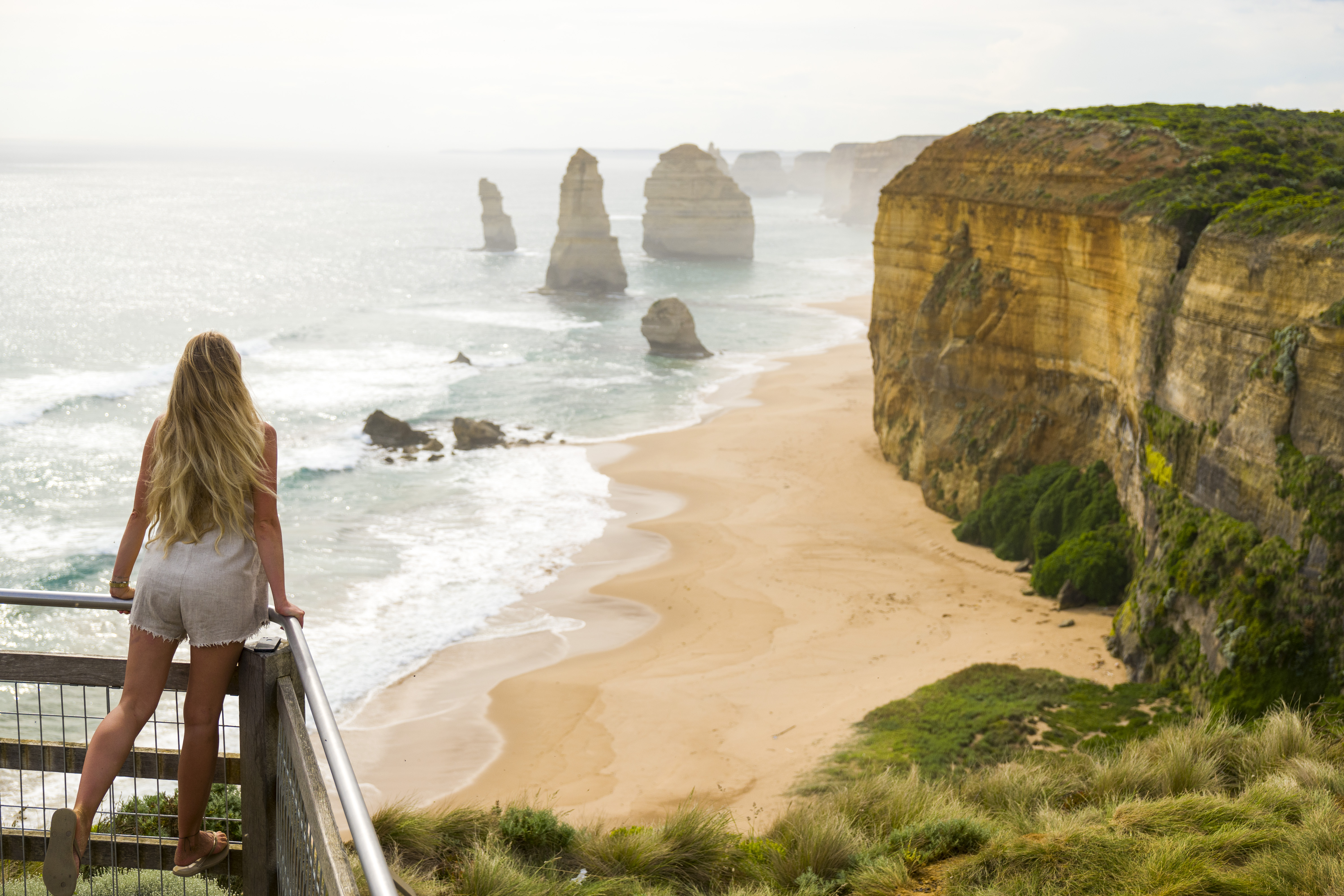 A result of centuries of erosion at the hands of the wild Southern Ocean, the Twelve Apostles (once less-catchily known as the 'Sow and Piglets') are jagged towers of rock standing off the coast of Victoria's Great Ocean Road. Not only are they a serious sight to behold, but the entire region is breathtaking and has become something of a mecca for environmentally-conscious travellers.

Getting there: Greyhound long-distance buses or rail will comfortably get you to Melbourne from most of the Eastern Seaboard or Canberra, and from there, you can grab a V-line bus to take you right down the Great Ocean Road via Apollo Bay. From Adelaide, a scenic route including a train to Ararat and then buses via Grampians National Park is a great way to tick off another really beautiful part of Victoria.

Activities: If you think the only natural marvels you're there to see are the Twelve Apostles, you've been deceived – there are other formations nearby like 'London Bridge' and Loch Ard Gorge that are nearly as impressive and easily seen in one fell swoop. Great Otway National Park is also well worth exploring, and Otway Eco Tours runs guided walking expeditions to your choice of destination from Apollo Bay. If you're strapped for time, Mait's Rest rainforest walk in the Park is a highlight and a wonderful opportunity to spot some wildlife. Apollo Bay is also home to kayak tours out to a seal colony, which is as cool as it sounds.

Accommodation: Stay at ECO-certified YHA Apollo Bay, right on the Great Ocean Road and built from the ground up with sustainability in mind.
Great Barrier Reef & Daintree Rainforest

Image: Tourism Australia

Nothing can be said about Daintree Rainforest or the Great Barrier Reef that hasn't already been said. Massive, awe-inspiring and packed to the brim with a staggering array of unique flora and fauna, both of these natural wonders will leave you feeling much closer to nature and incredibly motivated to protect them from further ecological damage.

Getting there: Cairns is fairly remote from most major cities, so a flight could be justified, but you can also conveniently get there by rail from Brisbane and beyond, as well as with all the major coach companies, including Greyhound. From Cairns Marina, vessels leave directly for the Reef, and the Daintree is just an hour and a half north of town with your tour group.

Activities: The best ways to see the Great Barrier Reef are scuba diving (beginners can learn on the job with a PADI diving course) or snorkelling, such as via an ECO-certified sailing cruise or on a Green Island Eco Tour. Every visitor pays an Environmental Management Charge or 'reef tax', which means just by going, you'll be contributing to the Reef's conservation. If you want to go a step further, you can also get involved in programs like Eye on the Reef or CoralWatch to help monitor its condition while you're there.

For the land-bound portion of your trip, take a tour of the Daintree from Cairns to get immersed and learn all about this prehistoric rainforest. One of the highlights will be Cape Tribulation, where the rainforest and reef meet, separated only by sand.

Accommodation: Stay YHA Cairns Central, a thoughtfully designed travellers' haven with a number of great sustainability initiatives.
Our eco-friendly tips
Finally, here's some general tips for reducing your impact while travelling:
Pack light – the less you bring, the less fuel your mode of transport will burn while carting you around.
Say no to plastic – bring a water bottle and reusable bags to avoid buying single-use plastics.
Buy local – by supporting local small businesses while you travel, you're indirectly cutting out fossil fuels burned by shipping products from far away, among other benefits.
Switch off – remember to turn off your lights/aircon when you're done using them!
Be an active traveller – walk, cycle and take public transport around once you reach your destination (or to your destination, where appropriate). Has the added benefit of keeping you fit!
Be selective – pick activities and attractions that have sustainability as a goal, and put your money where your mouth is.
Skip the steak – Australia feels at times like a country built on a foundation of beef, but as one of the largest greenhouse gas contributors, you might want to give it a miss.
Learn more about sustainable travel
Enjoyed this one? Check out our Top 5 Eco-Friendly Escapes, or Australia's Best Animal Encounters!